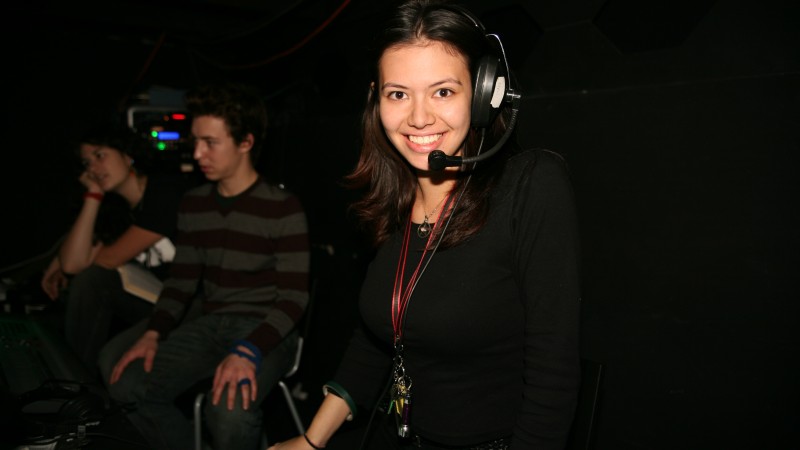 The BFA in Stage Management offers real-world experience in the technical aspects of production, management and design. Students hone skills in leadership, problem solving, and thinking creatively and collaboratively, while stage managing at least one production each academic year.
The program provides a firm foundation in theatrical history, current practices and affords opportunities to explore the intricacies of commercial and non-profit work in theatre, opera, team-based collaborations and beyond.
Students begin exploring the skills acquired in the classroom through assignments on productions as early as their first year of enrollment. The School's ambitious season of productions are designed, built and managed by students under the supervision of a professional faculty and staff of stage managers and theatre technicians.
The BFA is a professional degree program, which offers a conservatory approach to training. This degree emphasizes practical experience in addition to traditional course work.
Curriculum
In addition to a thorough theatre curriculum, all candidates for the BFA degrees must complete a series of general education courses required by the university. The USC Core and General Education Program has been designed to provide students with the skills and knowledge necessary to be informed citizens of the 21st century, who understand its challenges and participate in the debates of their time. It requires eight courses in six Core Literacies, plus two courses in Global Perspectives (which may double-count with courses in the Core Literacies) and two courses in writing.
For complete curriculum requirements, please visit the USC Catalogue.
"My time at SDA pursuing a BFA in Stage Management gave me the space to learn about my craft and myself while opening me to creative opportunities and leadership experience. The structure and support of the BFA program fosters personal and professional growth at the highest level. Working with industry practitioners so early in my career fast-tracked my professional development. The relationships I built with professors, support staff, and guest artists shape and support me today as I move forward in my career."

Megan Burns
BFA in Stage Management, Class of 2020