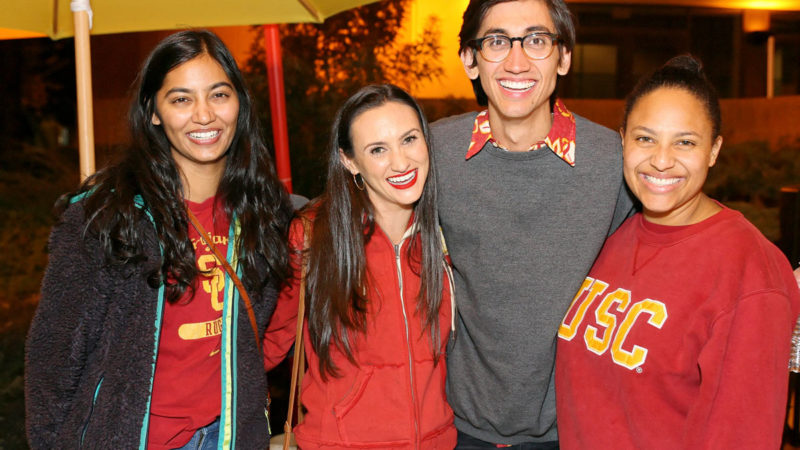 The USC School of Dramatic Arts supports, encourages and champions the wide ranging accomplishments of its alumni in arts and entertainment.
The USC School of Dramatic Arts has the privilege of teaching the nation's top students who go on to make an indelible mark on the artistic fields they enter. They have been honored with the most prestigious awards in the profession, including the Oscar, Tony, Emmy and Golden Globe. Our students leave the School prepared to work, whether it is on stage, backstage, on film or television, or in other forms of media. USC School of Dramatic Arts alumni make a living doing what they love. With the shared experience of their USC theatre training, our alumni also graduate knowing that they are part of the university's unparalleled Trojan Family.
---
School of Dramatic Arts Alumni Leadership Council
Mission: The School of Dramatic Arts (SDA) Alumni Leadership Council is a working group that serves as the link between alumni (local and regional) and SDA. The Council works to increase the visibility of SDA alumni working in the field. The Council supports SDA by helping to recruit the time and talents of alumni volunteers and additionally supporting alumni participation in areas of career development and fundraising. The Council will continually assess the interests and needs of the dynamic, diverse, and multifaceted community of SDA alumni.
ALC Members
Co-Chair: Tomm Polos BFA Acting '10
Co-Chair: Devin Kelley BFA Acting '08
David Fickas BFA Acting '96
Adrienne Visnic BFA Acting'14
Sean Lask BA '10
John Coffey BA '05
Kate Cannova BA '03
Michael Schwartz BA '06
Adam Blumenthal BFA Design '07
Alex LoCasale BFA Acting '05
Pranav Shah BFA Technical Direction '05
Jaclyn Kalkhurst BFA Stage Management '08
Henry Martone MFA Acting '10
JP Karliak BA '03
Mona Raffle BA '03
John Villacorta BA '97