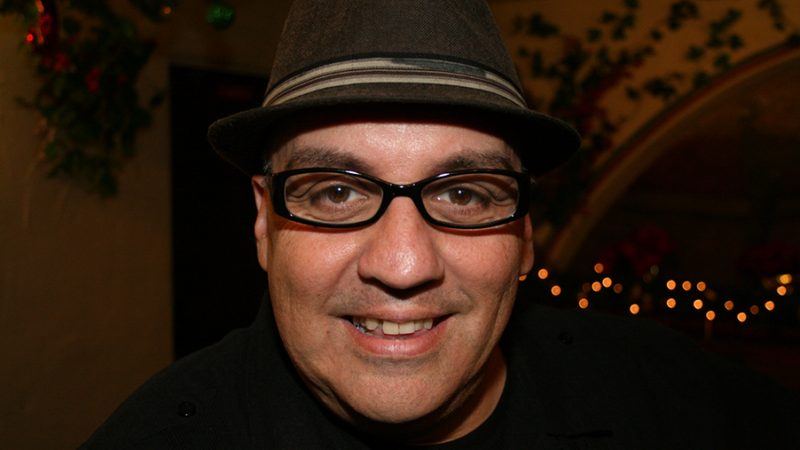 Biography
Luis Alfaro is an associate professor of dramatic writing at the USC School of Dramatic Arts. He has been working in theatre, performance, poetry and journalism since 1982. A multi-disciplined artist, he also works as a director, curator, producer, educator and community organizer.
A Chicano born and raised in the Pico-Union district of downtown Los Angeles, Alfaro is the recipient of a John D. and Catherine T. MacArthur Foundation fellowship, popularly known as a "genius grant," awarded to people who have demonstrated expertise and exceptional creativity in their respective fields.
He is the first playwright-in-residence in the 85-year history of the Oregon Shakespeare Festival, the largest repertory company in the United States, serving for six seasons (2013-19) through the generous support of the Andrew S. Mellon Foundation. His work at OSF included curating a writer's retreat (Brown Swan Lab), conference (Latino Play Project) and ended with a production at OSF.
In 2018, he was awarded the PEN/America/Laura Pels International Foundation for Theatre Award for a Master American Dramatist; the United States Artists Fellowship, through the generous support of the Doris Duke Foundation; the Ford Foundation Art of Change Fellowship and the Annenberg Artist-in-Residence for the city of Santa Monica.
He is also a Joyce Foundation Fellow. Alfaro is the only playwright to have received two Kennedy Center 'Fund for New American Play' awards in the same year.
In 2017, Oedipus el Rey, was part of the 50th anniversary season off-Broadway at The Public Theatre in New York City with a sold-out run, extended three times and a Critic's Pick of the New York Times. This season he returned to the Public with Mojada, his adaptation of Medea, which received an extended run.
His plays have been seen throughout the U.S., Canada, Europe and include Mojada: A Medea in Los Angeles (Portland Center Stage, Oregon Shakespeare Festival, Getty Villa-Malibu [Los Angeles Drama Critics Circle and Los Angeles Ovation Award, Best Play], Victory Gardens Theatre–Chicago [Jefferson Award, Best New Play], and upcoming at Portland Center Stage); St. Jude (Victory Gardens Theatre-Chicago, Under The Radar West @ Kirk Douglas Theatre-Los Angeles, South Coast Repertory-Costa Mesa); Delano (Magic Theatre-San Francisco); Painting in Red (Playwrights Arena-Los Angeles); Alleluia the Road (Campo Santo/California Shakespeare-San Francisco); Aesop in Rancho Cucamonga (Lewis Family Playhouse-Rancho Cucamonga); Bruja (Magic Theatre-San Francisco, Borderlands Theatre-Tucson); Oedipus el Rey (Getty Villa-Malibu, Magic Theater-San Francisco [Glickman Prize, Bay Area Theatre Critics Award], Boston Court Theatre-Pasadena [L.A. Weekly Award, Adaptation], Woolly Mammoth Theatre Company-Washington DC, Borderlands Theatre-Tucson, Pangea Theatre-Minneapolis, Miracle Theatre Group-Portland, Victory Gardens Theatre-Chicago [Best of the Year: Chicago Tribune, Huffington Post, Chicago Sun-Times, Chicago Reader], eSe Teatro-Seattle, Dallas Theatre Center, San Diego Repertory); Hero (Playwrights Arena-Los Angeles, Teatro Vision-San Jose); Electricidad (Goodman Theater-Chicago, Mark Taper Forum-Los Angeles [Published-American Theatre Magazine, Backstage Garland Award], Teatro Vision-San Jose, Sacramento Theatre Company, San Pedro Playhouse-San Antonio, Teatro Nuevo Mexico-Albuquerque, Pacifica Spindrift Players, Bilingual Foundation of the Arts-Los Angeles, Artes de la Rosa-Fort Worth, Teatro Vagon-San Francisco, Teatro Espejo-Sacramento; 32 productions); Breakfast, Lunch & Dinner (Teatro Vista-Chicago, Synchronicity-Atlanta, Hartford Stage, Oregon Shakespeare Festival); Body of Faith (Cornerstone Theater Company-Los Angeles [PEN Center Award for Drama]); Straight as a Line (Goodman Theatre-Chicago, 3-Legged Race-Minneapolis, Playwrights Arena-Los Angeles, Primary Stages-New York, National Theatre of Romania [two-year run], Edinburgh Festival-Scotland); Bitter Homes and Gardens (Latino Chicago, Playwrights Arena-Los Angeles); Ladybird (La Jolla Playhouse-POP Tour); and Black Butterfly, Jaguar Girl, Pinata Woman and Other Super Hero Girls, Like Me (Smithsonian Museum, The Kennedy Center, Actors' Gang-Los Angeles, Coterie Theatre-Kansas City, Mark Taper Forum-Los Angeles, East L.A. Repertory, Working Classroom-Albuquerque).
His solo performance work has been seen throughout the U.S., England and Mexico, including the Institute of Contemporary Art in London, The Getty Center, Boston Center for the Arts, The Goodman Theatre, Hirshorn Museum at the Smithsonian, South Coast Repertory, Oregon Shakespeare Festival and X-Teresa Performance Space in Mexico City.
Alfaro was a resident artist at the Mark Taper Forum for 10 years. He served as director of new play development, where he produced and developed over 150 new plays in the Taper Too, New Work Festival and Next Step seasons as well as managed the laboratory work of the company.
He has taught throughout the country and is now an associate professor with tenure in the MFA Dramatic Writing Program at the University of Southern California (USC). Previously, he taught at the California Institute of the Arts (Cal-Arts).
He has an Emmy-nominated short film, Chicanismo [Best Experimental Film, San Antonio CineFestival, Best Short, CineAccion San Francisco] and an award-winning recording, down town, on SST/New Alliance Records [Best Spoken-Word Release, National Association of Independent Record Distributors].
Related News