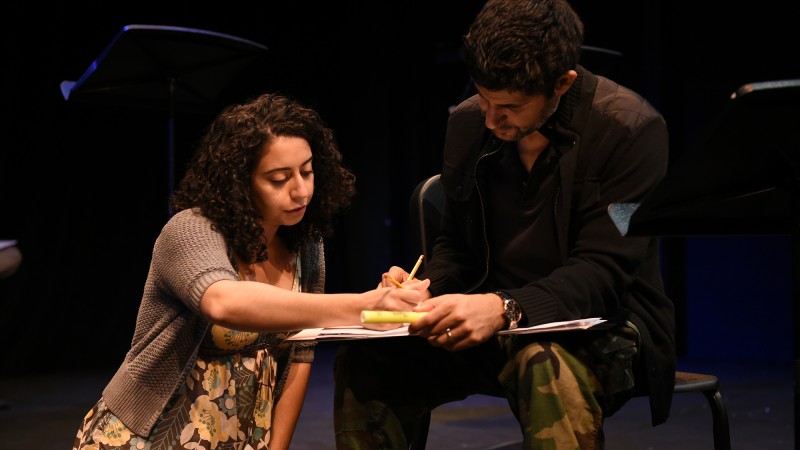 The Master of Fine Arts in Dramatic Writing (MFADW) is an intensive, intimate, mentor-based, practicing literary arts program for today's dramatic writer. The MFADW, centrally housed in the School of Dramatic Arts at USC, an elite research university, is designed to mine the literary potential of the artist, and prepare the artist to engage meaningfully in global society and the profession. In association with the USC School of Cinematic Arts, specific cinematic writing courses are available in the MFADW.
The MFADW approaches dramatic writing through its critical roots in playwriting; and then supports investigation beyond this foundation into adaptation, screenwriting, television writing, and new media. This includes curricular projects in dramatic arts, certain specified associative cinematic arts curricula, special workshops, and visiting artists, but with playwriting as the primary emphasis and a professionally promising play as the culminating thesis.
The program aims to help students utilize their innate artistry to build excellence and to discover their authentic voice. Included are production opportunities in a three-tiered New Works Festival (staged readings, workshop productions, and a capstone concert readings festival utilizing professional directors, professional actors, and professional dramatists as dramaturges and taking place at a major regional theatre company). In addition, as they make their professional transitions, graduating students are provided with the opportunity to meet leaders of prominent theatres in the region one-on-one.
MFADW also supports opportunities for collaboration with acting students, internships, and exposure to a wide array of celebrated guest artists who have included the late Edward Albee, Tony Kushner, the late Amiri Baraka, David Henry Hwang, Christopher Hampton, Timberlake Wertenbaker, Alexandra Billings, Paula Vogel, Tony Shaloub, Danny Strong, and others.
Graduates of the program have found success in many arenas of dramatic writing. MFADW provides resources for writers to enhance their work toward professional engagement.