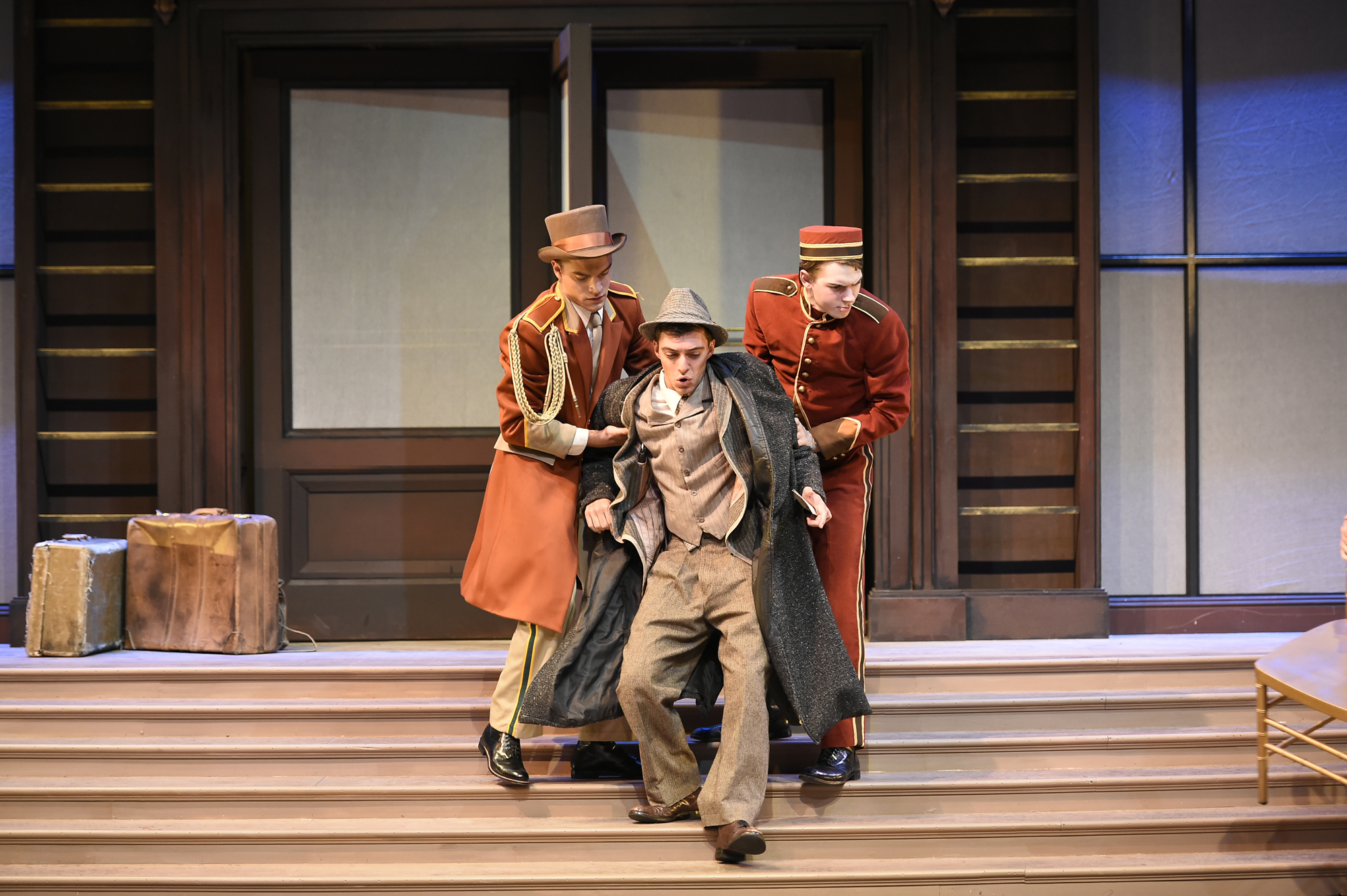 April 3–13, 2014
Summary
A group of eccentric guests spend a lavish weekend at the opulent Grand Hotel in 1928 Berlin – when the Roaring Twenties are in high gear and where the city is the center of high life.
Director's note
A mosaic of disparate dramas set in Berlin between the World Wars, Grand Hotel has intrigued and delighted readers and audiences for 85 years. It began in 1929 as a book, Menschen Im Hotel (People in a Hotel), by the Austrian novelist Vicki Baum, considered one of the first modern best-selling authors. That same year she adapted it for the Berlin stage, where it was an unqualified hit. An English version opened in New York the following season; and in 1932, the classic film, directed by Edmund Goulding and starring Greta Garbo, John and Lionel Barrymore, and Joan Crawford, won the Academy Award for Best Picture.
In 1958, Luther Davis (book writer) along with Robert Wright and George Forrest (co-composers and lyricists of Song of Norway and Kean), who had collaborated on, and all won Tony Awards for the Alfred Drake operetta Kismet, adapted Baum's novel as a musical entitled At the Grand, with Paul Muni as Otto Kringelein, and with the story changed radically to enlarge his role. The show opened in Los Angeles and San Francisco and did reasonably well, but the producer Edwin Lester (famed LA Civic Light Opera chief) cancelled the Broadway opening.
Thirty years later, Davis, Wright, and Forrest decided to try again. With the director and choreographer Tommy Tune, they began work on a new adaptation. Strong disagreements arose during the out-of-town tryouts, and Tune ultimately fired Wright and Forrest, and brought in composer/lyricist Maury Yeston (Titanic, Phantom of the Opera), with whom he had collaborated (and also won Tony Awards) on the musical Nine six years before. The final version, which won five Tonys in 1990, has the Luther Davis libretto, with substantial un-credited rewrites by Peter Stone (1776, Woman of the Year, Titanic, Curtains), four of the original 1958 Wright-Forrest songs, 10 additional ones by them, and eight new numbers by Yeston, who also rewrote many of the other songs. Just as the characters in the play live out their seemingly separate stories in unintended conjunction, the various creators, some of whom never met, worked across decades to bring their talents together in the form of the dazzling musical, Grand Hotel.
Additional Information
Book by Luther Davis
Music and Lyrics by George Forrest and Robert Wright
Based on Vicki Baum's Grand Hotel
By arrangement with Turner Broadcasting Co., Owner of the motion picture Grand Hotel
Additional music and lyrics by Maury Yeston
Directed by John Rubinstein