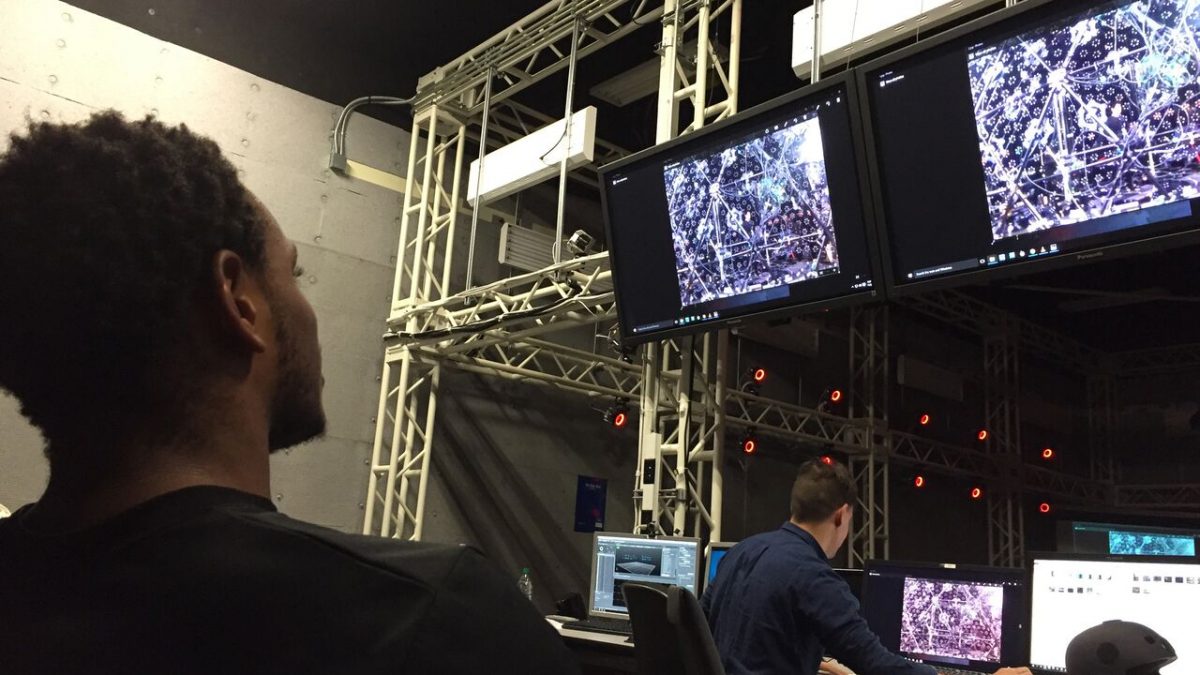 For millennia, actors have been interpreters.
Taking written words off the page, an actor's art has always been to memorize lines and interpret them for an audience, telling a story with emotion, physicality and truth. The interpretation might be of a solemn Shakespearean monologue or slapstick for a television sitcom script. Regardless of genre, it's still all "a vital and essential part of the craft of acting," says David Bridel, dean of the USC School of Dramatic Arts. "But the actor is now being asked to also develop their role as an initiator. That's connected, but it's also different. And that's where we're aiming to get ahead, and forge a new path."
Today's actors are expected to be entrepreneurs and creators who can make their own content and tell stories with new technologies. Enterprising actors don't rely only on an agent and a phone call to gain exposure. They can generate their own buzz by creating original material for YouTube and social media. And the work that pays the bills has expanded beyond film and television into the frontier fields of motion capture (or "mocap"), video games, voice acting, virtual reality… and, once again, YouTube and social media.
With the landscape quickly changing in the industry, it's no wonder that USC — located in the entertainment capital of the world — has been pioneering a new teaching approach. The School of Dramatic Arts' response, led by Dean Bridel, is the BFA in Acting for Stage, Screen and New Media program—a redesign of the undergraduate performance degree with a new emphasis on honing skills for untraditional "digital opportunities." This fall's inaugural class will enter a four-year program with the same rigorous, conservatory-style regimen as before, but with new offerings such as "Camera and Improvisation" and "Going Viral."
Bridel thinks back to five years ago, when the School first ventured into new media by opening a voiceover studio, where actors sharpen their vocal chops and learn the unique demands of animation and video game voice work. ("We may have gone into voiceover anticipating the 'old norms' of commercials would be the outcome," he says, "but instead we discovered that the discipline has led us into these new waters.") It was right around the time when the film and TV industry shifted their gaze to new media for actors. Noting the explosion of technology in different arenas for acting (particularly mocap), Bridel is determined that USC catch the wave.
He's already held two new media summits with industry professionals, and has been trying out some digitally oriented courses in the school's broad dramatic arts undergraduate program.
Uncharted waters can, of course, be choppy. USC is one of the first major universities in the nation to openly embrace new media within its acting program. But Bridel, whose own diverse background includes clowning, directing, performing and playwriting — is unafraid. The Los Angeles Times has described his plays as "inventive" and "vastly challenging," and he's never been one to shy away from experimenting.
"This new cultural moment requires a tremendous mental elasticity in order to allow for change to take place," he says. "I don't think that affects the young actor very much. I think it affects the teachers and the administrators who are familiar with a different way, who are now being asked to change in order to accommodate the way life is. But c'est la vie, right? Every generation has to bend to a new version of what culture actually is."
Make Your Own Breaks
For incoming students, creating content for YouTube and Snapchat is already familiar ground. Most young actors are quite savvy with ever-evolving technology and are keenly aware that being entrepreneurial is key to finding work.
"One of my favorite quotes is by Milton Berle," says Kyle Matthew Weinreb, a Class of 2017 graduate of the undergraduate acting program. "'If at first opportunity doesn't knock, build a door.'"
Weinreb, who goes by the stage name Kyle Matthew, started building doors while he was on campus. As a member of The Suspenders, one of the school's comedy troupes, he wrote and starred in a popular sketch about a man who communicates with his girlfriend by lip-synching pop songs. He decided to film "Lip-Sync Break-Up" and upload it to YouTube, where it's been viewed more than 67,000 times.
He credited the School of Dramatic Arts with creating "a safe space [for students] to learn things through their own experiences" so that they can develop this enterprise mentality.
"One of the most invaluable things that USC's faculty does," Weinreb says, "is that they encourage their students to be proactive about their careers."
Dan Shaner, who teaches "Professional Preparation for Actors" at the School, will introduce a course this fall that covers the auditioning process, including casting room and self-taping techniques. The industry veteran — he's been a casting director for more than 25 years — has seen the shift in the business and notes that today, actors can get work by crafting their own content online.
"It puts the power back into the actor's hands," he says. "For so many years it was all about waiting for your agent to call you. Now people are creating their own opportunities, and material that they're creating and writing and filming — web series, short films — they're turning them into production deals."
He cites actors Issa Rae (Insecure) and Rachel Bloom (Crazy Ex-Girlfriend), two young performers who turned their own web content into series on HBO and the CW, respectively.
"Actors need to act every day," Shaner adds. "Just like an athlete trains for a marathon, they need to run every day and train every day. And in the entertainment industry, as an actor, a lot of the time you spend not working. So this is a great stopgap for that as well. … You're always, constantly, every day doing something."
Best of Both Worlds
Pete Ploszek (MFA '12) jumped straight from the acting MFA program into the big leagues of mocap, where data from an actor's physical performance is digitally rendered onscreen as a non-human character. He gave life to Leonardo, a seven-foot-tall reptilian warrior, in the 2014 live-action Teenage Mutant Ninja Turtles film and its 2016 sequel.
"I got the opportunity to act on the frontier of filmmaking," he says. "It was amazing, and I think as they develop the technology and bring the costs of it down further, we're going to start seeing it more in TV." Bridel wants the new BFA to give students a head start in these frontiers. He's partnering with both the USC School of Cinematic Arts and L.A.-based companies like YouTube, Funny or Die and House of Moves, one of the industry's leading mocap studios, to do so — taking advantage of their unique resources, both human and technological.
But with all this talk of viral videos, virtual reality and web celebrities, is classical stage training still relevant in 2017? Mary Joan Negro, head of undergraduate acting in the School of Dramatic Arts, gives an adamant "yes."
"Without the technique and structure, you cannot access the emotion," she says. The new BFA will "start the actor off with the realization of how everything in an art form — form being the operative word — is based on structure and craftsmanship, which ultimately releases the actor to be able to access their emotions fully. No matter what the medium."
Negro, an associate professor of theatre practice, was part of the first class to graduate from the drama division at Juilliard, a highly classical program that informs her approach to teaching today. The fundamentals of acting never change, she explains, only the frame.
Bridel agrees.
"The simple fact is that, whether you're telling it in six seconds through Facebook or Vine (R.I.P.), or whether you're still telling it through a three-hour Greek tragedy, it is the same mentality, the same respect for narrative, and the same ability to translate narrative into character, circumstance and motive," he says.
For Ploszek, tapping into his theatre training was invaluable to mocap acting.
"As the technology catches up to what cameras can see, you have to give filmmakers and developers as much data as possible," he says. "If theater training does anything, especially the program at USC, it teaches you to how to use your body as an instrument. And that is called upon in motion capture so much. It's truly a performance that's driven from head to toe."
To be able to offer this committed performance, actors can't take shortcuts, Negro says. They need classical training.
"A 9-year-old can make a movie on his phone now," she says. "A 9-year-old can also play by ear on the piano. But unless a rare genius, a 9-year-old can't play Rachmaninoff's Third Piano Concerto with the L.A. Phil. You still have to have a mastery of your instrument, and the instrument for the actor is themselves."
The new BFA program is simply a bridge between the actor as interpreter and the actor as initiator.
"I think that if we can connect the classical to the contemporary as vividly as I plan," Bridel says, "then our students will really have the best of both worlds."
Story appeared in the Autumn 2017 issue of Trojan Family Magazine.