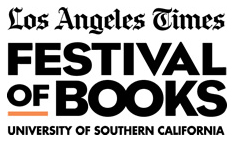 This weekend, the 21st annual Los Angeles Times' Festival of Books takes place on the USC campus as the largest literary festival in America. Events will be held Saturday, April 9, and Sunday, April 10, with more than 500 authors, celebrities, musicians, artists and chefs leading conversations, live performances and demonstrations.
As part of the celebration of ideas, creativity and the written word, faculty from the School of Dramatic Arts will participate in "From Page to Stage: Playwriting, History, and Adaptation" at noon on Sunday, April 10. The conversation will feature Interim Dean David Bridel and Associate Professor Luis Alfaro, alongside playwright and novelist Mar Gomez Glez. "From Page to Stage" will be moderated by Associate Professor Oliver Mayer.
The Festival of Books is from 10 a.m. to 6 p.m. on Saturday and 10 a.m. to 5 p.m. on Sunday. General admission, outdoor stages and activities are free. The indoor conversation is free, but advanced tickets are required and can be reserved online and at the event. Parking at the USC campus will be $12.