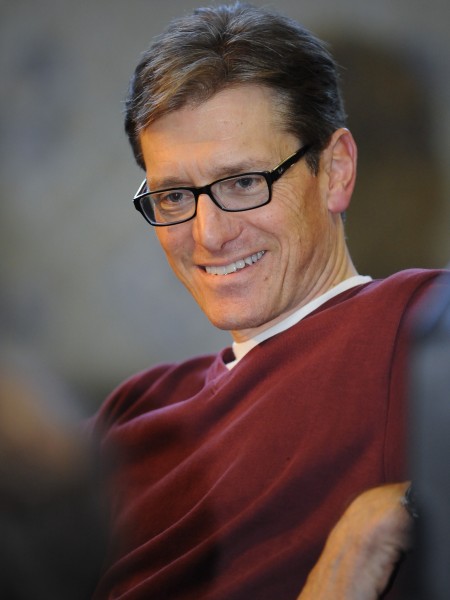 Associate Professor of Theatre Practice in Acting
Director of BA in Visual and Performing Arts Studies
BA, Yale University
MFA, American Conservatory Theatre
John DeMita is an Associate Professor of Theatre Practice at the USC School of Dramatic Arts. A cum laude graduate of Yale University (BA Theatre Studies and English),  DeMita was among the first students to receive an MFA in Acting from the American Conservatory Theatre in San Francisco, where he returned to play Christian in the 20th Anniversary Production of Cyrano de Bergerac in 1992.
Since then, he has worked extensively in all aspects of the performing arts. As a theatre actor, on the stages of the Oregon Shakespeare Festival, Pittsburgh Irish and Classical Theatre, Intiman Theatre, Pasadena Playhouse, Williamstown Theatre Festival, Pacific Conservatory of the Performing Arts, as well as the Hollywood Bowl, The Pasadena Playhouse, Antaeus Theatre Company, Andak Theatre Company (Garland Award, Best Actor in a Musical for Liberty Inn), Victory Theatre, and the Pacific Resident Theatre, of which he was a founding member (Dramalogue Award, Best Actor for Happy End).
Selected directing credits include: Andak Theatre Company (North Hollywood): The Elephant Man, Betrayal (Garland Award), The Misanthrope (Backstage West Award); Santa Clarita Performing Arts Center: SubUrbia, Equus, Death of a Salesman, As You Like It, Rumors; El Camino Center for the Performing Arts: Six Characters in Search of an Author, The Crucible, Picnic, Romeo and Juliet, Macbeth, The Hot l Baltimore, Mother Courage and Her Children, Hay Fever; and USC School of Dramatic Arts: The Way of the World (BA, 2015), Dark of the Moon (BFA, 2014), and 27 Wagons Full of Cotton and Other Plays (MFA, 2012).
Selected film and television credits include: 4 seasons as Marine Colonel Clifford Blakely on CBS's JAG, series regular on Comedy Central's The Clinic (with Adam West), recurring roles on 18 Wheels of Justice, Days of Our Lives, The Young and the Restless, and The Bold and the Beautiful, and in over 30 guest star roles.
As a voice actor, John has performed in hundreds of animated features, cartoon and live action series , and video games. Selected voice acting credits include: Hayao Miyazaki's classics Princess Mononoke, Castle in the Sky, and Kiki's Delivery Service, the anime series Naruto, The Animatrix, and Aeon Flux, the Final Fantasy and Dynasty Warriors video game series, and SEGA's Binary Domain, for which he spent 5 weeks in Tokyo creating the critically acclaimed vocal and motion capture performance for the French robot "Cain." John was also the English language voice of Hong Kong action star Jet Li in 13 feature films on DVD and in theatrical release, and for 7 seasons has recorded historic radio and television commercials and newscasts for AMC's Mad Men. www.johndemita.com