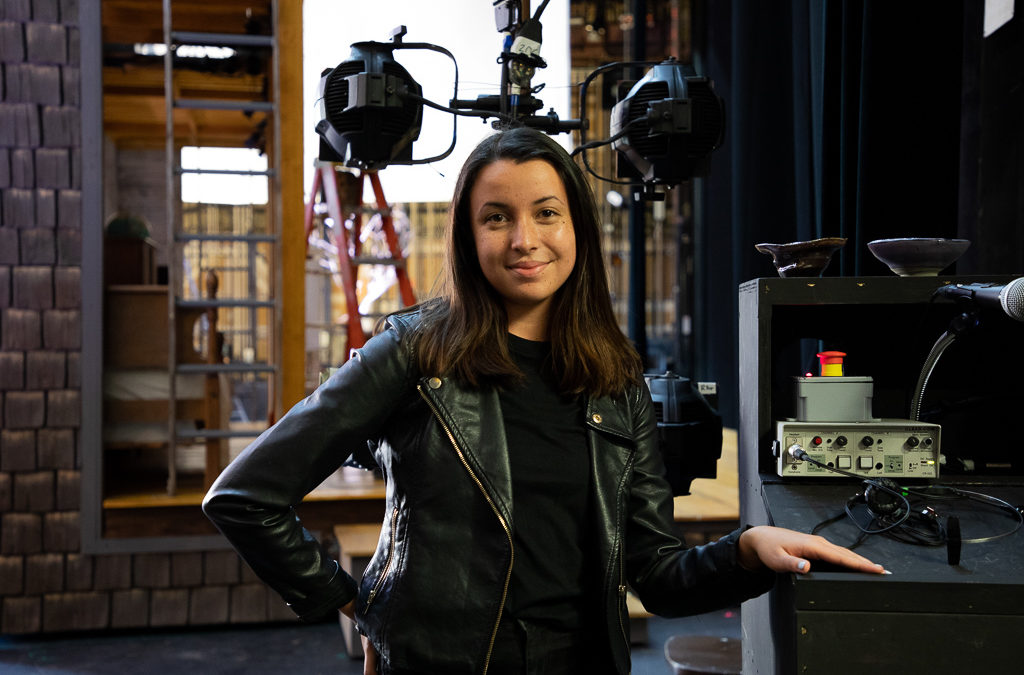 The School of Dramatic Arts briefly caught up with BFA Stage Manager Carrie Hiramatsu for a quick Q&A about her voice at the School.
SDA student Carrie Hiramatsu BFA '20 has a jam-packed daily docket; between stage management, her role at TSA, and her job in the School's communications office, she's a liaison on many levels. Hiramatsu's commitment to the SDA community is supplemented by her multifaceted talents, making her a force to be reckoned with on campus.
---
SDA: Where are you from?
Hiramatsu: I'm from Santa Maria, CA – right on the central coast of California. We're about halfway in between Santa Barbara and San Luis Obispo.
SDA: Why did you choose to come to USC?
Hiramatsu: USC was one of the few schools I was considering that had the specific degree that I was interested in – not a lot of universities offer undergraduate degrees in stage management! I also knew that I wanted to be in LA, especially to work in the entertainment industry. All my extended family is based in and around LA as well, so it didn't feel like I was all alone in a big city. Plus, come on, it's USC! Attending such a highly regarded university was a great payoff after working so hard in high school.
SDA: What program are you in SDA? Why did you choose that program?
Hiramatsu: I'm in the BFA Stage Management program. Since I was in high school, I've known that I wanted to be a stage manager, and it was really important to me to have the most specific, hands-on training possible. In the BFA production and design programs at SDA, we're trained in a cohort-style environment, and I loved the idea of sticking with that core group of passionate, creative, driven people and having your whole college experience together. That's what sold me on BFA Stage Management, and my cohort has been one of best parts of my SDA experience.
SDA: What is your favorite thing about the faculty at SDA? Has one professor had a profound impact on you?
Hiramatsu: I love that my faculty at SDA have so much experience in the professional world–almost all of my production faculty work locally on a regular basis in addition to teaching or have worked for years in L.A. or New York. They're able to offer such valuable insight on not only the craft, but how to navigate the industry, and I'm able to meet and learn from their colleagues currently working in the industry as well. Especially as a senior looking ahead to post-graduation life, this is huge!
Scott Faris is head of stage management and has been my primary mentor since he started teaching at SDA in 2017. I wouldn't be the stage manager I am today if it weren't for his influence. He's helped me to think big about my own career and made "long shot" goals I have seem tangible and possible. I've also been lucky enough to work with John DeMita throughout my time at SDA, and some of my favorite SDA experiences have come from that relationship. It means a lot to work with a director who understands that you're a student and still learning and experimenting, and John cultivates such an open, fun learning environment. I really won the director lottery there – twice!
SDA: Tell us a little bit about your work with TSA.
Hiramatsu: The Theatre Students Association (TSA) is the undergraduate student government entity, specifically for SDA. We act as leaders in the SDA community and represent the student body when communicating with faculty and administration. I'm in my second term as Executive Board secretary, and it's been one my favorite parts of my college experience. To me, it's really rewarding to be able to see aspects of our community that need reform, create a plan to better it, and then see our community benefit.
SDA: As a student, do you have a work study job? What are your job responsibilities and what have you learned?
Hiramatsu: I work in the  Communications department for the School of Dramatic Arts.  I edit and facilitate the creation of all of SDA's show programs, help to manage SDA's social media, and assist in the creation of some of the School's digital materials and marketing. When you see posts from SDA on social media, art on digital screens around campus, or read an SDA program, some of that was me! This year, I'm also taking on more editorial duties and creating original content – this fall I'm producing a video piece about the ISP community, from the perspective of its own leaders.
Working in an SDA office has really put into perspective how much work goes into making the School and its season of plays run smoothly. When you're sitting in class or rehearsal you don't really think about what it took to make that class or show possible, but when you're right there in the thick of it, putting in the work, it makes you so much more grateful for your experience as a student. It's definitely taught me how to better interact with and help out all of the School's staff as a stage manager, and I also discovered that I really like marketing and graphic design! A couple of years ago, I would never have considered a desk job, but I really enjoy my work.
SDA: As such an active member of the SDA community, what impact do you hope to leave after your four years?
Hiramatsu: I hope to really cultivate SDA's next generation of active members. The lifeblood of this school is the student community, and that's what ultimately makes it a great place to go to school. I want to make sure that the future leaders of the SDA student community feel the same kind of responsibility and drive to make the School the best it can be that I found in my time here. In BFA Stage Management, we have such a strong foundation of mentorship, and passing on our own passion for the craft and love for this community to the younger students. It's a kind of passing-of-the-torch that I hope to achieve in all aspects of my involvement. I can't wait to see what those rising leaders do to change our school, and the impact that they leave as well.
SDA: How has SDA changed your outlook on theatre?
Hiramatsu: I think SDA has made me way more appreciative of the whole team making the magic happen, instead of being so hyper-focused on my own role. You can't just be focused on yourself when you see your friends researching their roles, hanging the lights, painting the sets, working alongside you until the early hours of the morning. Theatre is a team sport, and I learned how strong that team needed to be in college. My experience has also just affirmed how much I love this art form–in the words of CB Borger, the School's Technical Theatre Manager… "yay theatre!"