New Works Festival: Year 3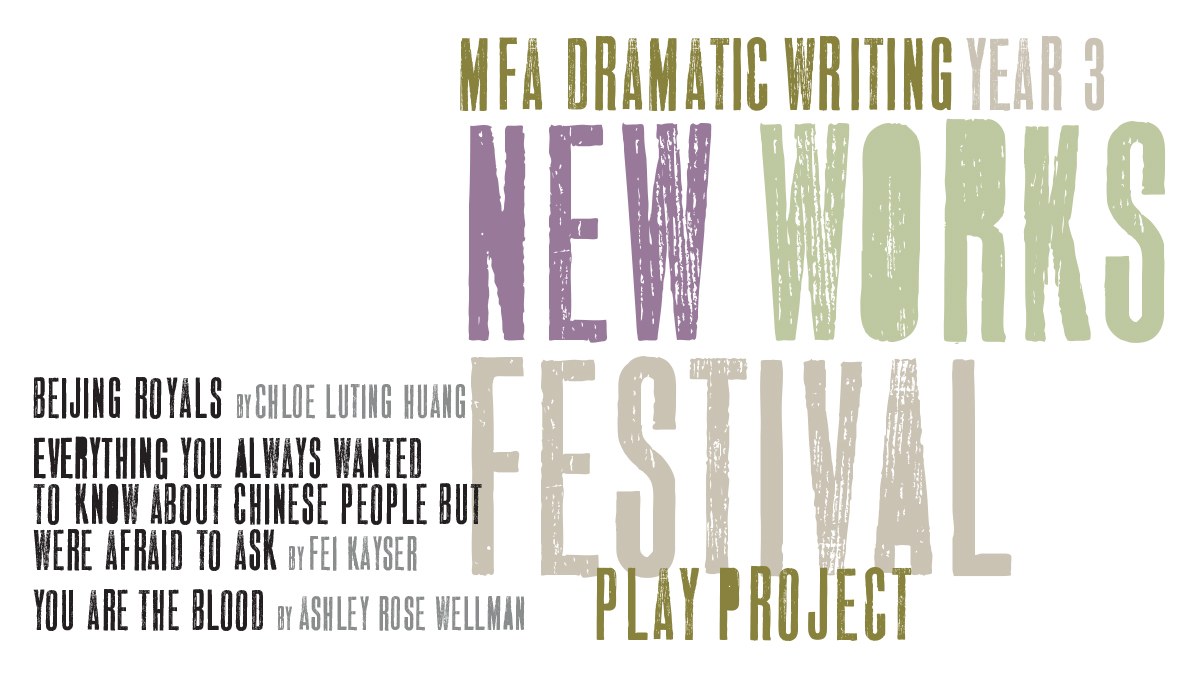 May 1, 2016
Summary
The three plays by the graduating playwrights of the MFA Dramatic Writing program, will be presented as staged readings with professional actors and directors.
Seating is limited.
Everything You Always Wanted to Know about Chinese People But Were Afraid to Ask
By Fei Kayser
Directed by Mark Majarian
Sunday, May 1, at 10 a.m.
From shirtsleeves to shirtsleeves in three generations is a saying that crosses cultures. The Li family struggles from poverty, rises into great power, and fights ruthlessly to maintain it over three generations. Set against the tumultuous changes of modern China, the Li family moves from their village to the capital.
Beijing Royals
By Chloe Luting Huang
Directed by Laurel Ollstein
Sunday, May 1, at 2 p.m.
In order to get money for the gang for murder, Landun and Bili team up to form a plan: marrying into money. Landun spots Sisi, a beautiful well-educated heir frequently visiting higher class parties in Beijing. Landun tries to court Sisi into marriage, but fails. Ultimately, Bili kidnaps Sisi and form a very intimate connection. A strange romance kick starts.
You are the Blood
By Ashley Rose Wellman
Directed by Elina de Santos
Sunday, May 1, at 7 p.m.
When Shelby, a cynical stand-up comedian and the daughter of a convicted serial killer, discovers that her father is marrying an eccentric young performance artist that writes to murderers, the two develop a strange, charged friendship despite the looming and dangerous presence of the bloodshed in Shelby's bloodline.
Additional Information
MFA Dramatic Writing Play Project