New Works Festival Year 3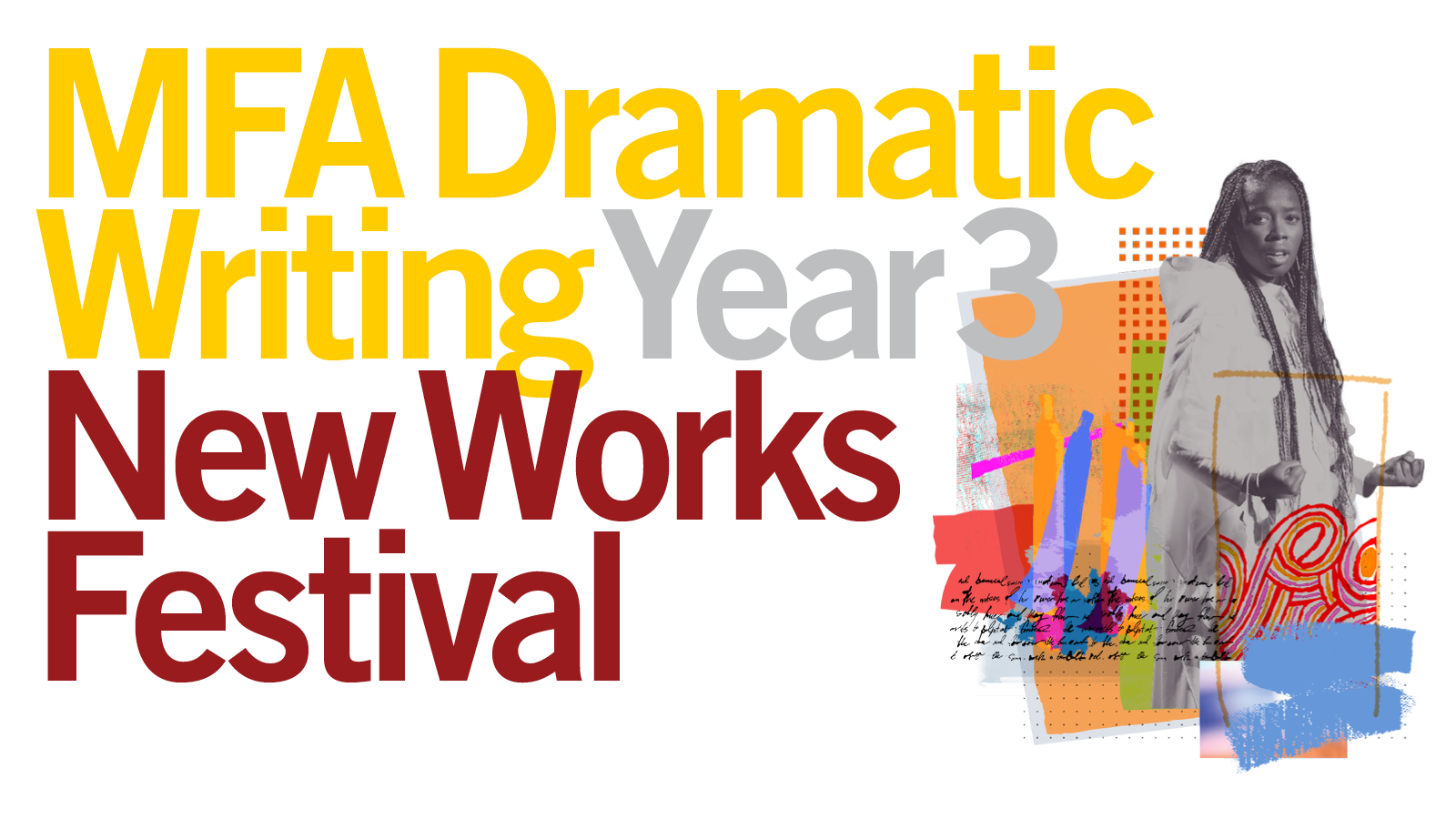 April 20–27, 2023
Summary
Showcasing the emerging voices of the School's graduating MFA Dramatic Writing students.
---
Play 1: Michaela's Fluent Aphasia
By Christina Carrafiell
Directed by John DeMita
Michaela, a young woman with a fatal brain tumor, is persuaded to take the plunge and have risky surgery. It saves her life but leaves her with a condition that strips her of her ability to use language: Fluent Aphasia. She manages to piece her world back together and learns to express herself again, but will she be able to keep hold of her loved ones, or her sense of self?
Performance Dates & Time
Thursday, April 20, at 7:30 p.m.
Saturday, April 22, at 8 p.m.
Tuesday, April 25, at 7:30 p.m.
---
Play 2: Weekend Warriors
By Adi Eshman
Directed by Fran de Leon
Weekend Warriors explores the reasons why people choose to reenact history, and both the joys and the consequences of reliving the past. In the play, we meet men and women who leave town each weekend to reenact battles from World War II. But when one of them switches which side of the war he's on, it's up to the other reenactors to find a replacement. The play becomes a question about how much you're willing to give up in order to escape the present. Weekend Warriors is a dark comedy about history, memory, and both the literal and figurative prices we pay to keep history alive.
Performance Date & Time
Friday, April 21, at 7:30 p.m.
Sunday, April 23, at 2:30 p.m.
Wednesday, April 26, at 7:30 p.m.
---
Play 3: bloody noses
By Matilda Corley Schulman
Directed by David Warshofsky
What's the cost of winning? After the assault of one of their own, three female collegiate soccer players are forced to confront the dark realities of college athletics and being a female athlete in the American University System. A split narrative between the "date" that led to the assault and the present unraveling of the team, bloody noses focuses on the girls who are often left behind in the aftermath of broken fairytale dreams.
Performance Date & Time
Saturday, April 22, at 2:30 p.m.
Monday, April 24, at 7:30 p.m.
Thursday, April 27, at 7:30 p.m.
We've gone digital!
In alignment with the University's commitment to sustainability and to do our part in limiting the potential spread of COVID-19, the programs for all of our productions will be available online. Audience members will be able to scan a QR code in the theatre, or visit dramaticarts.usc.edu/digital-programs to view or print the program. A limited number of printed programs will be available upon request.
Parking
Discounted parking is available for $15, except on football game days. Please inform the gate officer you are attending a School of Dramatic Arts performance and request the arts rate. On game days, parking is $40.
Please note: The LA Times Festival of Books will be held on USC's campus on Saturday, April 22, and Sunday, April 23. 150,000 attendees are expected over the two-day festival. Parking will be limited on USC's campus and traffic is expected to be heavy. Please plan accordingly and consider taking public transportation.