Designed to unleash the next generation of storytellers as media-agile, multihyphenate dramatic artists, the USC School of Dramatic Arts launched a new series of co-curricular weekend intensives in tremendous style on September 17 with the presentation of the inaugural Multihyphenate Award to Tony-winning producer, Emmy-nominated writer, actor, and NYT best-selling author Mindy Kaling.
"The Inclusion Playbook," the Multihyphenate Masterclass Series' 10 weekend intensives, also marks the beginning of a partnership with USC's internationally renowned Annenberg Inclusion Initiative. The afternoon was led by SDA Professor Colman Domingo, an Emmy award winning actor-director-playwright-producer who epitomizes the multihyphenate profile and its power to make the entertainment industry more inclusive. Domingo described his own journey and fielded questions from an audience of students and alumni before moderating a panel of entertainment giants and then sitting down with Kaling to discuss her career.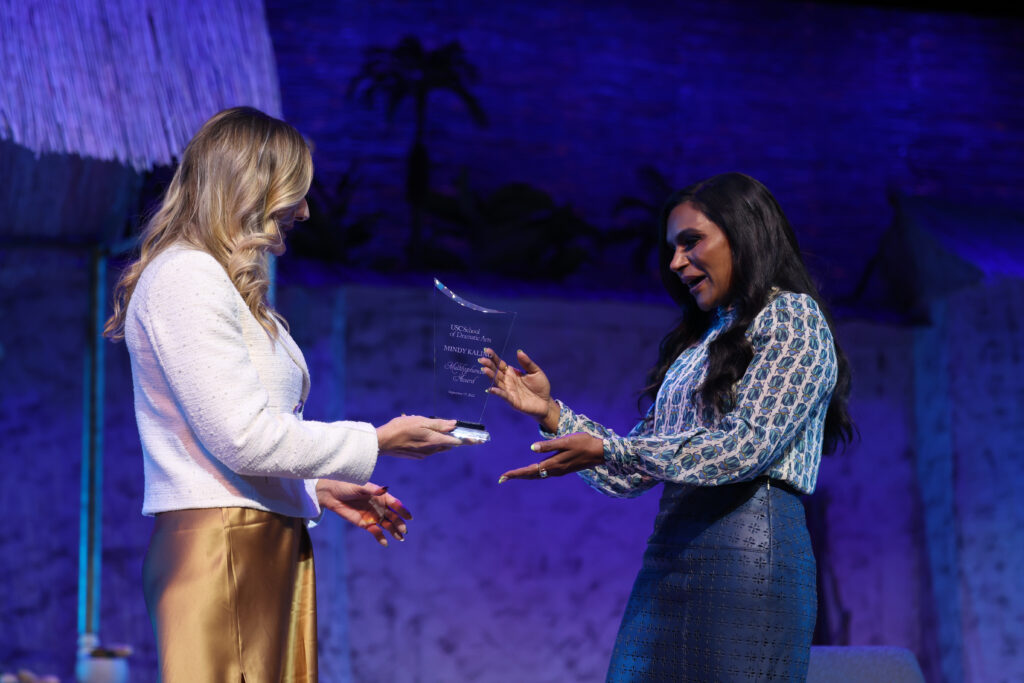 Navigating the industry with resilience
Dean Emily Roxworthy presented the Multihyphenate Award to roaring applause from the audience, who cheered for each of Kaling's impressive achievements. Kaling accepted the award with her signature hilarious charm, sitting down with Domingo for a conversation on her outstanding career and future trajectory. She attributed her perspective to growing up an outsider, constantly having to prove herself.
"I really come from a place of always thinking of myself as the underdog," she shared. "But I was so overlooked that all I could do was surprise people."
Kaling discussed her eight years at The Office, for which she wrote 26 episodes (more than any other writer). The subject matter for the show, she said, was not necessarily her passion. But being forced to work outside her comfort zone prepared her to write the stories she wanted to tell: stories centered on women of color.
Domingo observed Kaling's ability to navigate the industry and make space for herself, asking about the origin of her unique resilience.
"I think the reason I am so resilient is because I have faced failure and rejection so much in my life," she said. "There's no 'no.'" Everyone's going to keep telling you that, so you have to find your way around it."
The sentiment resonated with BA Theatre student Natasha Nutkiewicz. "The multihyphenate looks different ways, and their path is very different from others," she said. "You've just got to carve and build your own."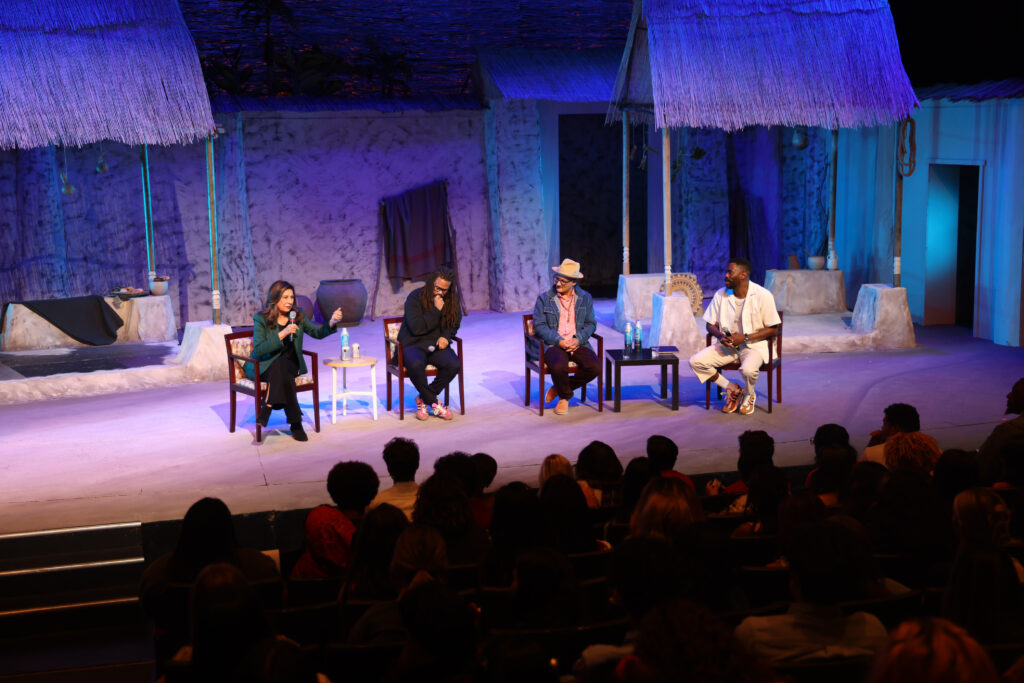 The story at the center
An impressive panel of multihyphenates joined Domingo to discuss their storied careers, including Franklin Leonard, Paula Wagner, and artistic director of the Magic Theatre Sean San José. Topics ranged from the ethics of public influence to practical advice for project pitching and funding. Leonard and Wagner – who both recently joined SDA's Board of Councilors – brought combined decades of business expertise: Leonard as a film executive and the founder of The Black List, and Wagner as a legendary film executive and producer of stage and screen hits.
"I think actors make great directors, excellent producers, writers — to me, I always see the world from an actor's point of view," Wagner shared, contextualizing her career with a strong acting background. She and Leonard dissected how their careers shifted across mediums, as well as stressing the importance of meaningful working relationships.
"Sometimes you find people who share your worldview and share your enthusiasm about advocating for talent, and you find yourself in a slipstream that allows you to do things you wouldn't otherwise be capable of," Leonard explained, crediting mentor and friend Rowena Arguelles for his entry into entertainment after working in several other fields.
San José, who is also Domingo's longtime friend and collaborator, shared his perspective on reframing leadership and on oppressive systems in the performing arts space. The audience questions that followed focused on wielding the responsibilities of the multihyphenate, and how to balance passion and vision with the business of it all.
San José noted afterward that conversations like these with the students were vital — that the student body "is who you want to reach, because that's who's forming the real conversation."
He also emphasized placing the story at the center, and allowing it to be the compass no matter what your role. He and the other panelists agreed that centering the story would keep ego in check.
"It really does come back to the zeroing place where you get in the room or on the stage…you put the story in the center of the table, and anyone bigger than the story…man, you need to walk. Because we're trying to figure out something new," he said.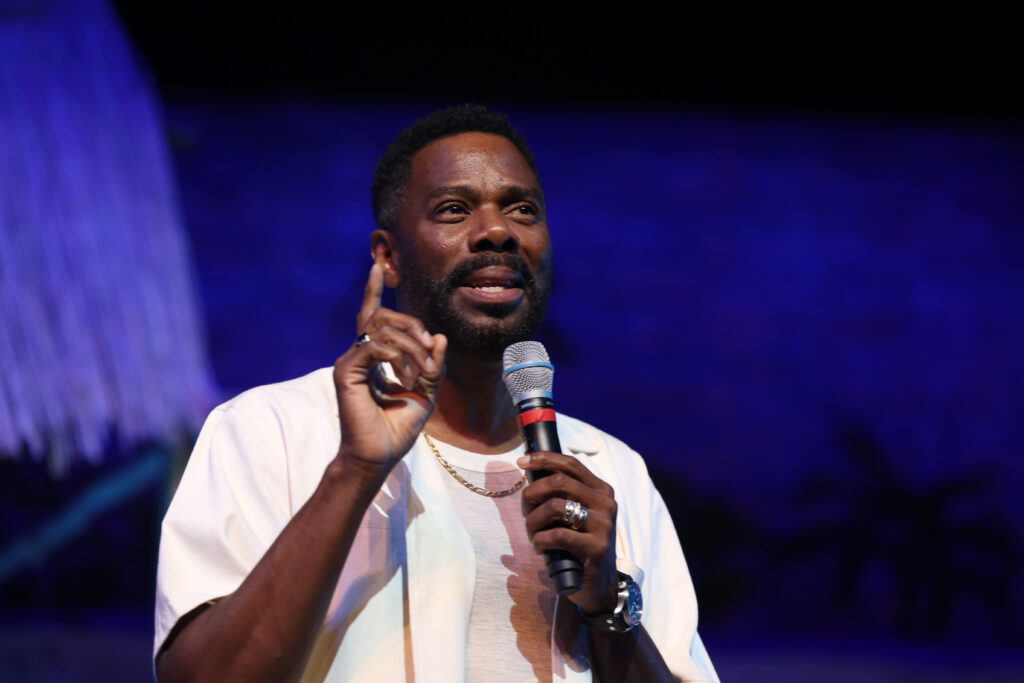 On risk and taking leaps of faith
Throughout the afternoon, Domingo continuously attributed his prolific career to a combination of honesty and fearlessness, in which he was willing to "interrogate the script" no matter his assigned role on set.
"The thing I know for sure is that when someone hires me, they want all of me," he said, encouraging the students to bring their entire self to the work in their acting, writing, producing, directing, and beyond. Telling their stories could lead to many different expressions of their talent, but their pursuits would remain driven and united by honesty.
Domingo prompted the audience to change the system when they found it limiting. Whether it be starting a company or finding the resources for their script, he advised taking risks and being willing to fail, all in service of the work.
"Go for something that scares you a little bit, because you're going to have to learn some superhuman skills to achieve that," he challenged. "Start from the beginning, and break it down bit by bit."
He took time to answer inquiries on maintaining professional relationships, navigating impostor syndrome, and more. A few students asked about approaching projects that might be out of their comfort zones.
"I think that's an exciting place to be," Domingo offered. "I think there should be tremendous leaps of faith, and trial and error, and falling down with anything you want to create."
Recent alum Gulet Isse (BA '21) said they would take Domingo's fearlessness away from the session and into their career: "If there's a story that needs to be told, it doesn't matter if you're afraid. You need to fly past that and make something of what you have. And you know, eventually you'll come into community with people who get what you're doing, and get behind you. But don't settle for any less than that," they shared.
"I hope students take away from this that their place in the industry is of their own making," Dean Roxworthy said as the masterclass wrapped. "You've all got a vision of what needs to be told, and you can make that happen."
Earlier in the day, Domingo had passed on a similar piece of wisdom from his mother, something she used to tell him when he was a young actor complaining about auditions. He extended the challenge to the students:
"Don't complain about it. Write about it. Change it."