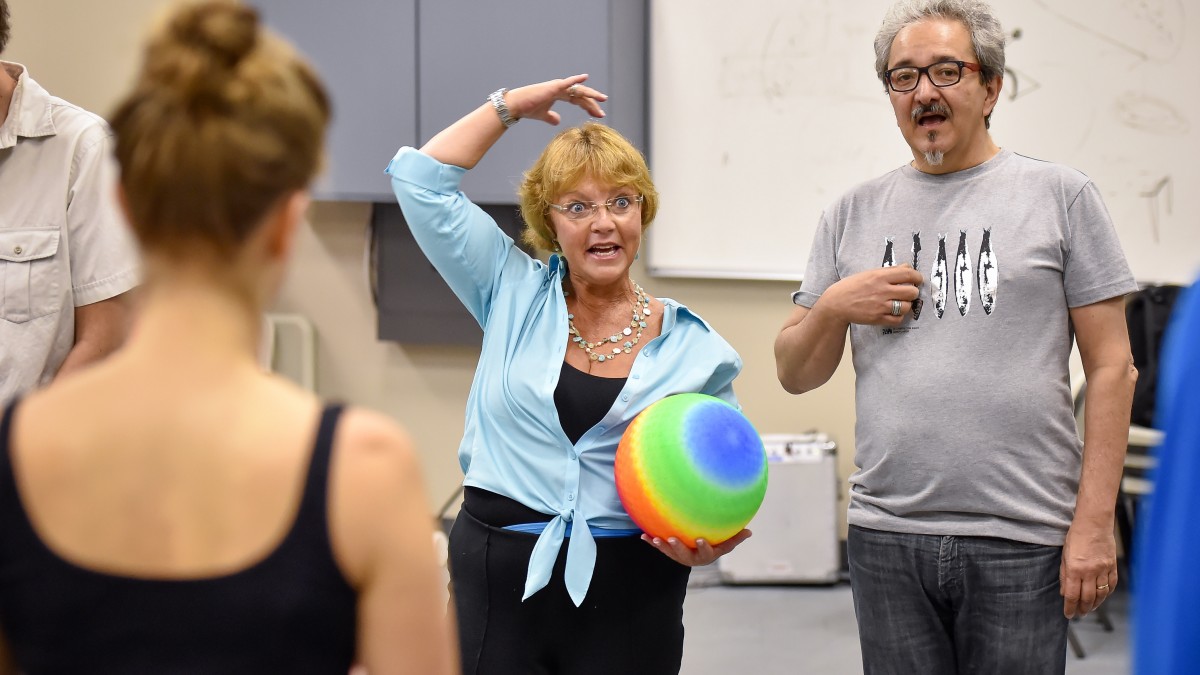 While hospital doctors may put on white coats and stethoscopes to make their rounds, Atay Citron instead wears a big red clown nose to see his patients. Citron is neither medical doctor nor clown — rather, he is a professional medical clown who provides his service as an artist to help patients heal through laughter and cheer.
"The awareness and willingness to accept other traditions of healing is growing," said Citron, who is founder of the clowning therapy degree at the University of Haifa, Israel.
Hoping to spark conversation and to open Los Angeles to the world of medical clowning, Citron and a team of experts shared with the USC community about the profession, his program, and how the melding of acting and medicine improves the patient-doctor experience. He and a team of experts discussed their work as part of a two-day exploration for USC Visions and Voices: The Arts and Humanities Initiative on Oct. 6 and 7, as well as visited the School of Dramatic Arts and the Keck School of Medicine to discuss the benefits of medical clowning in both the acting and medical fields.
Read about the medical clowning experts' visit to dramatic arts classrooms.
In dramatic arts classrooms, the experts held workshops with students to introduce the profession, answer questions and to engage them in medical clowning work. Many of the exercises were improvisational in nature and focused on a connection to the audience, but also drew parallels between the students' acting and potential requests in a hospital environment.
Through interaction, parody, playfulness, fantasy, vulnerability, chaos and reversal of order, medical clowns encourage patients to have a positive outlook on treatment and help alleviate pre-operative anxiety.
Citron said the biggest impact of the  clown is "giving the patient control for the first time in a long time" since they can feel a sense of disempowerment when they are admitted. "They're stripped of their individual identity, forced to wear hospital gowns instead of their personal clothes, and are exposed to unpleasant and often painful procedures," he explained.
While working at the University of Haifa as an associate professor of theatre, Citron was approached by the Dream Doctors — an organization that wanted to integrate professional medical clowning into Israeli hospitals. What started as a venture to professionalize the world of medical clowning turned into a program with more than 80 clowns in 25 hospitals across Israel today.
To date, Citron has worked with  clowns in Israel, Canada, the United States, New Zealand, Australia, Korea, Bali and Papua New Guinea. He was twice a Fulbright fellow and has received several awards, including the 2005 Rosenblum Award for Excellence in the Performing Arts. His work has been published in various international journals, including "Medical Clowning and Performance Theory," which was published in The Rise of Performance Studies.
When Citron began his work with Dream Doctors in 1986, clowns were required to have master's degrees to work in Israeli hospitals. In response, Citron created a BA in clowning therapy program at the University of Haifa that combined lectures with studio work — teaching students acting techniques in movement, voice and humorous interaction skills — as well as basic medical training. The immense success of his program has since paved the way for a master's degree in clowning therapy and the growth of the field to other countries around the world.
In the U.S., medical clowning is finding success through programs such as Big Apple Circus' Clown Care program, which hires clowns as performers and brings them to hospitals. And although Big Apple employs the clowns, this doesn't keep the doctors and nurses from treating them like staff. Citron explained that it's not uncommon for a doctor to ask for a clown as if he or she is a member of the medical team. The clowns don't work separately from the doctors, rather, they work together to heal the patient as a whole. They work closely with the children, understanding their diagnoses, and sometimes bearing the emotional stress of seeing illnesses affect patients.
"The clowns are my heroes because I don't think people can imagine the stress they go through doing this work," said Karen McCarty of Big Apple Circus' Clown Care, who was also one of the panelists for the Visions and Voices discussion.
A former medical clown, McCarty said that although there is an emotional toll, the work is rewarding. She believes that Citron's visit to USC has helped start a conversation about the field in L.A.
"I think it's a well-needed discussion," said second-year MFA student Chaelee Chaput, who attended the event and studied clowning in her first year as a part of the graduate acting program's curriculum. "I'm a big fan of the Big Apple Circus and it's my dream to be a medical clown. Big Apple is already huge on the East Coast, and the potential for medical clowning to flourish on this coast is an amazing possibility."
For fellow second-year MFA acting student Gabriella Garcia, she was thrilled to see her training from the School of Dramatic Arts fit outside of the performing arts. "I love when two worlds collide. How exciting is it to see those worlds be acting and medicine?" Garcia said. "I hope this sparks discussion between actors and physicians because of the possibilities. The most revolutionary things happen when two groups work together."
The Visions and Voices exploration of medical clowning included a panel discussion on Oct. 6 with Citron, McCarty and Wellington Noguiera, creator of the Brazilian organization Doctors of Joy. On the following night, filmmaker Mara Morão continued the discussion with a screening of her documentary, Doutores D'Alegria, about Nogueira's group.