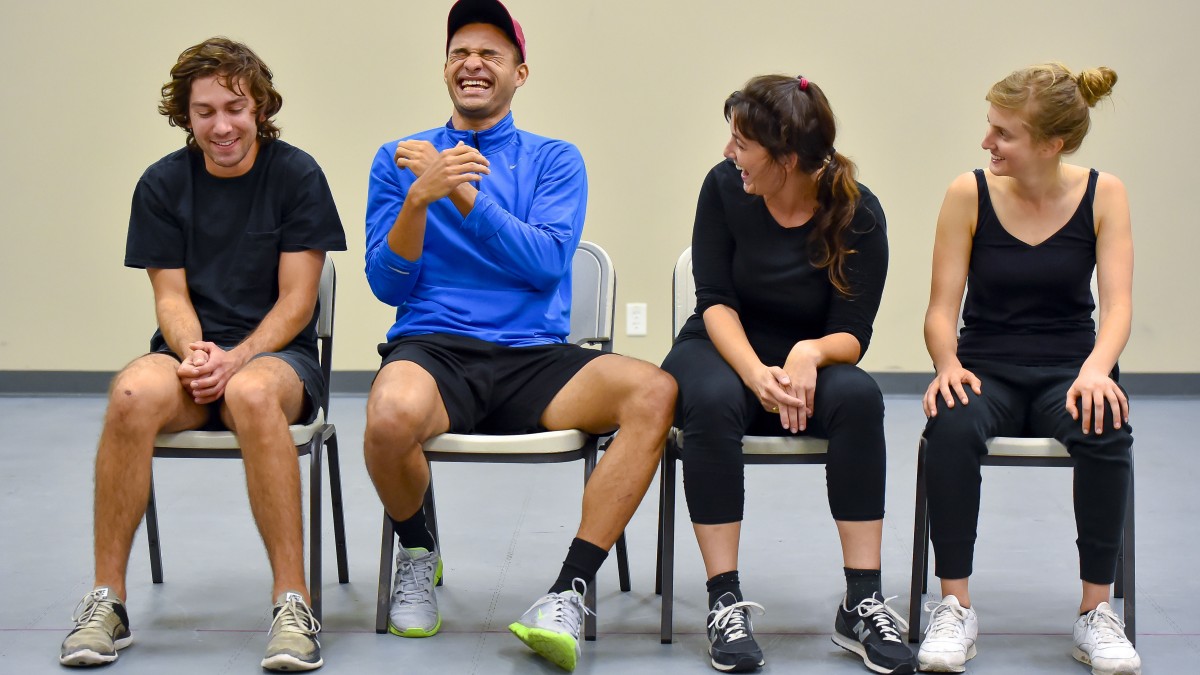 Laughter is good medicine, it's been discovered at hospitals, where professional clowns are increasingly being hired to help relieve patient stress. But don't expect to see them working in full makeup and regalia.
Exaggerated costumes and wigs are fine for circus clowns, who do pratfalls in cavernous arenas from a distance. A clown who performs for a hospital patient, on the other hand, typically has an audience of one. Accordingly, the costumes of medical clowns can be as sparse as a silly hat or a red nose.
The performance of a medical clown is different, too. It's less about tricks and shticks than about developing a character and improvising in the moment.
"The best people for medical clowns are creative actors," according to Karen McCarty, the creative director of community programs at New York City's Big Apple Circus.
Just clowning around
Fittingly, McCarty was saying this to first-year MFA acting students at the USC School of Dramatic Arts.
She was conducting a workshop in medical clowning recently with two other experts — Atay Citron, founder and director of the medical clowning program at the University of Haifa, Israel, and Wellington Nogueira, who worked in the Big Apple Circus Clown Care Unit before returning to his native Brazil two decades ago to start a sister program, Doctors of Joy.
Read a recap of the Visions and Voices "Can Clowns Heal?" panel discussion.
Their multi-day visit to USC included eight classes for dramatic arts students, the screening of a documentary on Doctors of Joy and a Visions and Voices lecture by Citron titled "Can Clowns Heal?"
McCarty told the MFA students that medical clowning, which started taking off in America in the mid-1980s, is growing fast.
"Consider getting on the ground floor of a new profession," she told them.
Do the crazy chicken
The three experts talked about medical clowning's benefits — "I've worked on Broadway, in film and television and I haven't found anything more rewarding," admitted McCarty, and then Nogueira started the physical part of the workshop.
"We'll start with one completely unnecessary, stupid exercise — the crazy chicken," he announced. "You know, clowns and chickens, we are very attached."
He quickly shook each of his limbs in sequence and then sped up the movements. The 10 students — and the head of the MFA program, David Bridel, himself an expert in clowning — followed his lead.
"Now, we do the superhero exercise," declared McCarty, challenging the actors to make up a superhero name and special powers on the spot. The group stood in a circle and announced themselves, adding a little bit of suitable physical business: "I am Inappropriate Man!" "I am Mr. Fast Muscle!" "I am Cannot Swim Woman!" "I am Lazer Lady!" "I am Jumps Too Much!"
An energetic game of tag was next, with participants able to avoid a tag by hugging someone.
"Enjoy the battle, not the goal," boomed Nogueira as students dashed around the room. "Savor it."
Two are better than one
He then asked students to pair up. Without advance discussion, one partner constructed a humorous walk while the other made a soundtrack of comic noises. Medical clowns frequently work in pairs, they were told.
"What becomes funny is the contact between you two," McCarty said.
She whispered a high- or low-status number to each partner in a duo, and they improvised a scene based on their status. That exercise has a long history in clowning, with stupid and clumsy clowns ("the Auguste") often playing off elegant, in-control clowns.
Another exercise had students being introduced to a king (played by Citron) as the world's great opera singers, ballet dancers, rodeo artists, etc. During their made-up-on-the-spot performances, if the king's interest flagged, they had to die, complete with over-the-top death scenes.
"Think Pyramus and Thisbe! Relish the death scene!" instructed Nogueira.
Several agonizing and acrobatic "deaths" later, Nogueira made an observation. "When it was a matter of life and death, you really pushed it, and it was really good."
He told them about the difficulty he once had connecting with a teenager going through chemotherapy. The unhappy teen told Nogueira he wasn't funny. Nogueira, desperate to win him over, started berating himself as being the worst clown ever, getting more demonstrative and more committed to his act, and eventually coaxed a smile from the teen.
"You touch your audience of one," Nogueira said, "and you are changed forever."