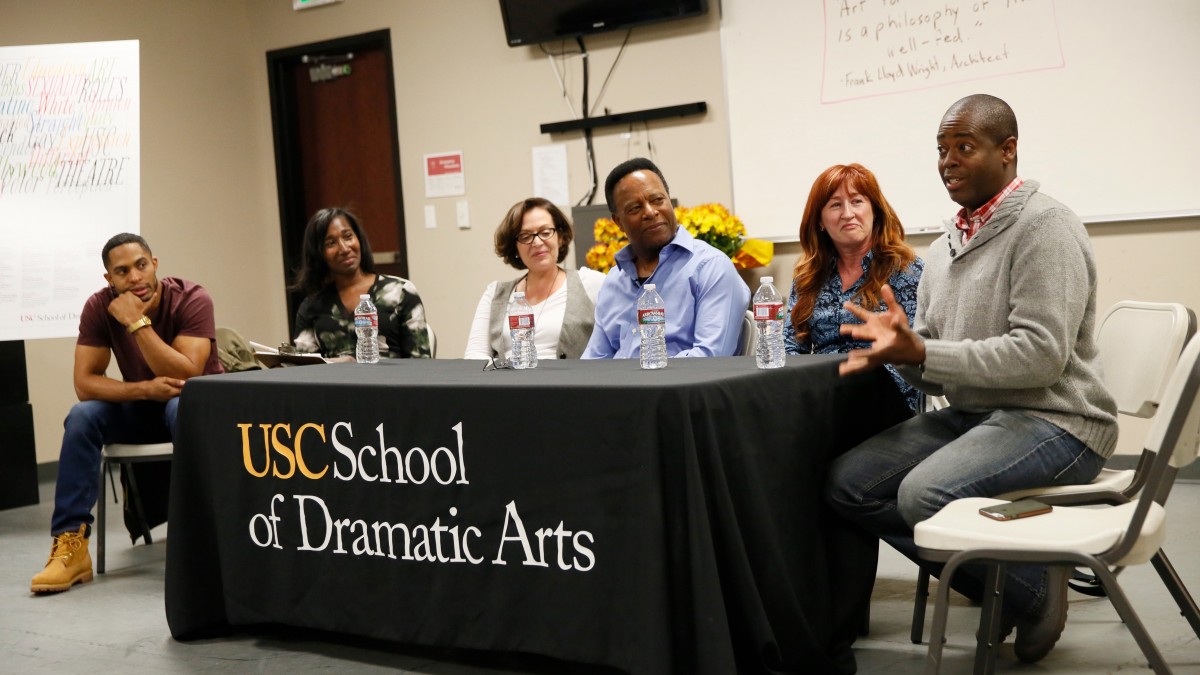 Over the past week, the USC School of Dramatic Arts organized 11 workshops, panel discussions and performances devoted to dialogue around issues of race, gender, culture and identity.
The School's "Diversity and Inclusion Summit" was designed to provoke civic and conscious dialogue about issues of race, gender, culture, and identity within art and academia. Through interactive workshops, panel discussions, and performances participants were encouraged and challenged to listen and respond to diverse perspectives of experiences. There were events geared to the entire Dramatic Arts community, as well as smaller conversations geared specifically to students, faculty and staff. It ended with an evening forum Nov. 16 at Taper Hall.
At the forum, Interim Dean David Bridel announced the re-establishment of the school's diversity committee, which will now be named the Inclusion and Equity Committee, and will be headed by faculty member Anita Dashiell Sparks. The committee, made up of faculty, staff, students and perhaps alums, "will provoke and promote" the dialogue that began at the summit.
Afterwards, Bridel said about the summit: "Questions surrounding diversity and inclusion in the dramatic arts will continue to circulate long into the future. The task was not to arrive at a solution, but to generate and cultivate a culture in which plural opinions and plural representations are equally heard and equally upheld."
During the summit, the process of play selection at Dramatic Arts had come under close scrutiny, and Bridel announced that the literary committee that chooses the school's season now will include student members.
"We need the student voice in our conversations," he said.
Bridel pointed out that USC Provost Michael Quick had sent a memo on campus climate earlier that day, and said that there are opportunities for Dramatic Arts to create and support efforts to enhance conversations on diversity campus-wide. "It's not just being reactive," he said. "Now is the time to step up."
In October, the school posted a new diversity and inclusion statement on its website, but Bridel cautioned that "words require action." He said that play readings, solo performances and Theatre of the Oppressed workshops might be some of the actions the school could contribute to USC as a whole.
Noted North Carolina playwright, dramaturg, scholar and arts advocate Jacqueline E. Lawton was the facilitator for the three-day summit. (The School hopes to bring her back in a year to continue the conversation.) She spoke of the value of multicultural stories. "For too long, we've been hearing a singular narrative," she said.
Four Dramatic Arts students – two African American and two Asian — performed original, heartfelt spoken word pieces and a martial arts and tai chi performance at the Nov. 16 forum. Professor Sparks praised Omete Anassi, Jasmine Hayden, Alex Luu and Rena Wang for having the courage to speak out about the importance of their ethnic identities, stories "which often go unseen, unheard and devalued."
Other events that were part of the summit included a Q and A with actress and trans activist Alexandra Billings, who is in the cast of the award-winning Amazon Studios show Transparent; a screening of the film Still A Rose that updates the Romeo & Juliet story; a panel discussion on gender equity in the theatre and a workshop on cultivating a multiracial identity. Farzana Nayani, an advisory board member for Multiracial Americans of Southern California, told students there to "use your voice to share stories of people who may not have the ability to tell their stories."
In addition, there was a workshop on the ability of artists to affect social change; a conversation with Wren T. Brown, the founder and producer of Ebony Repertory Theatre; and a panel on diversity in Hollywood. The participants on that panel were Dramatic Arts alums William Allen Young (Code Black), Anthony Sparks (writer on NBC's The Blacklist) and Brandon Bell (Dear White People); Marlene Forte (The Fosters, Dallas), and faculty member Vicki Lewis (Finding Nemo, Newsradio, Curb Your Enthusiasm, Modern Family).
Bell told the students to listen carefully to what the industry veterans were saying. "This floor is sparkling with all the gems they are dropping for you," he said.
Young urged the students to be proud of their individual identities. "You owe it to the world to be yourself," he said.
Reflecting on the summit, Anita Dashiell Sparks said: "The School is uniquely positioned to help transform, form and literally stage new thoughts, actions and dialogues about diversity and inclusion. Stories and storytelling are powerful reminders that we can, despite our differences, empathize with each other on a human level. As master storytellers at the School of Dramatic Arts, we use stories and literature to build a more inclusive model of citizenship, accountability and responsibility."