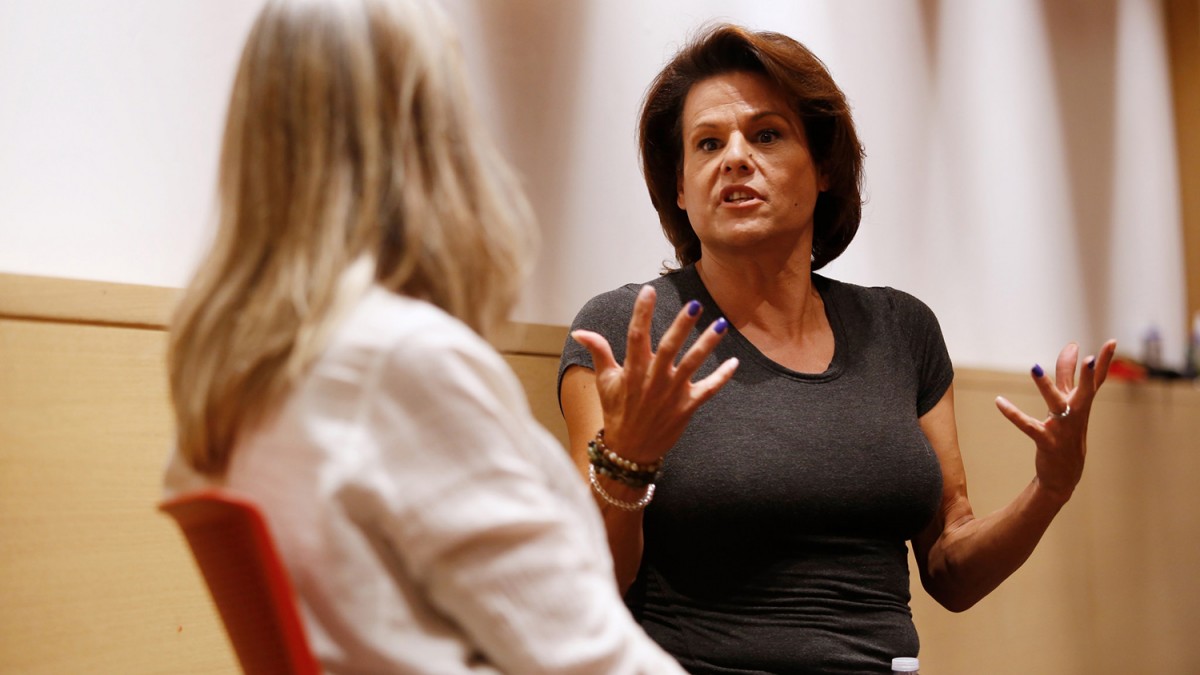 Alexandra Billings' first glimpse into her future challenges of being transgender came at age 7 when the Los Angeles Civic Light Opera was staging a production of The King and I. She asked her father, the Civic Light Opera's music director, to be cast as the role of Tuptim, a slave who is brought to Burma to be one of the King's wives.
"You can't," he said. "That's a girl's role."
Unsure of his meaning, she questioned, "So?" But it was the look in her father's eyes of don't you say that to anyone, ever that cued her to keep part of herself hidden.
Billings, a star of the award-winning Amazon series Transparent and transgender advocate, recalled this moment during a Spotlight@SDA Q&A session for the School of Dramatic Arts' Diversity and Inclusion Summit. The weekend-long event in November was created to foster a dialogue around the issues of race, gender, culture and identity.
"It's shocking to me when I speak and people want to hear me. Because I spent so much of my life screaming and no one would hear me," she said.
Society has difficulty talking about being transgender, Billings said — a problem she blames on the way we're talking about the topic. One of the challenges was, and still is, dealing with how gender is learned. From a young age, society teaches us that pink toys are for girls and blue toys are for boys, that boys can be messy and girls need to be clean, and how men and women should interact with each other, she explained.
"We need to have the right conversation," she said. "It's not about being transgender. It's about sexism. We know about all of the transgender women: Caitlyn Jenner, Laverne Cox, Candis Cayne. What about the transgender men?"
She added: "[Society] can't fathom why I would want to give up all that power. After I transitioned, I couldn't open my own door, or carry my own packages. I couldn't even sit down, men would pull out chairs for me. … Until we have the actual conversation, [the transgender community has] to be as patient as we possibly can."
Acting since 1968, Billings spent most of her life acting — performing in hundreds of plays, musicals and television shows, from Gypsy and A Doll's House, to Grey's Anatomy and How to Get Away With Murder. For her, acting has been an outlet, a therapeutic process she uses in her craft and as a teacher.
Some actors preach that you need to leave your personal life outside when you step onto the stage, but she is a firm believer that you can't separate the two — that there is no character if you don't bring your personal life into the show because you are the character.
"When you go to a therapist and pay them money, their job is to heal," she said. "When you come to me as a teacher and say, 'my mother is awful.' I say, 'I know. Now let's put you in The Glass Menagerie.' And then hopefully you heal. Acting is not therapy. It's therapeutic."
The evening resonated with Seyed Mousavi, a junior attending the event. "We need more people like her," he said. "It allows us to come out of the box and know what has to happen in the future. There are differences, but there need to be people who speak up."
Those who speak up have the power to make change, Billings emphasized at the Q&A. By allowing the theatre to create a safe space for students to spark these conversations, they can continue them throughout the rest of the community. Encouraging  students to take an active part in these conversations, Billings gave a lasting piece of advice.
"We all come from the same place. We all travel the same road. Some of us veer, some of us never come back, but the road must be paved — you have to speak. You have to use your voice. So speak. Every time. All of the time. No matter what anybody thinks. No matter what anyone does. You must speak. Take care of me. With both hands. And I promise I will do my best to take care of you."