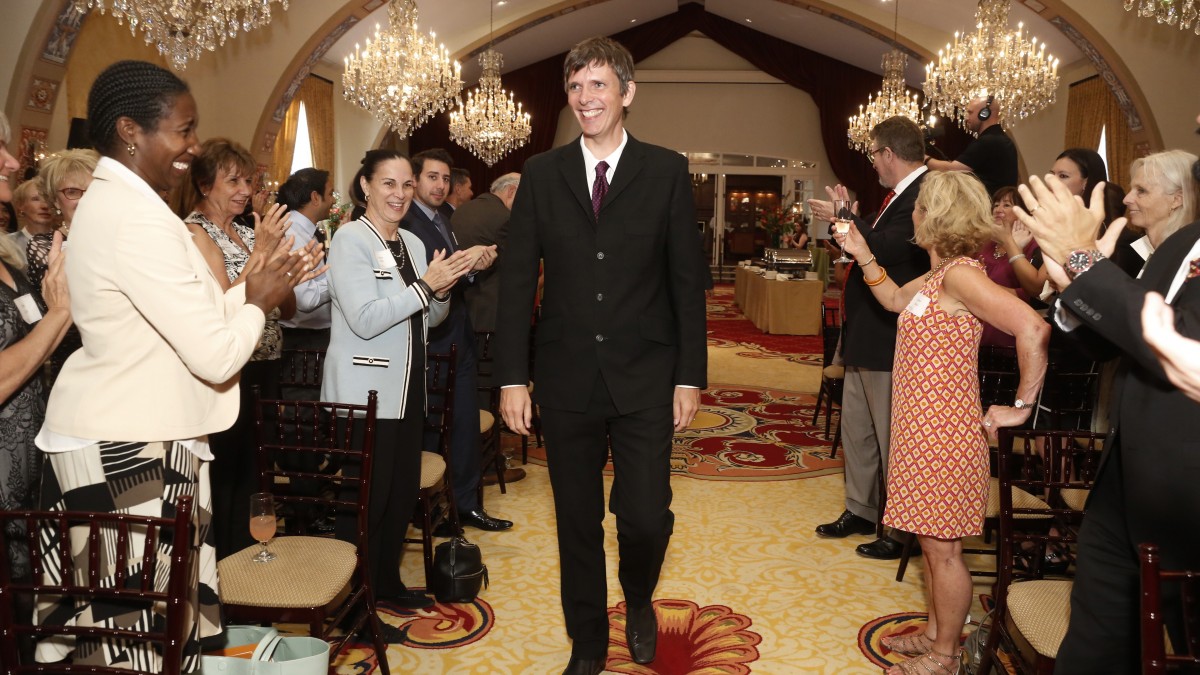 To sustained cheers and applause, David Bridel – an acclaimed teacher, director, actor, playwright and choreographer – was installed as the dean of the USC School of Dramatic Arts on Sept. 26.
In a joyful afternoon ceremony at Town & Gown, USC President C. L. Max Nikias paid tribute to Bridel's "extraordinary depth and breadth of knowledge about the classical and the contemporary," and described the qualities that set Bridel apart.
Bridel is optimistic and enthusiastic, with an incredible energy that helps him inspire others, Nikias told the audience that included Provost Michael Quick, first lady Niki Nikias and Bridel's wife Amanda, university trustees, senior administrators, deans, School of Dramatic Arts councilors, faculty and staff from the school and across the university, as well as leaders from Los Angeles' diverse artistic community.
"He is inventive and original, with an impressive intellect and a quick wit," Nikias continued. "And he has an abiding passion for the school's mission combined with an expansive imagination for what it can and should become."
When Bridel took the podium, this imagination was on full display. In a speech that was by turns inspiring, illuminating, funny and thoughtful, he outlined a sequence of five priorities – new programming, new media, new partners, new culture and new facilities – giving his vision for the coming years.
He hailed "the great proliferation of storytelling in our modern world that becomes ever more astonishing in its variety." In fact, he said, "it is the new abundance of storytelling platforms that is charging and catalyzing a healthy part of my new mission for the school."
He pledged that the School of Dramatic Arts "will evolve its curricula and its culture to develop artist-creators who will connect, catalyze and collide the traditional arts of theatre and storytelling with the digital and entrepreneurial age and evolving social and political conversations.
"By developing students who can navigate and influence multiple dramatic arts contexts, from the traditional to the cutting edge, the school seeks to be a standard bearer in redefining what it means to train a dramatic artist for the 21st century.
"Our future alums should be fully prepared to practice their craft online as well as on Broadway; they should know the art of business as well as the business of art; and they should understand their platforms, from the classic to the modern, from realism to virtual reality."
To that end, Bridel has enthusiastically supported new collaborations with schools, institutes and centers across the university, including connections with nontraditional partners such as medicine, public policy, engineering and education. He acknowledged his fellow deans "for their willingness to dive headfirst into a variety of partnering projects," and said he was grateful for USC's implacable emphasis on the value of the arts in education and the public sphere. "I recognize the unique and almost unlimited potential of six major arts schools conducting research and practice within a stone's throw of each other," he said.
His priority of "new culture" involves a full engagement with the school's alumni, raising the standard for inclusivity and furthering "the extraordinary work that dramatic artists have forged in the area of social change."
As for new facilities, Bridel said that "it is an exciting moment to consider the possibility of upgraded, state of the art space and equipment for students and faculty alike."
Bridel came to USC 11 years ago to offer a three-day workshop in the physicality and performance of mask theatre. That brief visit morphed into an adjunct appointment, teaching acting, movement and clowning. That led to a full-time associate professorship, teaching in the MFA acting program under the guidance of mentor Andrew J. Robinson.
As years passed, then-dean Madeline Puzo moved Bridel into administrative and leadership roles at the school, culminating in him being named interim dean in 2015.
Bridel thanked his fellow deans and senior university administrators for making his interim year "such a pleasant experience that, inexplicably, I came back for more, and now we are stuck with each other."
He ended with a quote from his theatrical muse, the French-Romanian playwright Eugene Ionesco: "When one has understood, one stops, satisfied with what one has understood. Understanding is far too little. To have understood is to be fixed, immobilized. But a mere Why, a new Why can set one off again, can unpetrify what was petrified, and everything starts flowing afresh."
Read Dean Bridel's entire remarks from the evening.
Watch the installation: