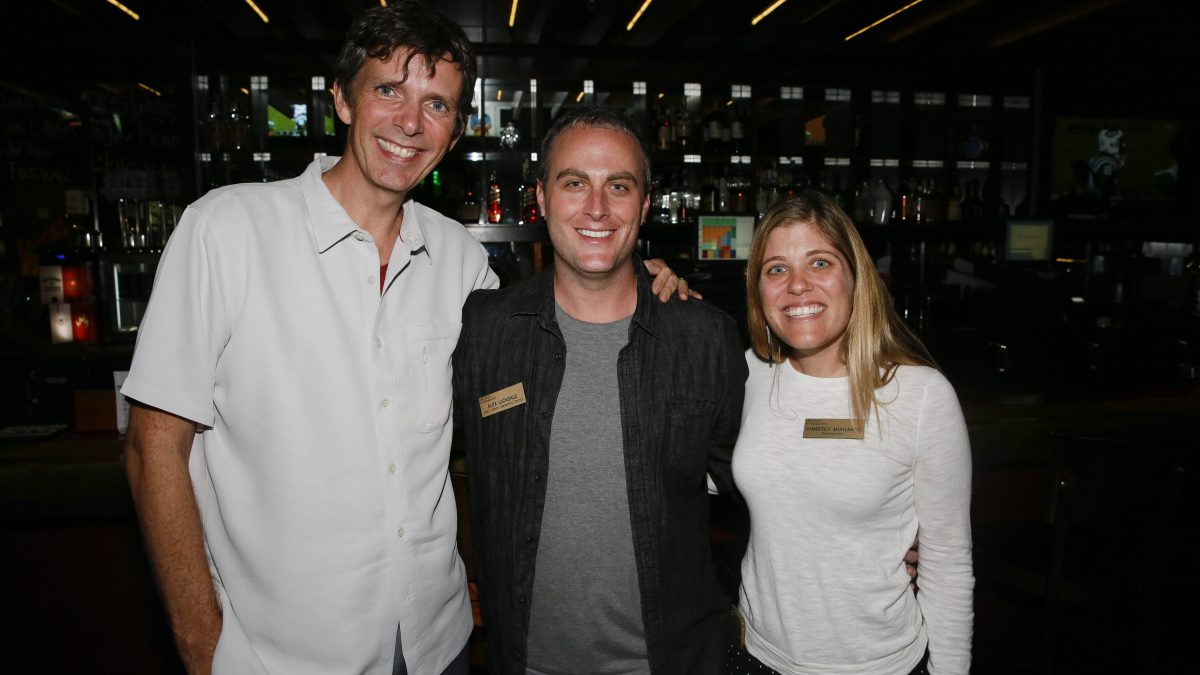 In an ideal world, alumni are regularly tapped to help current and future groups of students gain connections and navigate the professional world once they leave the halls of Troy. Three years ago, as the School of Dramatic Arts began laying the groundwork to create its Alumni Leadership Council (ALC), Alexander LoCasale (Acting BFA '05) knew that professional development and entrepreneurship would need to be top priorities for SDA alumni. Through his extensive meetings and discussions with Dean David Bridel, LoCasale found plenty of common ground and deepened his already extensive involvement with the school.
LoCasale had previously represented SDA on the USC Alumni Association Board of Governors, and as Chairman of the Board of Governors' Marketing and Advertising committee. In taking on the role of the ALC's first chairman, he decided that where alumni outreach and advancement has not always been viewed as a department priority, those objectives will be front and center under his watch.
"The administration and the staff behind the alumni initiative is very focused," said LoCasale. "When we started this two years ago, we know the students felt disenfranchised and left out. We understand and we empathize with them because we are the alumni. This is alumni-led. It is nothing but."
In its evolving stages, the ALC had been what LoCasale calls "a wet paint" project. No longer. The council has grown to more than 12 members who span a number of industries including the performing arts, backstage technical crafts, and even the legal profession. The ALC will soon launch a mentorship program to pair up recently graduated alumni with upper classmen. The council is also looking at scheduling speakers, holding mixers, and other networking opportunities, says LoCasale who plans to be a member.
LoCasale has noticed the efforts of his fellow council members to reach out and make job notices, representation and other opportunities available to SDA alumni and the students should be taking advantage of them. During his years on campus, as he trained for a career as an actor, LoCasale was never shy about approaching and interacting with his professors and former SDA Dean Madeline Puzo, to brainstorm work ideas.
"I always felt comfortable knocking on doors asking for their advice, running ideas by them, on something I wanted to try outside of school," LoCasale said. "Whether it was a performance opportunity or if I needed to just bounce ideas off, did they think I can make extra money being a deliveryman? What types of jobs could I get and still pursue this acting career?"
Once out of school, LoCasale booked work as an actor, but medical issues forced him onto a different career path. He ultimately moved into post-production and consulting, where his Trojan connections served him well. At the start of his career in post-production, while serving as the SDA's representative to the Board of Governors, LoCasale worked for a small company based in Korea. A fellow Board of Governors member was a president within the motion picture industry and he was able to help LoCasale's company get its first paying job on the film The Green Hornet.
"When that acting career for me looked very much like it was not going to happen, SDA were the crucial people that helped put me in the room with the clients I work with today," said LoCasale, who has since gone on to operate his own entertainment consultancy firm and also be on exclusive retainer for Double Negative Prime Focus/Gener8 Digital Media Services. "My career can very much be traced back to my being put on the Board of Governors to represent the School of Theatre."
LoCasale's love for all things Trojan began in childhood. A native of Oakland who moved to Los Angeles when he was 8, LoCasale regularly accompanied his father Al – an executive with the Los Angeles Raiders – to football games at the Coliseum. Gravitating to the performing arts, he enrolled at USC joining what was then the School of Theatre, where, among other things, he met his future wife Megan Harvey-LoCasale (BA '07).
"I had multiple interests, but I definitely wanted to study this craft a little bit more," he said. "USC was my first choice, I really loved the idea of having a conservatory program while at the same time being part of something so big as the University of Southern California, with the football team, with the history, the variety of majors, and just also being in the city I love."
The LoCasales return regularly both for school functions and out of nostalgia. Their generous gift to the SDA last spring will go toward career development, an area that LoCasale feels students should be considering in entrepreneurial ways. He references alumni Alice M. Pollitt, an SDA graduate in stage management who works extensively on corporate events between artistic assignments.
"That's something that this council and our school should start to prepare these kids for — the fact that you're going to have to look elsewhere," LoCasale said. "The actor already knows he's going to have to take a certain job in order to get that audition. You're going to have to find different revenue streams. The stage manager knowing you can get paid and get paid today to work at a Google event and handle the stage management…I never would have thought of that."