In mid-April, the USC School of Dramatic Arts (SDA) was thrilled to welcome a panel of distinguished writers and artists to campus for the final installment of the School's groundbreaking new Multihyphenate Masterclass series.
Taking place throughout the academic year, the series was created to expose students to the myriad opportunities available to them. Faculty leaders welcomed guest artists for workshops and conversations on topics ranging from artistic entrepreneurship to directing and writing, as well as representation in casting, multimedia storytelling in today's creator economy and more.
Led by Professor Anita Dashiell-Sparks, the final panel for the 2023-24 academic year focused on the craft of writing and took place just weeks before the Writers Guild of America launched their historic strike. Though the strike was not discussed during the event, themes surrounding the business of writing, balancing commerce and art, and Hollywood being a place where "autobiographies are capital" played out throughout the discussion. Joining Professor Dashiell-Sparks were award-winning writer Sharon Washington (nominated for a 2023 Tony Award for Best Book of a Musical for New York, New York), actor-showrunner-writer Anthony Sparks (Queen Sugar, Bel Air), and director-producer Chuck Schultz (When My Sleeping Dragon Woke). Each of the panelists brought years of experience and wisdom and delved into the process of making it as a storyteller in multiple mediums in today's arts and entertainment industries.
The event was split into two sections: a question-and-answer session with the full panel, followed by a hands-on workshop that took participants through the writing process for pivotal scenes from Queen Sugar, as well as a step-by-step look at creating the introductory sequence of When My Sleeping Dragon Woke—the documentary by Schultz that traced Sharon Washington's process of writing her play Feeding the Dragon. Along the way, the speakers delivered a series of practical and philosophical tips on writing for those pursuing careers in the dramatic arts.
Sparks, originally from the South side of Chicago and an alumnus of the USC School of Dramatic Arts, emphasized the importance of biography and experience when writing in Hollywood.
"Everybody's life is interesting on some level. It's your job to figure out how to translate that into a certain set of stories that could be part of a TV show," Sparks said, charming the audience with his signature wit. "Hollywood already has its list of people who can give them the big action movie, or the sci-fi thing. What they don't have is your voice."
Washington and Schultz agreed, and reminded the audience to start by writing everything a writer wants to say, and relying on editors and collaborators to refine the finished product.
"You're never writing in a vacuum," Washington said. "You're going to have editors, you're going to have co-writers, you're going to have collaborators, you're going to have directors. It's part of the storytelling process."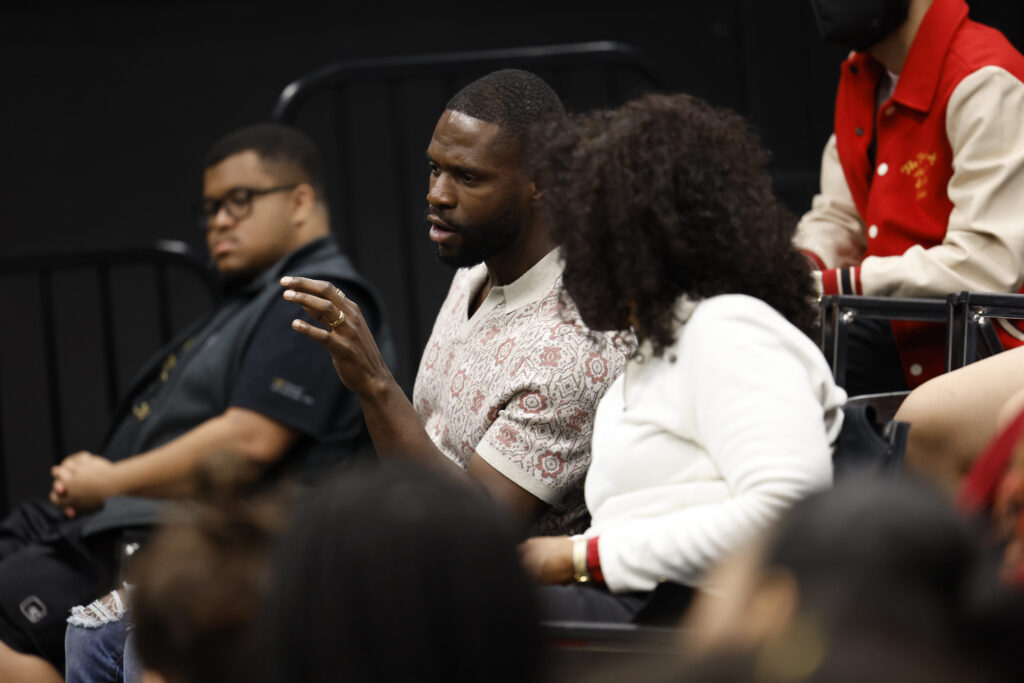 Where the fire burns
Sparks pointed to a beloved scene from Queen Sugar he wrote wherein two characters, Hollywood and Aunt Vi, deliver their wedding vows to one another. He revealed that people were surprised that he was able to capture the touching thoughts of Aunt Vi, a character so different from him, and said that people had been asking him for advice on writing wedding vows ever since.
"Not everything you write has to be an autobiography," Sparks said. "You can write well for characters that people don't expect you to write well for because you're tapped into these things that are important for you."
Washington, whose play is based on her own autobiography, touched on digging into the specific and the personal to find stories that would connect with other people.
"All our stories start with the personal. The more personal it is, the more specific it is, the more universal it can be," Washington said. "It's where you start. That's where the fire burns, that's where the story lives."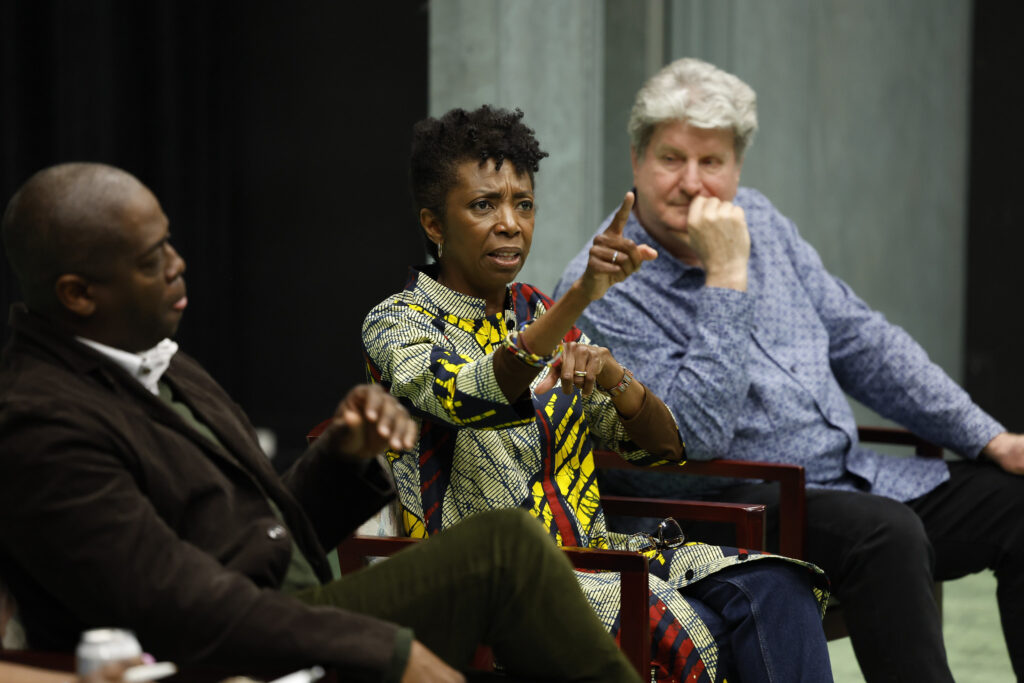 Referring to Schulz's chosen medium of expression as a documentarian, Washington reframed the notoriously lengthy process of creating a documentary as a good test for which stories are worth telling.
"I'd love for you to think about what you'd be willing to spend four or five years of your life working on," Washington said. "What's important enough to you?"
Washington also encouraged students and alumni to work from prompts to tap into different subconscious memories and associations. Writing a story around the same couple of words, she said, will lead to wildly different outcomes for different writers.
All the panelists agreed that making time to write as a working artist was no easy task, and encouraged the audience to be confident and persevere in the face of inevitable rejection.
"The thing that scares me today in our Insta-world is how people can have moments and think they've had a career," Sparks said. "You all are putting in the work now, and will continue to, so that you can have your best shot at having a career."