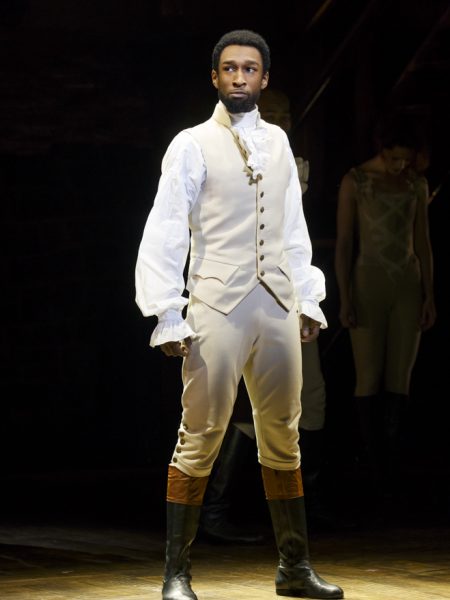 Ask Donald Webber Jr. (BFA '08) about the first time he took the stage playing the title role of Lin-Manuel Miranda's smash hit musical Hamilton, and the alumnus flashes instead to a different memory: his company debut as a member of the ensemble.
"It was the night Mike Pence was here," recalls Webber, referring to the Nov. 19 performance after which the cast read a post-curtain message to the Vice President-elect about the need for tolerance, thereby inspiring the wrath of President-elect Donald Trump. "I was really excited because, as a new cast member, the last thing you want to do is distract members of the cast who have been doing it for a year. I was happy that there was something else, that I was not going to be the distraction that night."
It may seem un-actorly not to crave the spotlight, and the people who know Webber invariably mention his work ethic, his generosity and his humility, as well as his considerable talent. During a middle school production of The Wiz, while other kids did the speaking, a sixth grade Webber sang all of the leading male parts: Scarecrow, Tin Man, Lion and the Wiz. His first Broadway credits included the original company of Motown: the Musical and in the touring company of Jersey Boys. In both cases, he was part of the ensemble.
This is not to suggest, however, that Webber is anybody's shrinking violet. He worked constantly both on campus and off during his years at USC and was a contestant on the ninth season of American Idol. Now that he has gotten his "shot" carrying the show (Webber performs in the ensemble nightly and plays the title role for three performances per week, every other week), Webber's days of blending in are probably over.
"It is not possible to not remember Donald," says his former SDA physical movement instructor and director Stephanie Shroyer. "He is just an amazing spirit today and he was when he got here."
A native of Inglewood, Calif., Webber comes from a musical family. His father plays the piano and his mom sings. "We're all musical," Webber says. "At family reunions, that's what we do. We sing and we eat and then we sing some more. It wasn't until sixth grade that I realized, 'I like this acting part, too.' "
Webber made USC his school of choice and auditioned his way into the rigorous BFA program. After Webber's sophomore year, Shroyer, now associate dean of BFA programs, remembers a conversation she had with him. The young actor was juggling school work and a full slate of side projects. He could probably have put aside his studies and gone straight into the business, according to Shroyer.
"We had to remind him that the program he was in was a focused one. He was doing so great in everything that he didn't necessarily have to be in this program," Shroyer says. "One of the things that made my respect for him go sky high [was] when we talked to him about 'what do you really want to do?' 'Think about whether you want to have this very concentrated time to make an investment and to learn about your craft and study or do you want to just go out and start working because you can't straddle the two things.' He said, 'You know what? I'm only this age once, and this is my time that I should invest in learning a craft.' "
"Somewhere along the line, during his time with us, Donald Webber became a really serious artist," Shroyer continues.
"As he moved throughout his career, he was going to be the captain of the ship."
Webber's Trojan ties are strong, and he frequently posts on social media to acknowledge his professors, classmates and training. The program was everything he had hoped it would be and more, he says.
"Even from the audition, it stuck with me, this was a family situation," Webber says. "This isn't just 'Oh, we're going to go and grab the actors we like the best.' Sure there's that. But this is a family. These are the people we want to help grow and to impart wisdom upon so when they have opportunities like I'm having now with Hamilton, they will be ready."
After leaving USC, Webber taught drama and directed plays for a few years at his former high school, St. Bernard in Playa Vista. His regional work included the hip-hop musical Venice at the Kirk Douglas Theatre in which he shared the stage with his future Hamilton castmate Javier Muñoz. In 2011, he came back to campus to visit with faculty and "soak up the good vibes of USC," dropping in on a rehearsal of the 2011 production of Balm in Gilead, which Shroyer was directing.
The production had experienced some unexpected personnel turnover and Shroyer asked Webber if he had any availability for the next three weeks. Webber did, and ended up acting in the production as a guest artist.
"I told him, 'I'm teaching these kids, but you're an alumnus and a professional. You know what to do.' And he did and he was amazing," Shroyer says. "There were people who saw that show who came out saying, 'It's strange. There's a kid in that production who looked exactly like Donald Webber. I can't figure it out.' "
Webber left his teaching assignment for a two-year stint on the road with Jersey Boys. Upon returning to New York, he had inquiries about the Chicago cast of Hamilton. With his wife, actress Rebecca Covington, having recently returned from touring with the musical Waitress, Webber took a gamble and decided to pass up Chicago and stay in New York.
The Hamilton producers called him again and offered him a spot in the Broadway company. In March of 2017, he began covering the role of Hamilton. As a member of the ensemble, Webber has played James Reynolds and understudies several additional roles. When he goes on as Hamilton — the part originated by composer Lin-Manual Miranda — he typically gets post-show rock star treatment.
Webber, who waited at the stage door to meet Viola Davis and took a selfie with Courtney B. Vance, says he enjoys the fan interaction. Hamilton is a special show, and he is more than happy to meet those who have been affected by it.
"I always make sure to go out there and spend time with the folks who just spent three hours with me," Webber says.
"I was on the other side of the barricades not so long ago."
Story appeared in the 2017-18 Callboard magazine.