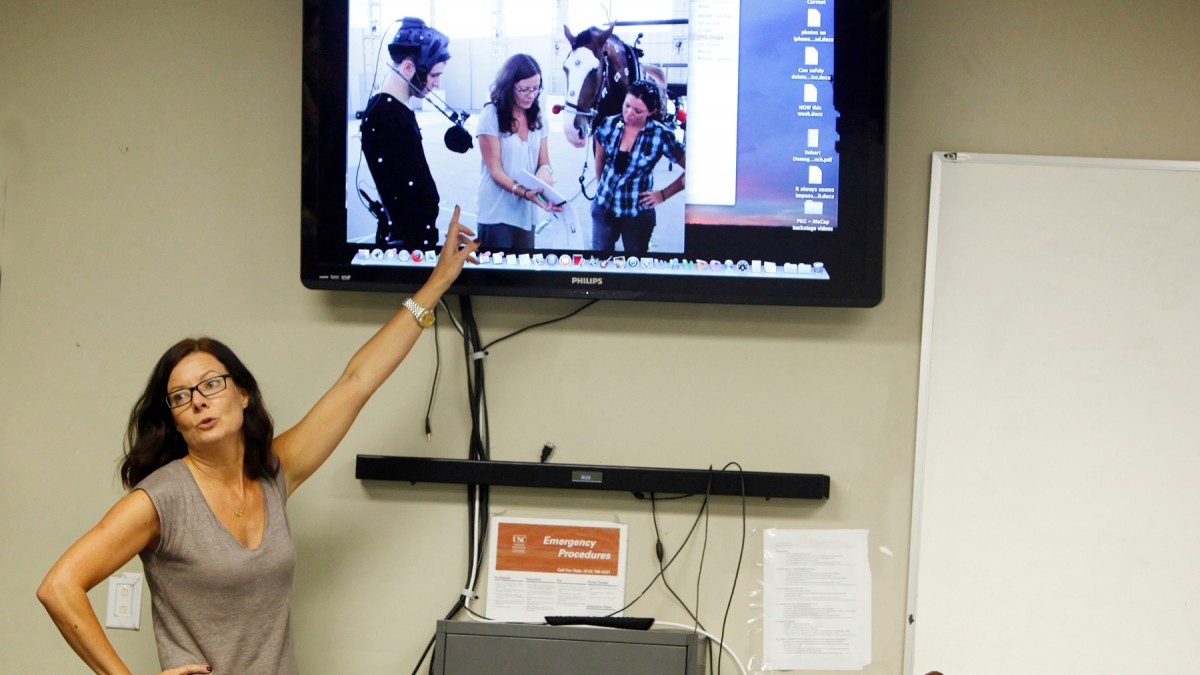 It was as if she was an explorer describing exotic lands to those who had yet to make the journey.
Kate Saxon, a British theatre and television director who has helmed more than 50 video games, oversaw a workshop for MFA and BFA students at the USC School of Dramatic Arts, explaining how acting for video games differs from other kinds of acting.
"Actors love working on games," she reassured them. "You use a lot of imagination. The performance is closer to theatre than to television or film. And there's a lot of work out there in games."
Casting calls
Saxon has worked with actors Ben Kingsley, Judi Dench, Simon Pegg, Patrick Stewart and Michael Fassbender as the performance director or voice director on well-received titles such as Alien Isolation, Witcher II and Witcher III, Far Cry 3 and Bond: Goldeneye 007 Reloaded.
She said the days are past when games relied primarily on actors whose skills are conjuring many voices so as to play multiple characters in one game. These days, casting for games is more in line with casting for any other medium: It's about casting the most suitable actor for a single specific role. Full-performance capture can include an actor's face as well as his or her body and voice, with actors getting paid an extra fee for their facial likeness being used.
[RoyalSlider Error] Flickr Responded: "Photoset not found"
Saxon attended the University of Hull in England, where she and USC Dramatic Arts' Interim Dean David Bridel studied English and drama. She has been in Los Angeles for many months directing a big-budget game whose name she couldn't divulge due to the secrecy surrounding production.
Bridel, who sat in on the workshop, told the students that the school had never before sponsored instruction in acting for video games.
In a nearly three-hour session, an energetic Saxon showed examples of video games old and new, detailed the special requirements of game performance, then talked students through the basics of auditioning, directing them as they worked on game scripts.
Here are some of the pearls of wisdom she passed on:
Increasingly, game developers are hiring professional directors. "Twelve years ago, the game developers tended to direct actors themselves, but they're not directors, they're game programmers, so they realized there was a person missing: I can provide a bridge between the worlds of gaming and performance."
Actors can be hired as a body double for a famous actor and get to perform during filming for the entire game. The famous actor will then record dialogue in an automated dialogue replacement session to match the double's performance.
The acting space is called a "volume," not a stage. Actors wear a skintight bodysuit with motion-capture dots on it, as well as a head cap with more dots, a face camera and a microphone. There will be dozens of motion-capture cameras on all four walls of the studio, and they capture the movement of the dots. "It's a 3-D graph of the performance that you see," Saxon explained.
Additionally, there are usually two camera operators to film the scenes. Their work is merely used as an additional internal reference tool for both the directors and animators.
Actors start and end their actions with arms outstretched in a T pose so the cameras can be calibrated to their range of motion. Each action has to start and return in a neutral position so the 3-D figure of dots can be identified on the correct character model.
Shooting takes a long time. Shooting four scenes can be a full day's work in motion capture.
There are currently no royalties paid to actors or directors in games. "It's so complicated," Saxon said. "There may be 200 animators who would be in line for royalties, too. They have also created the performances."
There are actors who specialize in fighting who may be cast only for that skill — to act as a fight double for a role. However, Saxon will work with a fight director and have the actors perform as many of their own fights as possible.
Similarly, back in the voice-over booth, there are actors who get booked for AI (additional barks that are used in-game) because they are good at shouting. Games tend to have a lot of fights and therefore require high adrenaline shouts.
Dexterity on the microphone is important. "Take notes quickly and have discipline," she instructed the students. "No rustling in the booth. Come wearing soft stuff and take off jewelry."
Ask the casting director whether the other actors' voices have been recorded first. If so, "work off them," she advised, instead of playing off someone in the casting room reading from a script.
Due to industry secrecy, you may be given a fake script at auditions. In fact, Saxon said, actors may even be told they are auditioning for a film, and only when they are offered the job will they be told the project is a video game.
Some games are branching out from their violent past and with a rise of "indie" games, some are offering very different experiences. "In the game Everybody's Gone to the Rapture, for example, you don't kill anyone," she said. "You sort of investigate."
An "open world" game is where players can move where they want. These will often offer lots of casting opportunities, as all the worlds need to be filled. For example, Saxon was lead director of the open world game Witcher 3, which had a 50-hour main storyline, with 950 characters. The script ran to 450,000 words.
When Saxon passed out sample scripts, she showed students the jargon, abbreviations and formatting that make game scripts different from television and film scripts. Quickly, she had them read lines as she gave specific feedback.
"Hate him more than that. I don't quite believe you yet."
"It's less about the sound of the word and more about what your character wants."
"Just think about the integrity of the performance, not that it is for a game." Kate Saxon
"Keep the venom and level of attack."
"Now do that again without winding down at the end."
It was all new to the actors, who responded with enthusiasm and commitment both to her direction and to her lifting the veil on this world of opportunity.
Saxon left the actors with one last bit of advice.
"Just think about the integrity of the performance," she said, "not that it is for a game."