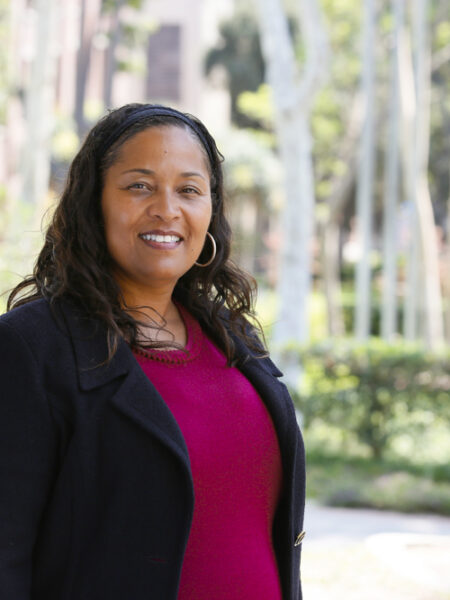 As part of a Q&A series with our faculty and staff, the USC School of Dramatic Arts asked Vice Dean Lori Ray Fisher about what she's looking forward to this academic year, back to school tips for new and returning students and her deep Trojan roots both as an administrator and as an alumna.
---
How long have you been at SDA?
Lori Ray Fisher: I have been with the School of Dramatic Arts for 25 years.
Tell us a little about your professional career.
My career began with USC approximately 35 years ago, as a Recruiting Coordinator in the USC Career Center. My primary responsibility at that time was to find companies to come to campus and hire USC's graduating seniors. I worked with over 450 companies and hundreds of students in making employment connections. 
I enjoyed this work but wanted to work more directly with students on the academic side, so I moved to the Psychology Department as an Academic Counselor. I supported the successful matriculation of Psychology undergraduate students. It was here that I made the commitment to a career in higher education. I enjoyed working with students and had the opportunity to work specifically with low-income students that were on a government grant to attend higher education. I found my happy place. Helping this population brought me so much joy.
I continued my work in psychology and developed successful mentoring and networking programs for underrepresented students for several years. My next opportunity was within the School of Dramatic Arts or Theatre as it was called then. I was invited to run the Admissions and Advising departments for the School. I increased their enrollments by 40% my first year. During my tenure, I developed programming to increase the number of applicants to the overall programs, established diversity recruitment programs and partnered with inner city schools to increase awareness of USC, the School of Theatre and the Arts in general.
After four years with the School of Theatre, I was recruited to return to the USC Career Center as their Director of Counseling. I worked on developing internship opportunities for students. I had the pleasure of partnering with the USC minority student offices to help create specialty programming for these populations.
After three years, I was invited back to the School of Dramatic Arts to serve as the Assistant Dean of Academic and Student Services. From this position I was invited to serve as the Vice Dean for the School of Dramatic Arts.
I have had the pleasure of watching the school grow, develop and become a power player within the industry. I am proud to be able to say that I contributed to this growth and development.
What are some tips you would give to incoming students to make the most out of their first year?
I would encourage incoming students to become involved right away. They should make it a goal to join at least one club or organization their first semester. The second tip I have is to make it a goal to visit the office hours of at least one faculty member during their first semester. They don't need to have a problem, but I encourage students to visit their faculty's office hours to introduce themselves and learn more about that faculty member and their career. We have a stellar faculty here at SDA and it is a huge benefit that our students should take advantage of.
What is it that makes SDA such a special place to study the dramatic arts?
I believe the people make it an incredible place to study. The faculty and staff are committed to the students — their development and their learning. There is a strong sense of community, support and overall human kindness here. There is space for difference and a celebration of diversity. The community is accepting, giving and welcoming. There is an environment created where everyone belongs. There are no outsiders.
Are there any underutilized resources at SDA you'd like to highlight for students?
We are very fortunate at SDA to have our very own Professional Development Center that helps launch our students into the world of professional work. Our center is relatively new and students are slowly learning more and more about it. This is a resource that is currently underutilized but is growing. The Professional Development Center can help with free headshots, resumes, acting coaching and more. Students should take a moment, visit and learn more about the many resources available.
What are you looking forward to this year?
This year I am looking forward to the opening of our new building. We have had aspirations of a new building for the past 25 years and that is finally coming to fruition. This new building will help bring us together under one roof and establish a place of community and belonging.
What's something nobody knows—but everyone should—about Lori Ray Fisher?
I am not sure if everyone knows that I am a USC alum with both my undergrad and grad degrees from USC. I am also a first-generation college student. My pathway here at USC was a challenging one, but it fueled my passion to develop a career in higher education. I would not trade those experiences. Those experiences helped me to find a passion for mentoring, serving others and developing supportive networks.