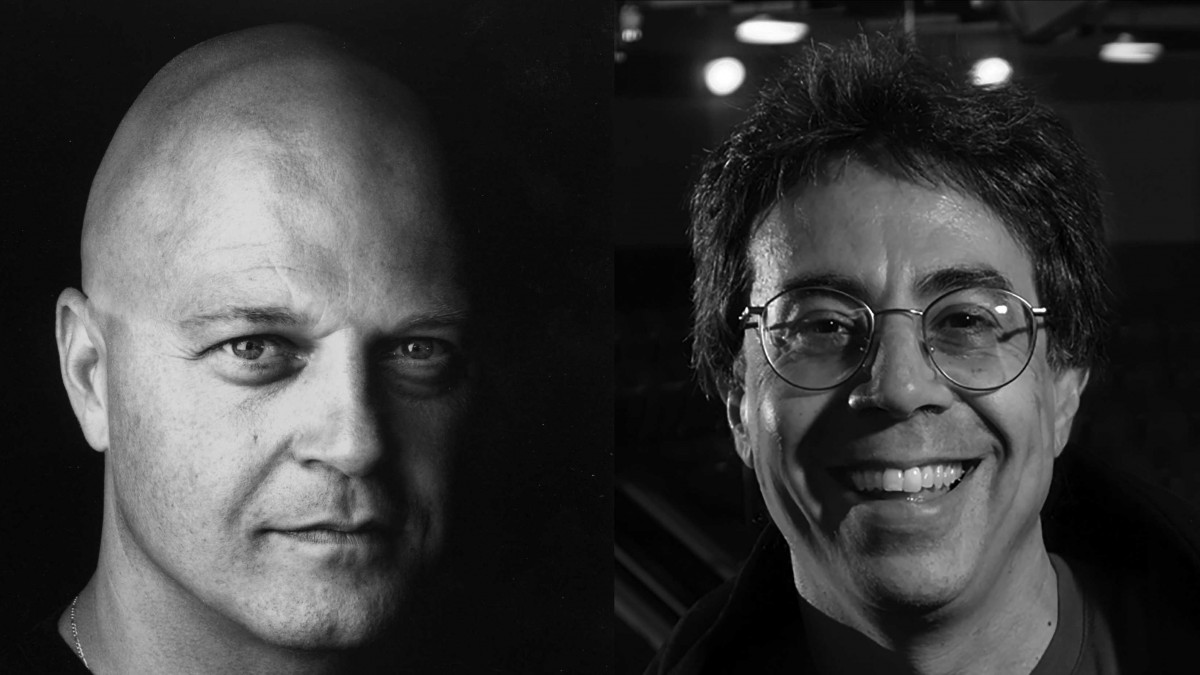 Award-winning actor Michael Chiklis and artistic pioneer in contemporary American theatre Tony Taccone will deliver the charges to the graduates of the USC School of Dramatic Arts during two commencement ceremonies on Friday, May 13.
"It is an honor to welcome these two artists of substance to celebrate commencement," says Dean David Bridel. "Their professional journeys will deeply resonate with the Classes of 2016 as they chart their future."
The 2016 commencement begins a new tradition for the School of holding two ceremonies –one for undergraduates and one for master's degree candidates – at the Bing Theatre at the University of Southern California.
Chiklis will speak at the undergraduate ceremony, scheduled to begin at 11 a.m., and Taccone will speak to at the graduate ceremony, scheduled to begin at 3 p.m. Please note, the commencement ceremonies are ticketed events and not open to the public.
Michael Chiklis
Michael Chiklis began acting professionally on the stage at the age of thirteen. He received his BFA from Boston University's college of fine arts and shortly thereafter moved to New York City to pursue his career ambitions.
After a few years of waiting tables, tending bars, performing in off Broadway, off-off Broadway and regional theatre productions, Chiklis got his big break landing the role of John Belushi in the controversial film Wired, based on the book by Bob Woodward.
This led to a string of guest appearances on top TV hits such as Seinfeld, Murphy Brown, Wiseguy, LA Law and Miami Vice. He then landed the lead role of the congenial yet tough Tony Scali in the hit ABC series, The Commish.
Next came Chiklis' Broadway debut in the hit one-man show, Defending The Caveman at the historic Booth Theatre. After a successful six month run, he moved on to a number of roles in independent films, TV shows and MOW's such as Body and Soul, Daddio and The Three Stooges Movie.
His career moved to a new level when he took on the role of rouge cop, Detective Vic Mackey in the groundbreaking and historic FX series, The Shield, for which his performance was awarded Emmy, Golden Globe, Critics and Peabody Awards; a SAG Award nomination, and multiple other nominations and accolades.
In addition to dozens of personal appearances on morning and late-night talk shows, some of Michael's other notable works on the big and small screens include his portrayal of the Thing in Marvel's Fantastic Four and Fantastic Four: Rise of the Silver Surfer, Disney's No Ordinary Family, Vegas on CBS, American Horror Story: Freak Show on FX, Eagle Eye produced by Stephen Spielberg, When The Game Stands Tall, and Parker and Pawn, an independent crime thriller produced under his "Extravaganza Films" banner.
Chiklis recently completed filming the psychological thriller, Rupture, and can be seen at the moment on the hit Fox series, Gotham.
He also has just finished recording his first solo album, Influence, which is due for release this summer.
Tony Taccone
During Tony Taccone's tenure as the Michael Leibert Artistic Director of the Berkeley Repertory Theatre, the Tony Award–winning nonprofit has earned a reputation as an international leader in innovative theatre. In those 19 years, Berkeley Rep has presented more than 70 world, American, and West Coast premieres and sent 23 shows to New York, two to London, and one to Hong Kong. Taccone has staged more than 40 plays in Berkeley, including new work from Culture Clash, Rinde Eckert, David Edgar, Danny Hoch, Geoff Hoyle, Quincy Long, Itamar Moses, and Lemony Snicket. He directed the shows that transferred to London, Continental Divide and Tiny Kushner, and two that landed on Broadway as well: Bridge & Tunnel and Wishful Drinking.
Prior to working at Berkeley Rep, Taccone served as artistic director of Eureka Theatre, which produced the American premieres of plays by Dario Fo, Caryl Churchill, and David Edgar before focusing on a new generation of American writers. While at the Eureka, Taccone commissioned Tony Kushner's legendary Angels in America and co-directed its world premiere. He has collaborated with Kushner on eight plays at Berkeley Rep, including The Intelligent Homosexual's Guide to Capitalism and Socialism with a Key to the Scriptures. His regional credits include Actors Theatre of Louisville, Arena Stage, Center Theatre Group, the Eureka Theatre, the Guthrie Theater, the Huntington Theatre Company, Oregon Shakespeare Festival, the Public Theater, and Seattle Repertory Theatre.
As a playwright, he debuted Ghost Light, Rita Moreno: Life Without Makeup, and Game On, written with Dan Hoyle. In 2012, Taccone received the Margo Jones Award for "demonstrating a significant impact, understanding, and affirmation of playwriting, with a commitment to the living theatre."