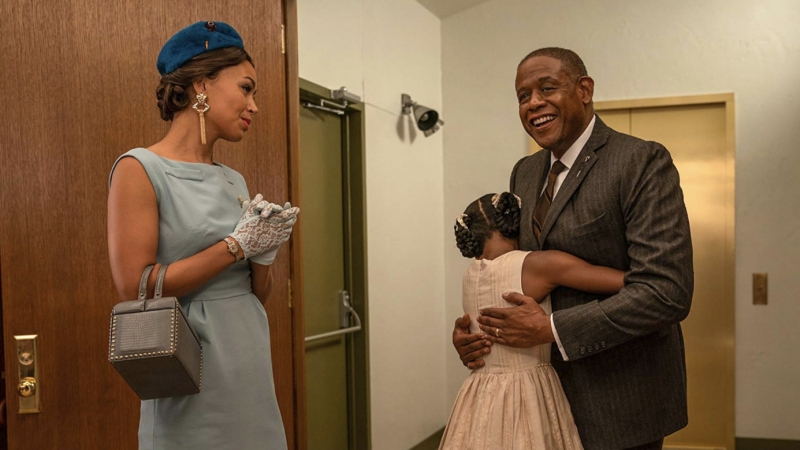 This fall, Trojan alumni steal the spotlight in new fall television series. Read below to catch them onscreen.
Eric Ladin BA '01
Eric Ladin plays Gene Kranz in the Apple TV + miniseries For All Mankind. Premiering on November 1, 2019, the series looks at what would have happened if the space race hadn't ended.
Ladin has appeared in the television shows Impulse, Bosch, Shooter, Six and Longmire, along with the TV short The Phantom Menace. He has also appeared in the films Painter, River Guard, Wolves at the Door and Rebirth. In 2015, he played Scott Zoellner in The Power of Duff at the Geffen Playhouse.
Elizabeth Ho BA '06
Elizabeth Ho steps into a recurring role as Joy on Netflix holiday series Merry Happy Whatever, set to release in November. The show stars Dennis Quaid as Don, a father struggling through the holiday season when his daughter brings home a new boyfriend.
Most recently, Ho was seen as Jenny on Netflix's Disjointed. Her other credits include a recurring role on Melissa & Joey, voice work for TRON: Uprising, and shows like Castle, Bones, NCIS, Grey's Anatomy, 2 Broke Girls and Two and a Half Men, among many others. On film, she played the lead role in the independent short Kilo.
Daniel Rashid BA '15
Daniel Rashid plays Nate Banks in the pilot of Pop TV's Best Intentions. Set to air this fall, the show follows Andy Banks, a single father working as a guidance counselor at his son's school–where he falls in love with one of the teachers.
Rashid can be seen in the television shows The Rich & the Ruthless and Antidote 15. He has also made appearances on Grown-ish, Taking Stock, Geoffrey the Dumbass and Stargate Origins: Catherine. His film credits include Being Frank and Bodied, along with the short films Skin and Condom and Cherries. Rashid also played Warren Straub in This Is Our Youth at The Raven Playhouse, directed by alum Jay Lee (BA '15).
Jay Lee BA '15
Jay Lee takes a leading role as Takumi in TV mini-series Looking for Alaska, out now on Hulu. Adapted from John Green's young adult novel, the series recounts the adventures and heartbreaks of young boarding school misfits.
Lee is also known for roles in American Vandal, Bully, and Hey Katie It's Josh. He also serves as adjunct faculty at the USC School of Dramatic Arts.
Forest Whitaker '82
Alumnus Forest Whitaker stars in Epix series Godfather of Harlem this fall, portraying gangster Bumpy Johnson in 1960s Harlem. Godfather of Harlem serves as a prequel to the 2007 film American Gangster.
Whitaker is an Academy Award-winning actor, producer and director who earned an Oscar for his leading role in the film The Last King of Scotland. He recently starred in the film Lee Daniels' The Butler, and also had roles in the films Labryinth, Rogue One, Black Panther, Arrival, Southpaw, Where the Wild Things Are and Dope. As a producer, his films include Roxanne Roxanne, Repentance, Fruitvale Station, Sorry to Bother You, among others. He played Erie Smith in the Broadway revival of Hughie.
Grant Heslov BFA '86
Grant Heslov produces SBS series On Becoming a God in Central Florida this fall. The show features Kirsten Dunst as Krystal Stubbs, a water park employee who infiltrates a pyramid scheme after it destroys her family.
Co-founder of Smokehouse Pictures (a production company Heslov and longtime partner and collaborator George Clooney formed in 2006), his work in front and behind the camera includes Argo, The Monuments Men, August: Osage County, The Ides of March, Good Night and Good Luck, The Birdcage and True Lies, and many more.
In addition, alumni J. August Richards BFA '95 and Colin Woodell BA '14 enter pre-production for upcoming television series Council of Dads (NBC) and The Flight Attendant (HBO Max), respectively. Ladin, Ho, Rashid, Lee, Whitaker, Heslov, Richards, and Woodell join Trojan alums like Ryan Eggold BFA '06 (NBC's New Amsterdam), Deborah Ann Woll BFA '07  (Netflix's The Punisher), Danny Strong BFA '96 (Showtime's Billions), and Beck Bennet BFA '07 (Disney's DuckTales), all of whom have appeared on fall television premieres in recent years.