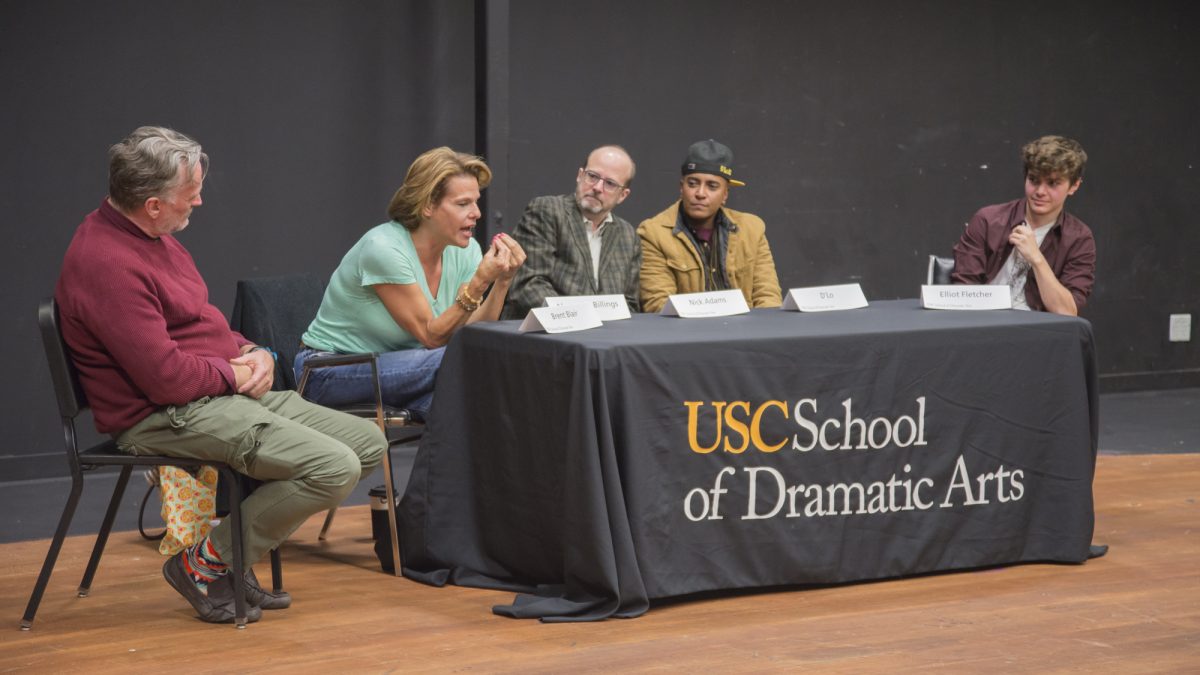 As transgender representation on screen has grown with hit shows like Orange is the New Black and Transparent earning prominence in television, the USC School of Dramatic Art partnered with USC Visions and Voices: The Arts and Humanities Initiative to facilitate a conversation about transgender narratives, representation and identity in Hollywood.
The discussion, titled "Is Hollywood 'Transparent?' Identity and 'Mis'representation in the Industry," was organized as part of ongoing efforts in stimulating dialogue about diversity and inclusion in the entertainment industry. The panel on Jan. 27 included actress Alexandra Billings, GLAAD Transgender Media Programs Director Nick Adams, actor-comedian D'Lo and actor-musician Elliot Fletcher. It was moderated by SDA Associate Professor of Theatre Practice Brent Blair.
"It's not like we haven't been in the media [for the last 50 years], but these stories were just fodder. They were just sensationalistic, exploitative fodder that occasionally you were supposed to feel a little empathy [for the character] but it's really tragic," Adams said.
Over the years, Adams has seen progress with more of Hollywood becoming proactive in accurately portraying the transgender community, rather than having conversations after the fact.
"It has gotten better starting with Orange is the New Black and going through to Transparent and Sense8, and some of the other characters we are starting to see in these shows," he said.
Joining GLAAD in 1998, Adams has served as a resource for journalists and entertainment industry professionals in the development and portrayal of the transgender community. Along with conducting trainings, he developed a best practices guide for news reporting about the transgender community.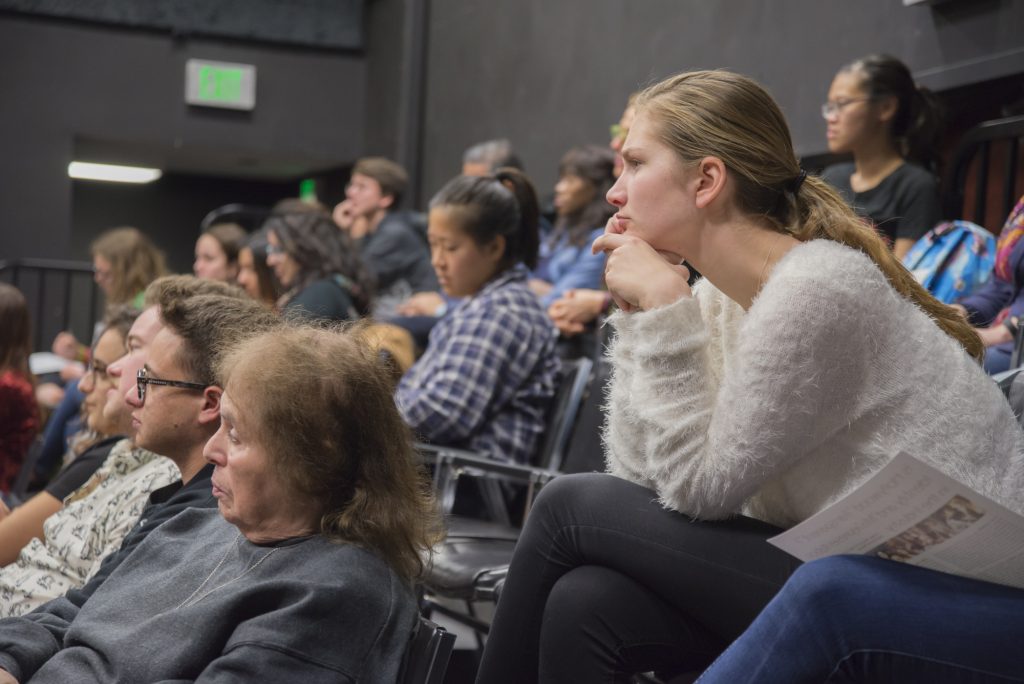 Finding humanistic stories
Although the panelists agreed that the industry has made strides, Billings believes that there is still a limited depth in storyline for transgender characters in mainstream media. "What happens to the transgender community in Hollywood is that we are fetishized still and dehumanized. None of us have any emotional or sexual ties to anyone on television," she said.
In her current role as Davina, a transgender mentor to Jeffrey Tambor's character on the Golden Globe-winning dramedy series Transparent, Billings said she often has had conversations about developing a more humanistic side to her character, such as getting kissed.
"The recognition of who we are as human beings has not happened. The recognition of how much money we can make, that's happened. We're a hot commodity. It's very 'hip' now. … but we're not cool to have on your arm at an intimate dinner, or to have in your bed, or to have as an intimate pal. We're not quite there yet," she explained.
Fletcher agreed: "I do feel that right now we are a very hot commodity and I sort of feel like the token transgender person." The artist was recently named by Forbes as one of the "30 Under 30" in Hollywood and entertainment for being one of the few transgender actors on screen with roles including MTV's Faking It, Freeform's The Fosters and Showtime's Shameless.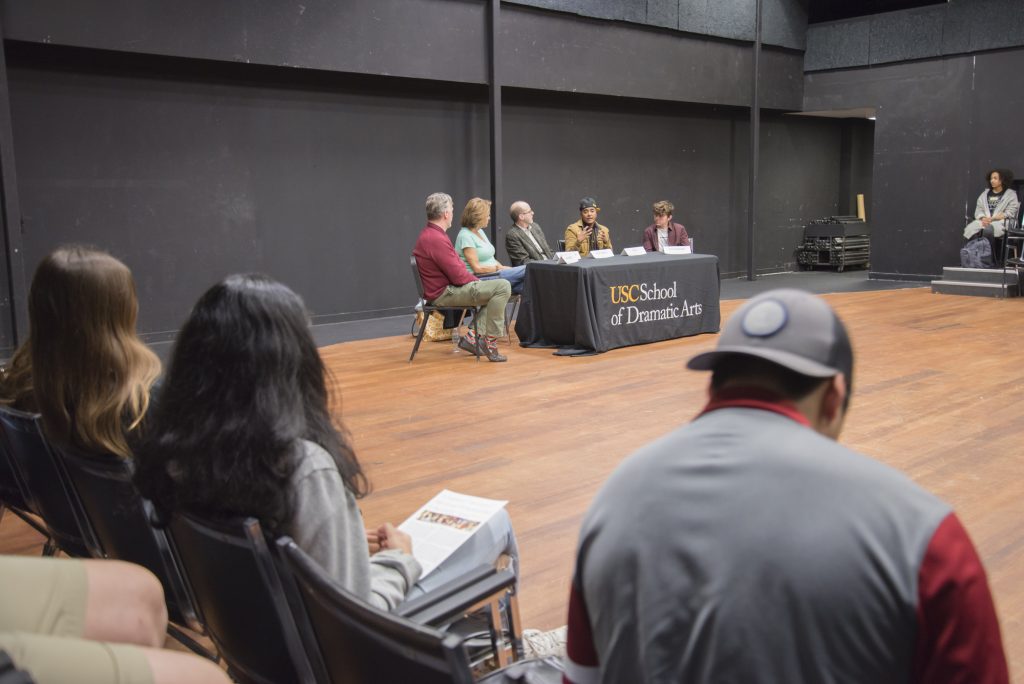 Storytelling behind the scenes
According to the panel, the key to continuing the progress is by accurately representing the transgender community through dialogue before a project begins and inclusion of transgender people behind the scenes and in creating the characters.
D'Lo, a community activist whose works include public speaking and writing workshops for LGBTQ immigrant and arts-centered organizations, expressed the need for more story tellers and writers from the transgender community to convey these lives on screen.
"I think things will really change once trans people get control of the reigns, like the Wachowskis," Adams said.
But for Hollywood to truly be transparent in the next five, 10 or 15 years, Billlings said: "In order to make a timeline, we've got to figure out how we judge our own permission, that's the conversation."