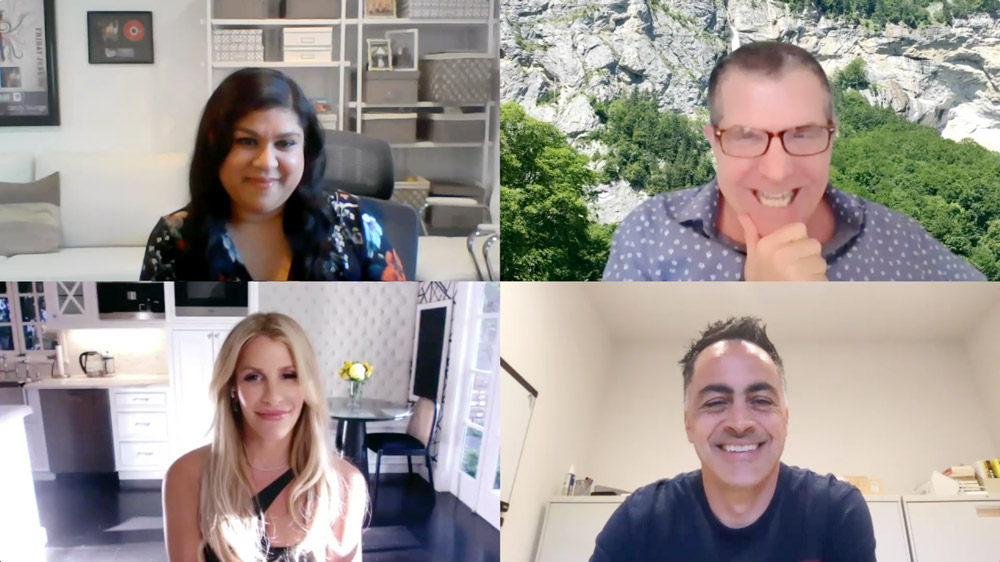 Alumni Kourosh Gohar BFA '95, Mona Raffle BA '03 and Tracy Tutor BA '98 can all agree that their dramatic arts training has helped propel their careers. Now a CEO, marketing director and top real estate agent, each of them cites using the foundation of their acting studies at the School of Dramatic Arts as key to establishing their current success.
This fall, the alumni spoke to students and fellow alumni during the CareerSeries@SDA virtual event Translating Dramatic Arts into Business. In conversation with Assistant Professor of Theatre Practice and Entertainment Industry Liaison Officer Dan Shaner, the alumni shared the various ways in which the skills acquired from their acting training can be applied towards pursuing a career in the business world.
Life after graduation
After leaving USC, Gohar started a production company. He connected with up-and-coming writers from London and brought their shows to Los Angeles.
Gohar, now the current CEO of technology companies Beautify and Pijons, Inc., uses the same leadership and time management skills acquired from theatre to work on the creative side of the tech industry — essentially returning to his roots as an artist. Over the years, he has also worked for Bank of America and ran various startups along with a real estate syndication.
Similarly, for Raffle, as the director of e-commerce marketing for the makeup brand Nix, she found her transition to social media marketing closely tied to what she learned in acting class at USC.
"What I do now with marketing strategy… there's a lot to really understand about a consumer, which is just a human and just people in the world and understanding what they need — which is pretty much what you do when you're study theatre and acting." explained Raffle. "You're understanding human interaction and behavior. What do you need? What do you want?"
Acting skills in their work
Being able to understand the principals of acting and using that knowledge day to day at their jobs is what these alums credit their success to. As Tutor puts it, "the craft of acting and the study of it is so crucial."
Tutor who has excelled to the top of the real estate industry, joined the cast of Million Dollar Listing: Los Angeles in 2017. For her, "the transition from theatre into what I do now is having the ability to connect to somebody, and have that humanity and connection when you're sitting across from somebody in business. Be able to read them, [and] be able to pivot…"
Additionally, theatre gave her the tenacity to be what she describes as a "badass." The practice of speaking your mind and trusting your gut and intuition. One of many things an education in dramatic arts has afforded her.
Preparing for the next opportunity
Gohar shared that the ability to accept change and move on is one of the most important lessons he learned at USC. He recalled a time in which he was stressed about an audition and did not receive the part he tried out for. "I learned that at that moment you may feel like it's the worst thing that ever happened to you, but [you] look back and you chuckle. 'Seriously is that the worst?' "
He has used that same mentality in his various career changes as well. "Things will come at you in life whether it's COVID, whether it's [the] dot-com crash or whatever. Just roll with it, but don't think it's going to be the end of the world, hopefully not. Regroup inside and prepare yourself for the next transition, whether it's the next career path or the next you."
Most recently, Gohar used the COVID-19 pandemic as a chance to pivot. He has begun to invest in tech startups, "I looked for opportunities," he shared.
The right career path
For Raffle, she described her own career path as "an interesting journey of mixing all of my loves, all across my life" and encouraged students to delve into their own paths.
She encouraged students to be cognizant of all the opportunities available to them and to realize the value that a degree in dramatic arts holds. "You're coming out with a lot of incredible education, talent, skills that you can end up doing anything [with]. And when that [time] comes, it comes."