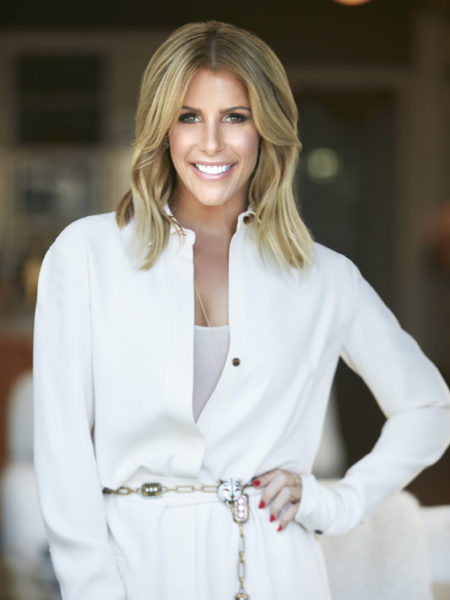 When Tracy Tutor BA '97, a top Los Angeles real estate agent, heard from the Bravo television series Million Dollar Listing Los Angeles, it wasn't your typical casting call. Working in the highly competitive high-end Los Angeles market, she knew all the cast members, so it wasn't a shock to have one of the show's stars, Josh Altman, call her about a home listing. What was a shock is when he asked her if she could meet at the home, with her client, and go on camera — in three hours.
Tutor gulped, but made it happen. She filmed one scene with Altman. Then a second scene doing negotiations. Then a third scene finalizing the deal.
That was in 2016, during the ninth season of the popular series that details the drama and personalities behind mega-deals and mansions. When the season ended, the producers called, told her she had great chemistry on camera, and would be a good fit for the show. Would she like to become its first female cast member?
The answer was "yes." So Tutor, while continuing to work fulltime managing a five-person sales team at Douglas Elliman Real Estate in Beverly Hills, starred in seasons 10 and 11, and is currently filming season 12.
"It's funny how things come full circle," she says, referencing her theatre arts degree. Her acting background at the School of Dramatic Arts made it easier to transition to a screen presence on television, she says, but her theatre training has been helpful during her entire two decades in real estate. "Being a real estate agent or in retail, or in sales, or in so many industries, you need the ability to sell yourself to clients," she observes. "Having a background in theatre and performance was a huge part of why I am successful in real estate. If you don't understand what connects to people, you are never going to be successful in sales."
From a young age, she gravitated toward acting, singing and dancing. "Performing was always in my nature," she says, and included singing in a girl band called Everything Nice with fellow USC grad and actress Sasha Alexander (Rizzoli & Isles, Shameless).
Two USC professors that particularly inspired her were "the rad and amazing" Lora Zane, formerly an associate professor of theatre practice, and the late Paul Backer, who directed her in "a small, but really, really interesting" production her senior year.
Tutor appeared in a few films after college, but gravitated toward real estate. After several years working at her father's firm, Tutor Perini Corporation, one of the nation's largest general contractors, she started in residential real estate with a boutique firm in West Hollywood. She then worked at two other agencies before moving to Douglas Elliman, where she has expanded her business worldwide, including representing an architecturally-significant residence project in Dubai.
Although appearing on a series with a global audience results in an influx of sales leads, it is challenging to juggle a shooting schedule with the demands of business in a very competitive field. As a practical matter, Tutor says, there is no hiatus between seasons. "We film all year long, because some houses take that long to sell." And when a season airs, she and the other cast members have publicity obligations.
One of the things that has surprised her about how she has connected with audiences, she says, is the fascination with her personal style. She has always loved fashion, and her closet in her 10,877-square-foot Brentwood house has one jaw-dropping wall devoted to shoes and another to handbags. "I think I could live in a very small apartment as long as it had a very big closet," she confides. "A big closet — that's where I draw the line.
This story appeared in the 2019-20 Callboard magazine.