Reflecting on the year before the final count down to 2019, the School of Dramatic Arts has had many moments worth remembering. From the launch of our Career Center to the joint venture with USC's Glorya Kaufman School of Dance and Thornton School of Music for our annual spring musical, 2018 has proven to be both exciting and eventful. Here is the School of Dramatic Arts' top 10 list for most notable moments from this year.
#1: Tony Kushner revisits Bright Room for SDA
It is a tradition for our graduating MFA actors to push their craft to the limit through the program's rigorous three-play repertory that interchanges plays almost nightly for an entire month. But this year, the repertory was exceptionally meaningful since Tony Kushner, the National Medal of Arts and Pulitzer Prize-winning playwright who wrote Angels in America, had our students in mind when he reimagined his 1985 play A Bright Room Called Day for the cohort. He worked with the actors via Skype during rehearsals and came to a performance.
#2: Career Center officially launches
Spring 2018 marked the opening of the School's Career Center, a hub for graduating students that provides management-style services for actors, as well as enhanced opportunities and resources for playwrights, designers, technical directors and stage managers. The center's first priority was to host a three-week series of events that connected students with industry leaders and professionals who offered advice and insight into all areas of the entertainment industry — from performance capture acting to representation to entrepreneurship, and more.
#3: Three art schools collaborate for West Side Story
Although it's not unheard of to have singers and dancers participating in our productions, it was the first time the School of Dramatic Arts officially collaborated with the Glorya Kaufman School of Dance and the Thornton School of Music for the spring musical. Producing the beloved West Side Story, all three schools lent its talents to create an experience that was truly an academic triple threat. The collaboration was a precursor for what's to come: a new musical theatre BFA that will provide students with a well-rounded curriculum to develop students' acting, singing and dancing. The first cohort arrives in fall 2019.
#4: Jack Rowe retires
Jack Rowe has been such a staple part of the School of Dramatic Arts that it was a bittersweet day when he announced his retirement. From teaching evening drama classes to heading the BFA Acting program, Rowe taught for almost 40 years at USC. At the beginning of the year, we witnessed a tremendous outpouring of love from the SDA community as droves of alumni, past and present faculty, and students came to celebrate his inimitable career.
#5: Institute for Theatre & Social Change conference
The newly established Institute for Theatre & Social Change held its first conference this year to explore interactive art as a tool of social change. The event, called Radical Fictions: Transformational Art in an Era of Alternative Truth, brought a tangible connection between art and reality by looking at current history, the distorted messaging that has been coming from influential organizations and institutions, and how art plays a role in navigating and transforming the narrative.
#6: Strengthening SDA partnerships
Partnerships have been one of Dean David Bridel's top priorities since he assumed the leadership role, and, since the School is at the epicenter of entertainment and art, it is primed to build and develop relationships inside and outside of campus. This year alone, SDA has strengthened its partnerships with other USC schools — such as Cinematic Arts, Engineering, among others — and longtime partner Pasadena Playhouse by housing the MFA second-year actors for the first time. The School has also forged new connections, including with digital transmedia production company PCB.
#7: Andy Robinson retires
Andy Robinson joined the School of Dramatic Arts faculty in 2004 and was tasked to develop a new MFA in acting, which launched in 2006. The program, which is the only one in the country to incorporate a three-play repertory as the actors' master thesis, blends a classical conservatory approach of attuning voice, body and intellect with the demands of performance and text, while incorporating an innovative physical approach. At a celebration of his career, it was truly touching to see MFA alumni, from his years as program director and professor, commemorate the impact he has had on their careers and lives.
#8: First New York Spotlight@SDA
In a consorted effort to provide alumni with more programming, particularly outside of Los Angeles, the School hosted its first Spotlight@SDA on the East Coast. The New York event was especially notable with three-time Oscar-winning actor Kevin Kline as the inaugural artist and Professor of Theatre Practice Kate Burton as the moderator.
#9: First-ever CommUNITY Day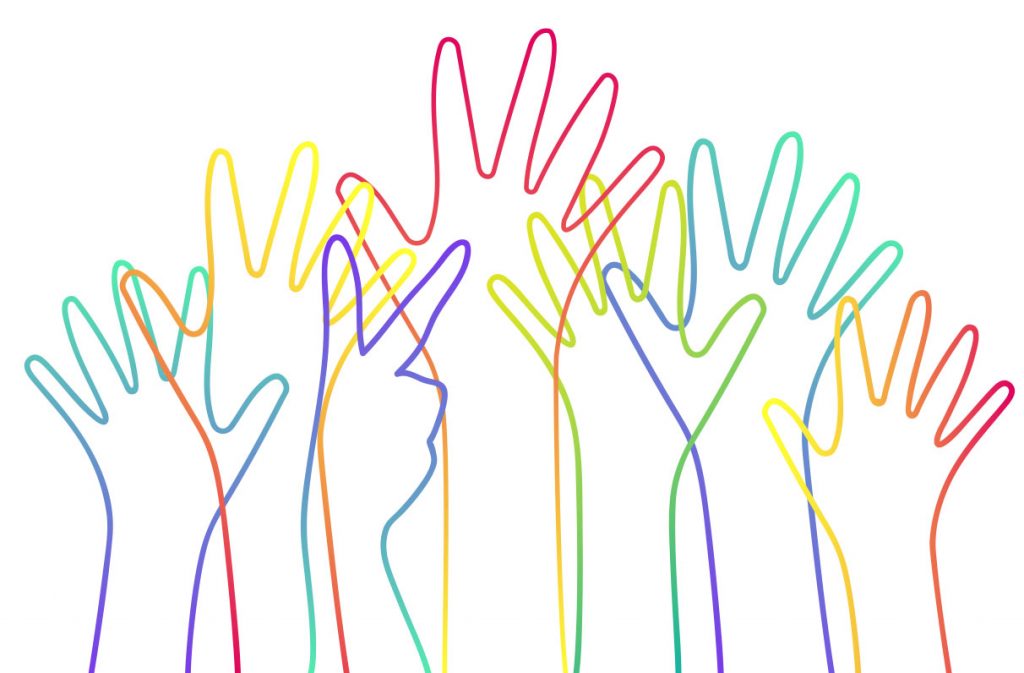 Art and activism are intrinsically connected, but what happens when you set aside dedicated time to share diverse voices and perspectives of a community of artists? This year, the School celebrated CommUNITY Day, a fun-filled schedule of events to join faculty, staff and students alike through theatre and non-theatre activities. The first of its kind, the day was part of the School's larger CommUNITY@SDA Initiative to develop a bridge across the community and to encourage inclusivity.
#10: Mark Hamill offers sage wisdom to students
Star Wars is no stranger to the USC campus since George Lucas graduated from the School of Cinematic Arts, but don't underestimate the force when Mark Hamill walks into a room full of Dramatic Arts students. The actor joined the School for the Spotlight@SDA series, sharing memories of his early career and on the set of the famed franchise as Luke Skywalker. His visit came only a few months after the release of the latest film Star Wars Episode VIII: The Last Jedi.