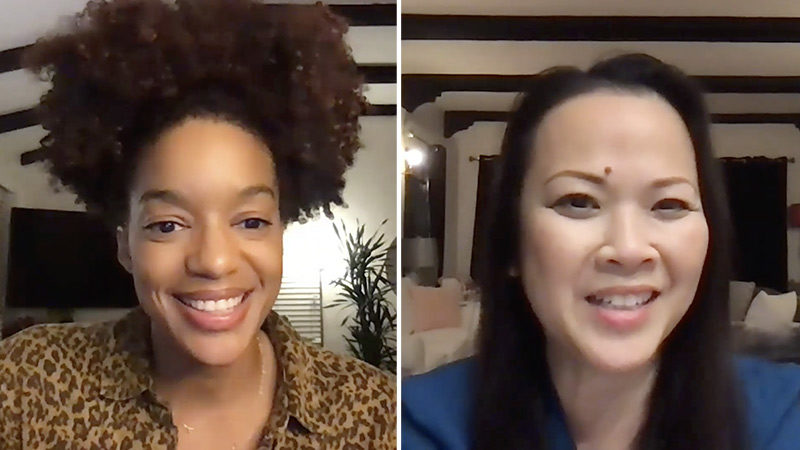 "It's the coalition-building. It's looking to the left and the right of you and seeing that there's commonality… advocacy. I think that's what really warms my heart, at the end of the day: that you have community, you have sisterhood, you have allies."
Michelle Jones Simms, senior programming manager for TIME'S UP entertainment initiatives, shared a hopeful message at the end of January's TIME'S UP Spotlight@SDA on Thursday night. She and Ngoc Nguyen, head of the TIME'S UP entertainment industry department, split the Zoom screen with Anita Dashiell-Sparks, USC School of Dramatic Arts associate dean of equity, diversity and inclusion.
This particular Spotlight featured a look at TIME'S UP's developing representation initiatives, along with resources and advice for student hopefuls who don't always see their stories on the big screen.
Community and commonality in the breaking of silence
SDA Board of Councilors and TIME'S UP entertainment board member Megan Colligan, who is currently president of IMAX Entertainment and executive vice president of IMAX Corporation, introduced the panel and shared her perspective on the organization's mission and momentum.
"It was the actors who gave this organization voice from the very start…when they found community and commonality, they actually were supercharged and so empowered by what they discovered within TIME'S UP," Colligan said.
Dashiell-Sparks echoed this sentiment, discussing the #MeToo movement and the TIME'S UP subsequent action that signaled a momentous change.
"When one voice speaks out… through the wilderness, and how that voice… becomes a call to the other voices, who thought they were alone in the wilderness… there becomes sort of this cacophony of voices, calling out against the injustice, the discrimination, the inequity, the disparity on all levels," she said. "It really then becomes such a beautiful song of solidarity and a breaking of silence."
This breaking of silence sparked the TIME'S UP action and advocacy initiatives in the entertainment industry and beyond, Nguyen and Simms shared on Thursday.
"Women aren't new to this. We've been leading the charge for a very long time, and I think we're getting that platform that's long overdue," Simms said.
Practical support and entertainment industry resources
Nguyen explained that the TIME'S UP overall mission is centered around a fair and dignified workplace in which three primary goals are safety, equity, and power for underrepresented voices. Among other initiatives, Simms leads a program called "Who's in the Room," which TIME'S UP calls "a mentorship program to help diversify the executive and producer ranks of the industry." Simms and colleagues focus on streamlining pathways to leadership roles, in order to subvert barriers that often force young people to reroute their careers at the assistant level.
She and Nguyen also shared a list of resources to which USC SDA students could refer, including the TIME'S UP guide to working in entertainment and the inclusion at film festivals work that the USC Annenberg Inclusion Initiative completed with the TIME'S UP Foundation to examine the gender and race/ethnicity of narrative directors from 2017 to 2019. They stressed the importance of self-advocacy for young professionals on either side of the camera, explaining how knowing your rights and resources can change the game.
"Everybody has sexual harassment policies, discrimination policies, retaliation policies… be really clear about what those are and what the reporting structure is," Nguyen said. "Be your own best advocate, and if you see it happen to someone else be an ally or support system for them. That's something that reinforces the fact that this is not an environment where that's acceptable."
Allyship as an industry standard
They addressed student questions on industry allyship in a similar vein, encouraging students to listen first, then amplify others' voices when they spoke up. Nguyen shared that a male friend of hers navigating allyship in the industry had to begin with close friends in order to understand the circumstances of sexual harassment in the workplace.
"I think the first step for him — it was really important for him to just ask, and have an honest conversation with the women in his life to see how they've experienced it," she said. "And what was eye-opening for him, which is to no surprise to us, I think, is that everybody he asked had experienced it in some way, shape or form."
With a community and support system, Nguyen and Simms agreed that industry standards could be rewritten by new generation, and representation could become more common and more nuanced. Stories could differ from the stock archetypes so often assigned to underrepresented people and characters.
"How do we disrupt and expand the notion of constructions of representation of women across our intersection of complexity and identities, so that it breaks this sort of mythology of being monolithic?" Dashiell-Sparks asked.
Both Nguyen and Simms returned to the idea of "who's in the room:" not only should young professionals be listening to the voices in the room, but also taking stock of who wasn't there.
The people around you
Nguyen recalled her work with Colligan at Paramount Pictures; she remembered Colligan inviting all levels and departments to regular brainstorm sessions in order to refresh perspectives and diversify opportunity. Through some of these sessions, Colligan began to hear Nguyen's voice, and appointed her as a project lead when the time came.
"One thing that's helped me tremendously is just nurturing relationships, but being intentional about creating sincere relationships and keeping up with them," Nguyen shared.
Simms agreed, reinforcing the importance of mentorships and peer relationships in a budding career.
"You can never have enough mentors, and I think there's a mentor that you need for every part of your work, your personal and your professional," she said. "And think about your peer-to-peer community. Really think about the person to the left and to the right of you, because they're going to be the ones coming up with… you guys are going to rise together and do the thing."
Among all these investments in community, there was a consensus among panelists that investment in one's self was also central to self-advocacy. Nguyen and Simms encouraged students to speak up and ask for their own needs and desires, as well as look out for those around them. The voice is instrumental tool, they said, in moving the industry forward and in ensuring safety, equity and power for all.
As Dashiell-Sparks put it, "that sense of movement and forward motion and synergy is active and alive, and just continues to catch fire, and brings hope and possibility for change."
Text TIMESUP to 306-44 to learn more about the work Nguyen and Simms are doing at TIME'S UP.