Since its founding, the School of Dramatic Arts has been a community of creative itinerant players, ready and willing to make magic in the unlikeliest of places — from the former barn that became the original Scene Shop to a converted streetcar relay station known as the beloved Stop Gap Theatre. Generations of alumni have their favorite space where they were challenged to tell powerful stories and grow as artists and humans. But, with facilities scattered across campus, the School has often struggled for space and a central location to call home and build community.
That's all about to change. Earlier this fall, Dean Emily Roxworthy and Chair of the School's Board of Councilors Joshua B. Grode announced the renovation of the historic building that once housed the United University Church as a vibrant new central home for the School. Set to be completed in December 2023, the significant revival and interior redesign of this building will provide the School of Dramatic Arts with a state-of-the-art, nearly 40,000-square-foot home at the center of the USC campus. It will be a place where students, faculty and staff can come together to cultivate the next generation of diverse storytellers and share the power of creativity with the entire community.
Watch fly-through video of the new building.
"I see this as a bold step in the continued transformation of SDA," says Dean Roxworthy. "This facility will not only enable us to expand our innovative teaching and research, but I am confident that it will spark a new era of creativity among our students and faculty as they collaborate to create and share powerful and transformative stories that will inspire much-needed social change."
The reconfigured historic five-story building will increase student support services: SDA's innovative Career Center, which serves as a bridge to the industry and empowers students to be self-sustaining working artists, will have a cutting-edge new home in the building. Additionally, the new Office of Equity, Diversity and Inclusion will have a grounding space that ensures the success of all students, where collaboration in and across affinity groups can change the face of the entertainment industry. Plans also include two new performance venues (a 110-seat flexible theatre where the church's sanctuary previously stood, and a smaller cabaret space for student-initiated productions) — as well as a digital media suite, audio design lab, vocal practice rooms, rehearsal spaces and classrooms for programs ranging from musical theatre to improv comedy. These new facilities will allow students the opportunity to access technologies being utilized across the entertainment industry – ensuring that students graduate with the ability to adapt their talents to any medium.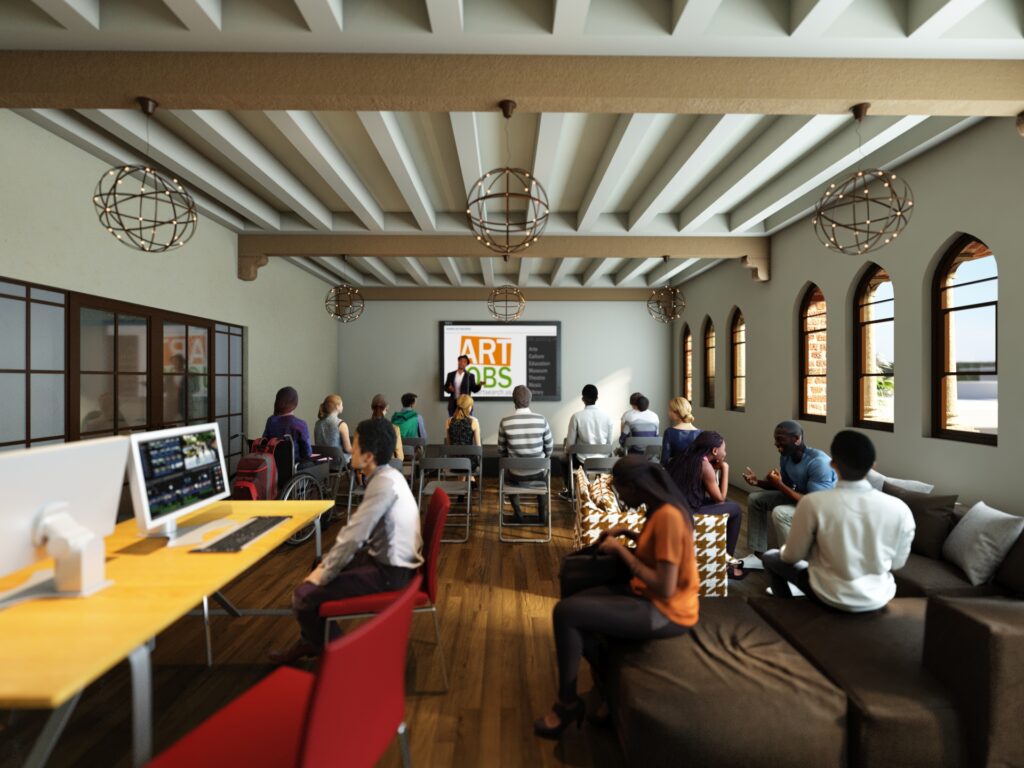 Plus, a new cafe and garden courtyard will serve as gathering spaces for SDA's 600 students to network with guest artists, faculty and staff, and connect to the wider University community.
USC is long known for its unrivaled legacy of creative artists, and with the School of Dramatic Arts moving into this new home at the intersection of Jefferson and Hoover, four of the University's premier art schools (SDA, Thornton School of Music, School of Cinematic Arts and the Glorya Kaufman School of Dance) will be just steps away from each other — enabling unprecedented interdisciplinary partnerships among these Trojan artists and cementing robust creative and professional networking opportunities.
Great care is being taken to preserve the historic feel of the Italian Romanesque Revival-style building yet make it a sustainable home for 21st century artists, an appropriate nod to the School's long history of grounding students in the classical foundations of the theatrical craft while exposing them to the vast range of new applications possible in today's entertainment industry.
While religious programming has not been offered in the building for years, Varun Soni, dean of Religious and Spiritual Life at USC, is confident that "the spirit of the building will endure. That's because religion and theatre overlap in so many significant ways," says Dean Soni. "Both theatre and religion work to build community, to bring people together to change hearts and minds, to create meaning-making rituals, to tell new stories and share new experiences and to develop empathy for other perspectives and worldviews."
The renovation, which will be seeking LEED certification for green building strategies, will retain many of the building's original features — including the ceiling and trusses, and the rose and stained-glass windows. On the National Register of Historic Places as part of the University of Southern California Historic District, the building was designed in 1931 by C. Raimond Johnson, an alumnus of and one-time lecturer for the USC School of Architecture. Johnson served as university architect for USC from 1937 to 1955 and designed some of the campus's notable buildings, including the Biegler Hall of Engineering (BHE) in 1939 and the Allan Hancock Foundation (AHF) in 1940.
As the School works to realize its fundraising goals for the Drama Center, there are still naming opportunities available. If you are interested in helping cement the School's crucial role as a leading force in the dramatic arts, please contact Associate Dean of Advancement Sara Fousekis at fousekis@usc.edu.
---
This article appeared in the 2021-22 issue of Callboard magazine. Read more stories from the issue online.