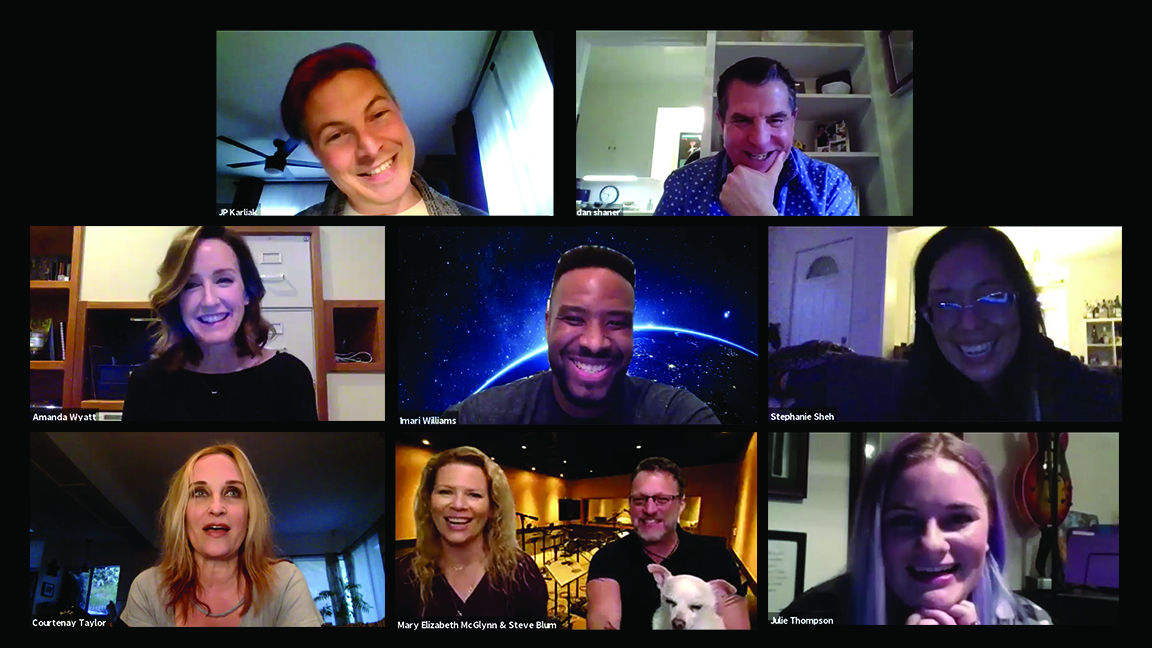 Actress Mary Elizabeth McGlynn (Ghost in the Shell, She-Ra and the Princesses of Power) remembers the frustration of being typecast when she was acting onscreen. Almost every role she booked, she explains, painted her as the 'damsel in distress.'
"It was really doing something to my psyche," she said. Even Angela Lansbury rescued her once, in a television episode of Murder, She Wrote.
But when she started doing voiceover work – McGlynn is now a celebrated voice actress and prominent voice director – she found she could step into anyone's shoes. In the School's first Career Series Zoom Webinar last week, McGlynn recalled one of the first roles that helped her break that mold: Major Motoko Kusanagi in Japanese cyberpunk sci-fi franchise Ghost in the Shell.
"There's something unbelievably empowering about [playing the major]," she said.
Defying typecasting
The rest of the panel  – voice actor JP Karliak (The Boss Baby: Back in Business), voice actors Steve Blum (Cowboy Bebop), Imari Williams (Transformers: Rescue Bots) and Courtenay Taylor (Fallout 4), voice director Amanda Wyatt (Death Stranding), voice actor, director, writer and producer Stephanie Sheh (Your Name), and voiceover agent Julie Thompson (SBV Talent) – agreed. The general consensus was that voice acting was a place where actors could reach beyond the typecast, become a different version of themselves.
"VO has not only helped me break out from my size, but also has helped me break out from my ethnicity," said Sheh, who is 4'9" and once had a casting director tell her that her physique was too childish.
"I can be whoever I want to be, and it's empowering, and it's invigorating," said Williams, even demonstrating his secret 'mountain man' voice, one he keeps in his back pocket to surprise agents.
Training for the challenge
Every panelist had their own version of the story, but all agreed this sort of visual anonymity was part of the magic of voiceover. But that's not to say that anyone can become a voice actor without acting classes.
"Voice acting is acting first," said Wyatt. When casting, if an actor doesn't have previous experience in voiceover, she makes a point to look at their acting training.
Most of the panelists had come from a live acting background, and some still do live work: Courtenay Taylor remembers Assistant Professor of Theatre Practice Dan Shaner giving her one of her first big live jobs. The training, the panelists explained, is what allows you to create the world in your head, which is one of the biggest challenges of voice acting. Often, voice actors do their work alone in the recording booth, rather than surrounded by set and lighting.
"It's up to us to create all of that in our heads, and sometimes we're not even given the full script," explained SDA alum and moderator JP Karliak .
The format leaves a lot to the imagination, and casting often depends on the actor's ability to transport themselves into the scene.
"You just have to make your own context, and make it strong. I'm going to try to sell to you that I know where I am," Taylor said.
Other panelists echoed Taylor, with a strong emphasis on steadfast commitment to the role.
"It's what's in between the lines. You're really taking it off the page and making a bold choice," said Sheh.
Know your voice
For Wyatt, the strength of a voice actor lies in an awareness of your individuality.
"Know your voice, and what would sit well with your tone, sound good on your natural voice print," said Wyatt.
Thompson agreed. It's impossible to cover every director's preferences in the same reel, she said, but sitting comfortably in your specific range can really make a voice reel stand out.
"I just want to hear your voice, and that the character lives and breathes out of that mp3. You want to find what's within your range currently: do what is you," she advised.
This individuality is what makes a voice actor unique, the panelists agreed.
"No one's path is the same, but if you have the will to learn, you'll get there," Williams said. And though voice acting may not be for everyone, it can be for anyone – you can really open up a world of possibilities with the microphone. Blum, who is credited for voicing the most roles in video games ever, explained that voiceover even helped him figure out the bigger picture.
"This work has been very healing for me in many ways. I performed a character that was insecure and bullied, and realized that surrounding myself with friends and doing things that I loved to do could make me whole," he said.
---
The USC School of Dramatic Arts is in the process of planning several more events via Zoom, including Career Series webinars like this one. Later this month, tune in for An Evening with Casting Director Brett Greenstein.