When Anna Deavere Smith premiered Twilight: Los Angeles, 1992, Gregg T. Daniel went to go see it. As a young actor, he had heard whispers of a new style of theatre.
"It was something new, called 'verbatim theatre' or 'documentary-style theatre,'" he recalls. "This one actress was doing all the roles…I thought, well that's bold and audacious. Let me go see it."
Smith conducted over 300 interviews about the 1992 Los Angeles uprising that followed the Rodney King verdict, crafting a script from the records and performing as the interviewees in a groundbreaking one-woman show. The production made waves, and — originally commissioned by and produced at the Mark Taper Forum — hit close to home.
Now an acclaimed director and faculty member at the USC School of Dramatic Arts (SDA), Daniel looks back on the work as an essential piece of history for theatre, for Los Angeles, for America. So when Luis Alfaro (Associate Professor of Dramatic Writing at SDA and former Associate Artistic Director at Center Theatre Group) asked if Daniel was available to direct the 30-year anniversary production at the Taper, he did his research.
"It truly is a piece of American history, what happened in Los Angeles in 1992," Daniel said. "After Anna decided to open it up to five actors, I thought, that's interesting that now we get to see a sort of panorama of the ethnicities and genders in the play."
Among the panorama is SDA alumna and lecturer Sabina Zúñiga Varela (MFA '11), who plays a multitude of roles. Trojan representation is evident beyond the casting, too. SDA Assistant Professor Samantha C. Jones designed the costumes, and USC Dornsife professor Dorinne Kondo (also one of Smith's original interviewees) served as one of the production's dramaturgs.
It's a local affair. Center Theatre Group intentionally sourced Los Angeles-based artists from design to production to cast, and Daniel worked with them to bring the scenes to life. They began rehearsals at the historic community center in Watts, with Smith still reworking bits and pieces of the script.
"[Daniel] creates a really good space — of really talented, hungry people that he knows are going to take this responsibility seriously," Varela noted. "He was really good at keeping that representation of humanity."
"You have to come ready with craft, with technique, with trust. I try and create a room where it's safe for us to take risks," Daniel said. "Every day I was awestruck with the richness and the artistic authenticity they brought to the characters."
Character shifts by design
Representing such a range of humanity demands a remarkable flexibility from each of the actors. They morph from character to character like chameleons, spanning age, class, and gender, often while onstage. Varela anchors herself in the text to shift deftly between roles.
"From the top of my head down to like the base of my feet, there are all these different vocal placements where I put each of my characters," Varela said. "With this one, it's really letting the words play you. You're not playing the words, the words are kind of coming through. You're this beautiful vessel."
She finds that the vocal work is particularly physical, "like verbal calisthenics," and as a movement teacher at SDA, she knows her physicality well. The exercise of speaking the words verbatim creates a sort of embodiment within, and Jones' costume design helps her to physicalize the shifts.
"Samantha found these pants that are so helpful for my male characters — because I do play a lot of male characters. It feels nice to have this wide leg there. Then they have this beautiful ruby red color and this flow, so that even when I add other things to it, they look very feminine," she shared.
Jones prepared to design the show by diving into the characters' lifestyle, asking, 'what would this person wear in their everyday life?' Within that question, she investigated both the historical aspects and the deeply personal aspects of the environment.
"You're looking at who these people were, what it is they went through, how they represented themselves," she explained.
Jones knew from working on Smith's Fires in the Mirror that there would be very few moments in the production where the actors could complete a full change between monologues. She worked to seamlessly transform characters onstage, sometimes with just one swift movement. Single accessories had to communicate the identity of the character; not just for the actor, but to an audience as well.
"You're trying to give people a window into a world that existed for everybody," she said. That world is just as relevant today.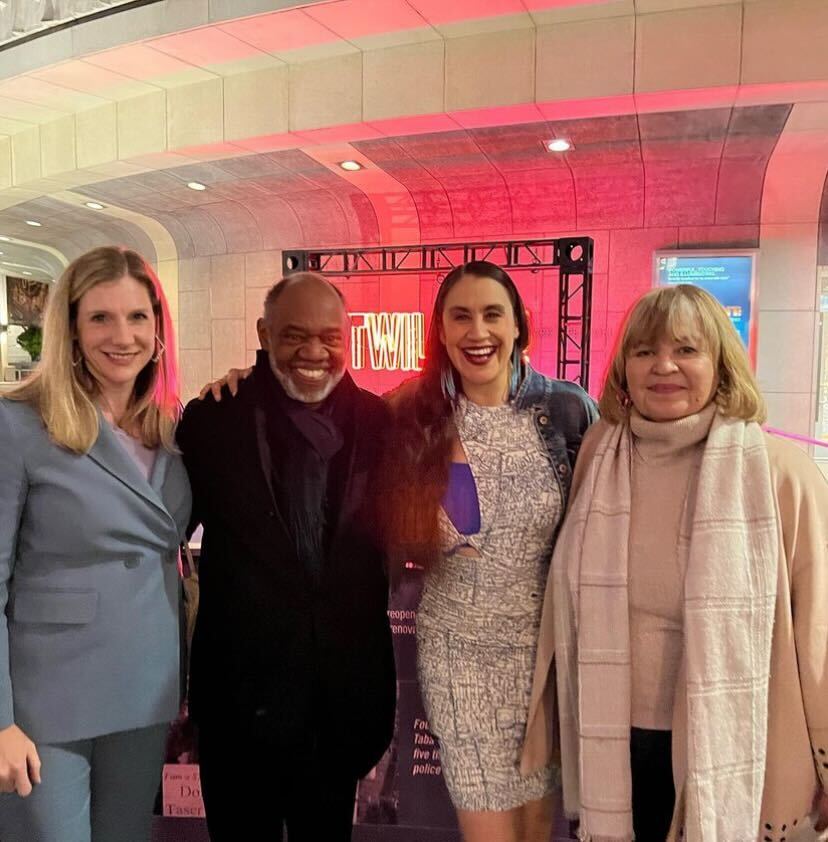 The real-world experience
"When we went into rehearsals, Tyre Nichols was murdered by five police in Memphis. And then of course, George Floyd two years ago," Daniel said. "So the piece refuses to become old and staid and a museum piece, because these atrocities continue to happen."
As they worked on Twilight, all three SDA professors were having parallel conversations in the classroom with their students. Daniel's students saw the play during opening week, and they debriefed in class afterward.
"I'm always relating it to the things that they're learning. They were awed at how the actors were able to go from one character to another," Daniel said. "All of that comes into play with their training. And I'm glad they can see it on a professional level."
Daniel emphasized that one of his students volunteered her experience of the show willingly. She said she was proud to see Chicana representation onstage, that Varela's performance inspired her and gave her a role model with shared heritage to admire.
Varela leads by example with her students as well. In her movement class, the students are investigating what it means to have a sustainable theatre practice. She works with them to keep their physicality in tune, in favor of career longevity.
"You only have your body to use. You're not just playing an instrument," she said. "It's great to be a part of a piece that is challenging me and my resiliency and my sustainability as a performer, and then be able to have my students see the type of work that that takes."
Jones brings her professional experience into the classroom as well, sharing current and practical knowledge with her students as they navigate their own tech rehearsal scenarios and design challenges.
"I am a strong proponent of working professors, because…the further away you get from what the theory was when you learned it, the less useful you are," she said.
Daniel agrees. "To see your professors applying what they're telling you and sharing with you in class in a real time professional situation…it's always such a bridge between university and then going into the professional world," he said.
One of his students asked if she could come watch the auditions, and he was happy to arrange clearance so she could attend and observe. He encourages other SDA students to do the same, to ask for opportunities to observe their faculty in motion. It's one of the specific benefits he cites for students attending USC.
"My colleagues, Samantha, Sabina, just, they're all treasures… I encourage students to go to your teachers and ask them what they're doing. You may sit in, maybe you can become an assistant, I've even hired people before," he said. "So go to your professors and ask, 'well, can I tag along? Can I be in the room?'"