In an evening dedicated to its storied history at USC and the wide impact it has made through dramatic arts education, the USC School of Dramatic Arts celebrated more than 75 years at the university during an anniversary benefit in Founders Park at the University on Sept. 9.
Drawing inspiration from Homer's epic poem, the event spotlighted the School's own "Odyssey" in its theatrical journey — from its humble past as singular classes in 1880, to its present depth of offerings and programs, and to its future outlook with the announcement of a new drama center. The historic United University Church will be renovated to be the new vibrant home of the School of Dramatic Arts, as announced by SDA Board of Councilors Chair Joshua B. Grode and Dean Emily Roxworthy at the event.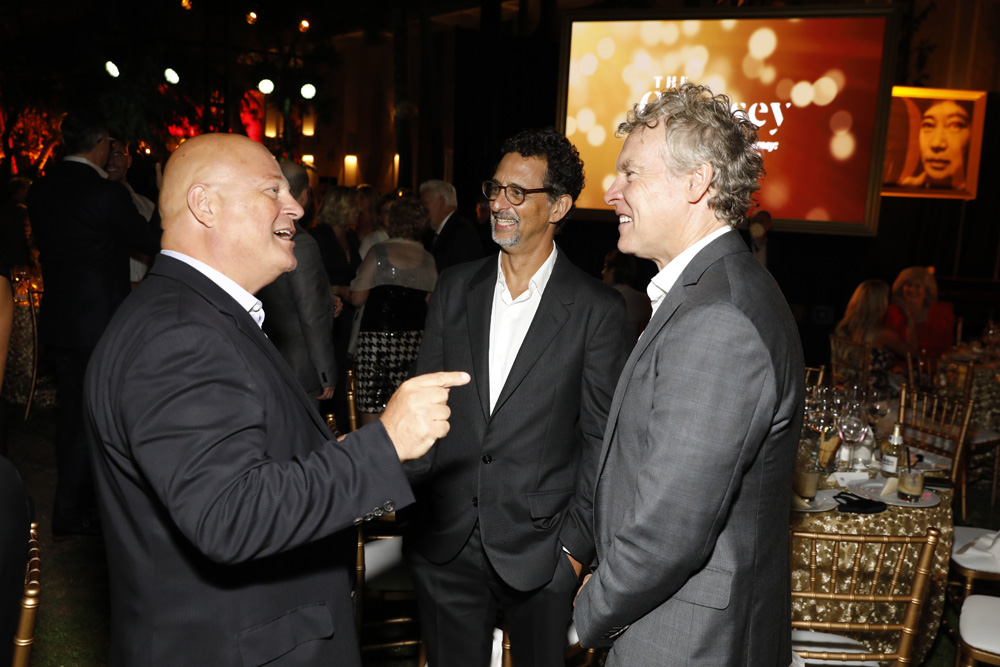 "… in many ways SDA's 75 years resemble the epic journey at the heart of Homer's ancient Odyssey, a tale filled with timeless themes of friendship, omens, storms, temptation, tragedy and triumphs," Dean Emily Roxworthy said at the benefit. "SDA remains a touchstone for thousands of alumni who have turned their dreams into stories that transform our world."
Five dynamic alumni were honored for their outstanding commitment, engagement and breadth of experience as artists. Honorees included Forest Whitaker (Robert Redford Award for Engaged Artists), USC Trustee and SDA Board of Councilors member Michele Dedeaux Engemann (Alumni Service Award), Donald Webber Jr. (Broadway Spotlight Award), Greg Holford (Production Innovation Award), and Grant Heslov and Smokehouse Pictures (Corporate Leadership Award).
Forest Whitaker, Robert Redford Award for Engaged Artists
As a recipient of the Robert Redford Award for Engaged Artists — which honors a performer who has distinguished themselves not only in exemplary quality, skill and innovation of their craft, but also in their public commitment to social responsibility — Whitaker encouraged the audience, during a recorded speech while on location in Wales, to "take a chance or a small step toward how you think our society can evolve into something greater."
"It's clear that art can be used to advance the ways in which people from underrepresented communities are viewed, both by society and within their own lives. So as social issues persist today, it's powerful for me to see that USC is prioritizing social change as a key element of its mission," said the actor, philanthropist, social activist, and UNESCO Special Envoy for Peace and Reconciliation.
Whitaker, who attended USC until the early 1980s and received his honorary doctorate from the university in 2018, recounted his experience growing up two miles from campus, developing the ensemble mentality as a student, and the profound influence his life experiences had on selecting roles and stories that explore themes of social justice.
"Throughout the four decades since my career began, film has been a way for me to continue my search to understand the intricacies of mankind and how I'm linked to humanity. … What I couldn't have known, when I was leaving USC, was that assuming many different types of characters would let me open a door to let others take a peek at the joys, angers and pains from both myself and throughout humanity, and use those experiences to illuminate their own lives," he said.
Michele Dedeaux Engemann, Alumni Service Award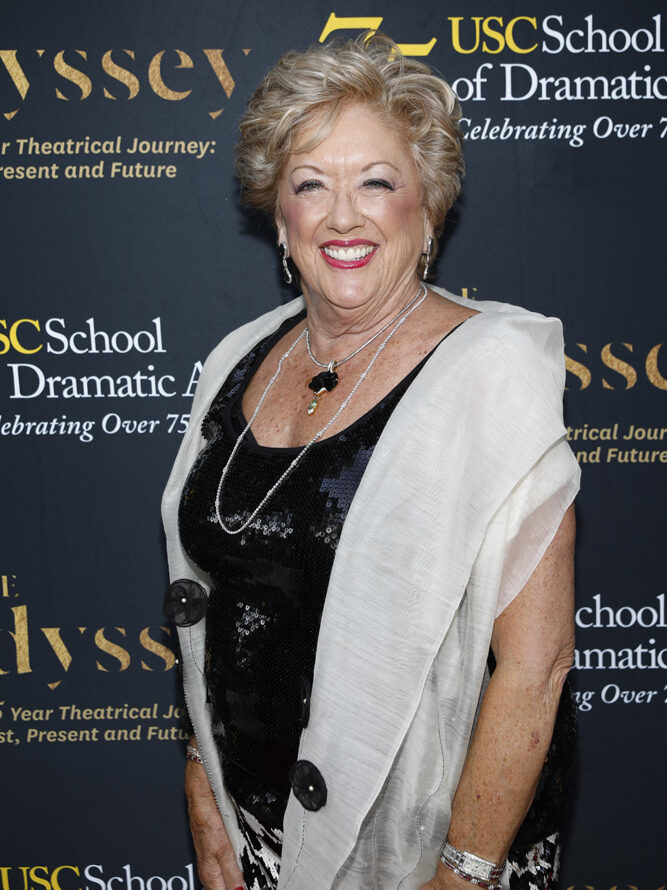 Presenting the Alumni Service Award to Engemann BA '68 for her extraordinary and unwavering commitment and support of SDA, USC President Carol L. Folt shared about the significant role the honoree has had on the university as a philanthropist, actor and business leader.
"Since I became president, I've been amazed by our alumni. With so much heart, so much love and so much passion for USC, the stories of our alumni giving back are incredible. But I would be pretty hard-pressed to think of another alumna who has given so much of herself to this university and beyond USC," President Folt said.
Along with being the founding chair of the School's Board of Councilors, Engemann was integral in SDA becoming an independent school in 1990 and has since championed SDA's growth and advancement.
"I feel like this is my life — with all of you wonderful people here to celebrate USC and this amazing School of Dramatic Arts that I've been so privileged to be a part of, and support as an alumna, but also as a lover of the arts," she said during her speech.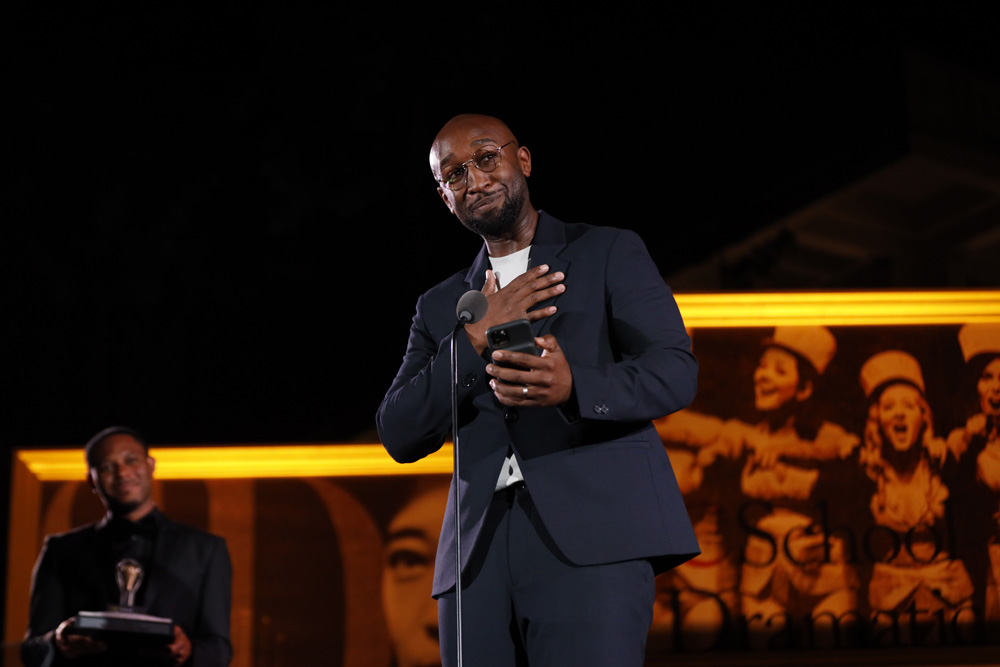 Donald Webber Jr., Broadway Spotlight Award
Honored with the Broadway Spotlight Award, Webber BFA '08 was recognized as an exemplary alumnus with a consistent and outstanding stage career. He has performed as both roles of Hamilton and Aaron Burr in the renowned musical Hamilton.
"He's one of a kind. Truly. He's a star," Emmy Award-nominated actor Tituss Burgess said of Webber in a tribute video that played during the evening.
"He's generous and gives freely of himself. That's what I admire most," Tony Award-winning actor Leslie Odom Jr. also shared in the video.
Webber has also performed in the original Broadway cast of Motown the Musical, Holler If Ya Hear Me, and off-Broadway's Whorl Inside a Loop. On television, he was seen in NBC's The Wiz Live!, Punisher (Marvel/Netflix) and a recurring role in a new Apple TV+ series, opposite Ben Stiller.
"I'm thankful every day that I've been given the opportunity to have and develop a career on stage. But USC was a place where I was able to practice opportunity," Webber said, who also acknowledged his teachers at the School.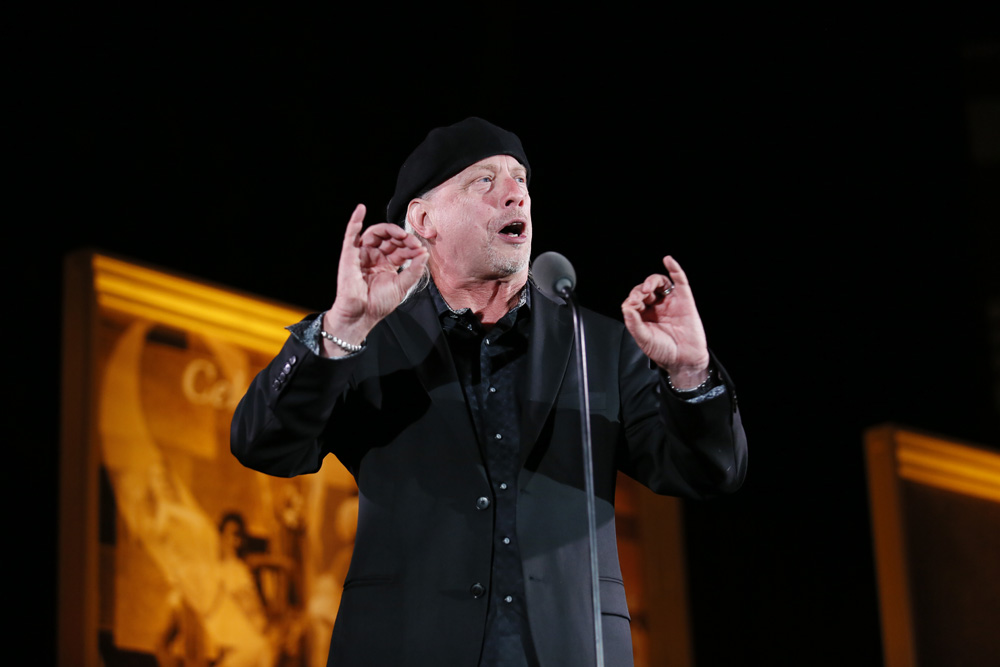 Greg Holford, Production Innovation Award
Holford BA '80 and MFA '82, who received the Production Innovation Award for his artistry in the field of production, was honored for his impactful career on live entertainment as an award-winning creative and show director. The artist has created elaborate themed experiences and spectaculars all over the world for more than 35 years, including the grand opening of The Wizarding World of Harry Potter at Universal Studios Japan and the Diriyah Gate Project in Saudia Arabia that inaugurated the new UNESCO World Heritage Site.
"It's because I learned everything here that I needed to know," Holford said in an impassioned speech, sharing about his all-encompassing experience as a student. "We were given the chance. When you go to the outside without that experience, [if] you blow a big spectacular, you don't work for that film company anymore. Here [at USC], you can make mistakes and keep on learning."
Grant Heslov and Smokehouse Pictures, Corporate Leadership Award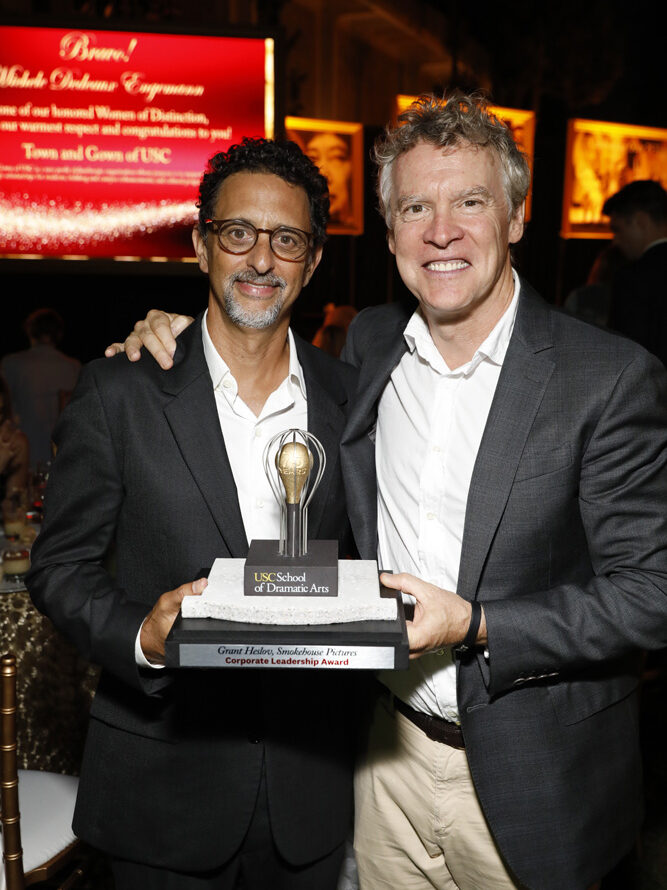 In recognition of supporting emerging talent, Heslov BFA '85 and his company Smokehouse Pictures, which he founded in 2006 with Oscar winner George Clooney, received the Corporate Leadership Award.
In a tribute video that played during the event, Clooney shared about their budding friendship that started in an acting class in 1982, while Heslov was a student at USC, and even recalled borrowing $100 for headshots from the honoree.
"He is a consummate friend. And what you should all know about your former student is that he makes the world better. Grant makes the world better. … He is a really good man," Clooney said.
An actor, director, writer and producer, Heslov is a multi-award-winning artist who has earned Academy, Producers Guild, Golden Globe, Screen Actors Guild, British Academy of Film and Television Arts awards, among others.
"Everything that I learned here at 'SC, everything that I did, helped me find my path. Acting was my passion and occasionally I still do it if somebody will give me a job, usually it's myself that gives me the job, but everything I learned about acting and the theatre, I get to apply to my job as a film maker," Heslov said.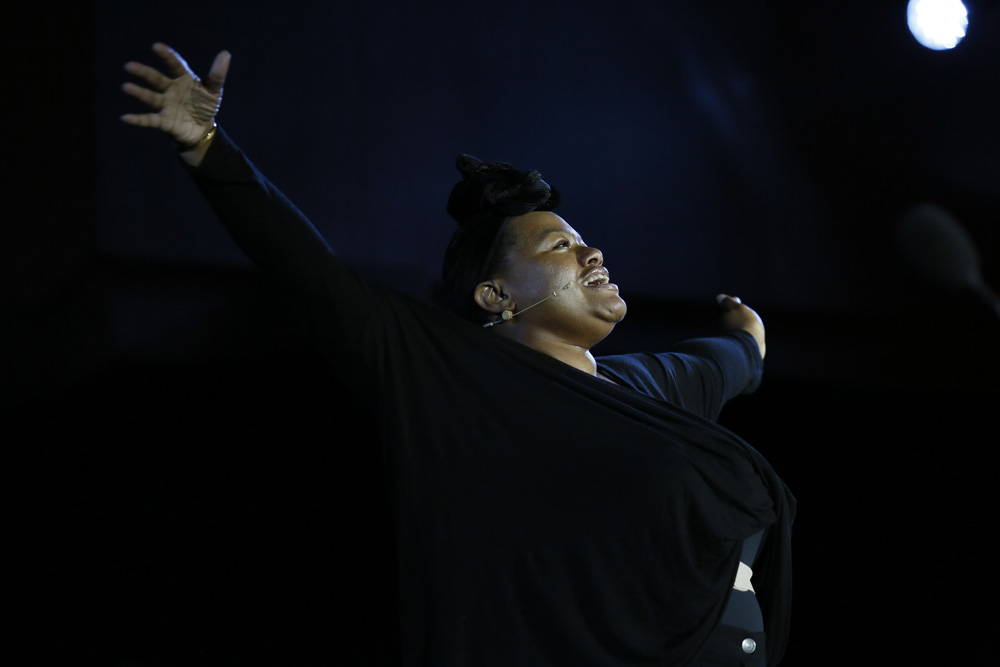 An evening celebrating the SDA community
In a night to remember, the evening undoubtedly brought the talents of alumni, faculty, staff and students that have comprised the School onto the main stage — from Associate Professor and playwright Luis Alfaro as emcee, a display in Queens Courtyard of costumes and props showcasing the tremendous design work from over the years, to the production team behind the scenes ensuring the event's success.
Honorees received award statues mirrored after a ghost light, the iconic lamp found backstage at every theatre. Designed by recent design graduate Eliot Ohlemeyer BFA '21, the awards represent the illumination the honorees have provided in the world through their work.
Meanwhile, undergraduates and graduates performed songs and scenes throughout the evening, including a moment from the reimagination of William Shakespeare's Macbeth from SDA's last season. Students also shared the role scholarships have had on their experience at USC.
"Genuinely, being a recipient of a scholarship here has allowed me and my family to not only have a huge financial burden lifted, but has allowed me to be ever more present here because my focus is on how to be a better actor, how to be a better singer, how to be a better person overall," said musical theatre student and scholarship recipient Armand Akbari.
Proceeds from the anniversary benefit will support need-based scholarships, professional development for students, and theatre for social change programs.
The School's celebration of over 75 years will continue throughout the 2021-22 school year. Read about alumni memories, old venues or share your own SDA stories at dramaticarts.usc.edu/75stories.
---
All attendees were required to either be fully vaccinated against COVID-19 or to have had a negative COVID-19 test within 72 hours of the start of the fully outdoor event.