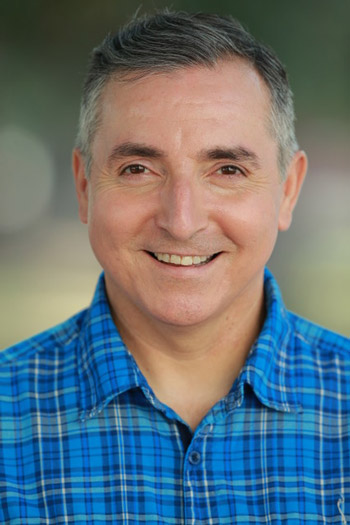 Imagine having an acting teacher who is a talented singer; a character actor who appears on stage, film and television; directs and produces plays; and has years of experience as a voiceover artist. And, from time to time, this teacher works as a casting director, giving a boost to the careers of students. This multifaceted artist is Edward Padilla BA '05.
View this story in the digital version of the 2020-21 Callboard magazine.
Padilla has been teaching since 2006 at CASA 0101, a theatre and arts organization in Boyle Heights in East Los Angeles that showcases and develops the work of Latino artists. Even more notably, Padilla has volunteered his time all these years, as he also did when he served as the theatre's artistic director from 2006 to 2009. (In fact, during his first year, he personally bankrolled most of the productions.)
He currently is president of CASA 0101's board of directors — another volunteer position.
"Edward really wants you to succeed," says Adam Torres, a USC School of Dramatic Arts sophomore who took three years of classes from Padilla when he was in high school. "He's still acting and he has all this background that he brings to life. He knows so much and is passionate about sharing it."
On television, you may have seen Padilla as the recurring character Javier on three seasons of Suburgatory, co-starring on Will & Grace (Reunited), Jane the Virgin, The Shield, Bones, King of Queens and many other shows. He's been on stage at the Geffen, La Jolla and Pasadena playhouses, and in the musical Zorro in workshop productions in Los Angeles, San Francisco and New York. He also has credits on films, both independent movies and blockbusters.
At USC, he was a Presidential Scholar, received the David Coleman Dukes Memorial Scholarship for acting and is an active volunteer with the Latino Alumni Association. Prior to coming to USC, "I spent many years knocking on doors, taking a commercial acting class and doing community theatre," Padilla says. "I worked for about 16 years at the Bilingual Foundation of the Arts, doing classical Spanish language theatre in English and Spanish. It was the best training program for an actor, but USC was really the pinnacle of my training and opened an immense amount of doors for me."
He already had an agent, who suggested that he add a line to his resume saying he was studying at USC. "All of a sudden, I was getting auditions for films," Padilla recalls. "I had never been invited to a film audition. I'd never had a pilot audition before. And all of a sudden, I booked Spider-Man 3. And then I booked Mr. & Mrs. Smith. It was mostly because those casting directors were either USC alums or they really respected USC training."
Today, 15 years later, he can vividly recall USC teachers who made an indelible impression: Marilyn McIntyre, Paul Backer, Stephanie Shroyer, Joe Hacker, Kelly Ward and others. While playing the role of Ali Hakim, the Persian peddler, in Ward's production of Oklahoma!, he had an early career highlight.
At the end of one performance, he was in the Bing Theatre lobby where the cast was mingling with the audience. A man came up to him, said he played the same role when he was a student at USC and had seen Oklahoma! multiple times since, but Padilla's performance of Ali Hakim was far superior to them all. It was only later that Padilla was told he had been speaking to alum LeVar Burton.
Padilla has held corporate jobs while acting to provide a counterbalance to the life of an entertainer. "I found it essential to have that type of regular work so I feel sane," he observes. For many years, he's been a billing specialist for a global human resources consulting firm, with an arrangement that allows him to leave for auditions and bookings. "I love this job," he says. "It's been a blessing."
Although CASA 0101 is currently closed for performances during the COVID-19 pandemic, Padilla says that development work is continuing with new productions: Arena: A House MUSIC-al — based on a legendary L.A. nightclub, and Masao and the Bronze Nightingale — "a beautiful heritage piece about the intersection of Latinos, Africans and Japanese in Little Tokyo."
Padilla teaches both adults and children at CASA 0101, and takes particular care to explain to parents about the psychological pitfalls performing can create for children. "What happens when we get on stage or on camera is that it releases endorphins," he says. "We get this amazing high from it. But as soon as it's over, it's not a gradual stop, it's like turning off a switch." A good parent will understand that after a production, they need to have a conversation about coming back to normal life, and plan activities to wean children off the high they were getting.
"I'd love to go back to USC eventually and do a master's and write something about this," Padilla says. "I'd like to mix a master's in the School of Dramatic Arts with some type of psychology. I think it's important for someone to address."
This story originally appeared in the 2020-21 issue of Callboard magazine, the USC School of Dramatic Arts annual publication for its alumni, parents, students and friends.