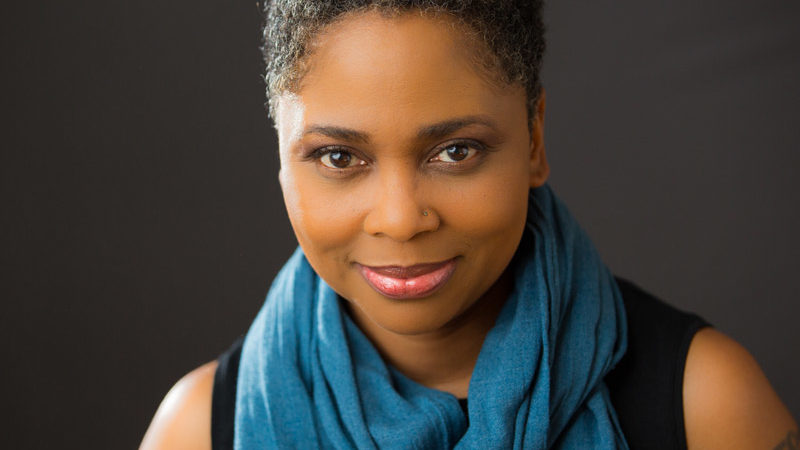 In her second year at USC in the School of Dramatic Arts' Dramatic Writing program, Inda Craig-Galván MFA '17 began writing the play that she refers to as a reflection of her voice as a playwright and her "calling card play": Black Super Hero Magic Mama, the response of a grieving mother to the loss of her young son in a police shooting. The play received a reading at the Pasadena Playhouse as Craig-Galván's third-year thesis; that same year, it was further developed at the Eugene O'Neill National Playwrights Conference and staged as a workshop production at South Carolina's Trustus Theatre.
Earlier this year, Black Super Hero Magic Mama had its world premiere at the Geffen Playhouse in Westwood.
"Going from the reading at the Pasadena Playhouse to the O'Neill, digging in with professional actors, director, dramaturg and designers, [I explored] just how big the play could be," Craig-Galván says. "And the opportunity to have the world premiere at the Geffen was incredible."
Another Craig-Galván play, I Go Somewhere Else, premiered at Playwrights' Arena in 2018. Her works have been developed or produced at The Old Globe in San Diego, Oregon Shakespeare Festival's Black Swan Lab, Playwrights' Arena, Skylight Theatre, Chalk Repertory Theatre, and other venues; among the honors she has received in recognition of her work are the Kilroys' List and the Kennedy Center Rosa Parks Playwriting Award.
A Chicago transplant, Craig-Galván performed improv and sketch comedy at The Second City and The Groundlings; as a stage actor in Chicago and Los Angeles, she was recognized with a Black Theater Alliance Award and a Joseph Jefferson Award nomination. She was a staff writer for the ABC series, The Rookie in 2018; this season, she is a story editor for ABC's How to Get Away With Murder.
"It was embracing the things from the different hats I wear that gave my playwriting the voice it has," Craig-Galván says.
As a writer and performer, "I was doing social and political satire, the kind of work that felt important to me. I was getting to say something about what was happening in my community and society."
When she decided to pursue a career "for the latter half of my life," Craig-Galván says, "I wanted to continue to have that sort of artistic fulfillment, that feeling that I'm contributing something to the world. That was what drew me to the MFA in Dramatic Writing — to expand on what I was doing in my sketch comedy, improv and acting."
"There was never a mandate to write this sort of thing or that sort of thing" at USC, she says. "It was always, 'we're going to give you the tools and the dramaturgical feedback, but we want you to find your writing style.' My first year," she says, laughing, "my plays were very serious and dramatic and they weren't very good. I was trying to write what I thought theatre was supposed to be. Once I expressed 'here's how I want to tell this story,' the professors would keep me on track and make sure I was feeling the vision that I talked to them about — giving me resources, other plays to look at as examples, and opening my mind up to other styles of playwriting that I hadn't necessarily known about before the program."
Her professors were also "incredibly supportive of the fact that I was the mother of two almost adult children, going back to school, and pretty much starting over," Craig-Galván says. "They encouraged me to look at my life experience and my newness to playwriting as a plus rather than, 'oh, I'm so old.'"
"And we had so many projects, that by the time I graduated, I was ready to hit the ground running."
This story appeared in the 2019-20 Callboard magazine.