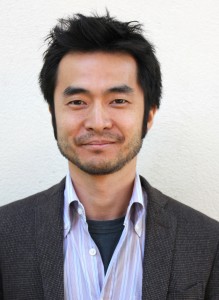 Associate Professor Takeshi Kata often finds himself creating lectures and grading projects on the go. The scenic design professor explains that he's often shifting "back and forth during tech…to come teach the class and [continue] mentoring."
Last month, Kata had four shows running in the four biggest cities in the United States. Cambodian Rock Band by Lauren Yee played Off-Broadway at the Signature Theatre, following runs at the La Jolla Playhouse and the Oregon Shakespeare Festival. In Houston, Quixote Nuevo by Octavio Solis played at the Alley Theatre; and in Chicago, Steppenwolf Theatre Company showed Tracy Letts' Bug. Here in Los Angeles, Center Theatre Group's production of Until The Flood by Dael Orlandersmith, originally commissioned in St. Louis, ran at the Kirk Douglas Theatre. Due to the increasing spread of the COVID-19 pandemic across the country, Bug and Cambodian Rock Band were inevitably truncated, but Kata's work still graced the stage for the majority of the scheduled runs.
Working toward the "aha!" moment
Kata's seamless relationship between working and teaching still brings him many surprises. The associate professor's favorite thing about teaching undergraduate students is their openness and willingness to design.
"Oftentimes in design class I'm surprised by their ideas and how fresh it is and how unique it is," he said. "I'm inspired by how free they and their thought processes are."
Kata cherishes helping students reach the "aha!" moment in the classroom. He describes his role as a professor as specifically linked to his career as a professional designer.
"I think they go hand in hand for me," he explained. "Teaching allows me to remember what I want my practice to be."
Reminders of his craft
Whether it be instructing students on the importance of research or explaining how to communicate with their collaborators, teaching leaves Kata with his own personal reminder to always go deeper and follow through with his connections.
The mentorship Kata shares with his design students reflects the guidance he received as a design student himself.
"When I went to undergrad, I didn't even know the difference between technical directors and set designers," he recalled.
However, his teachers witnessed his potential and encouraged him to take up design. One professor noticed that he could draw, and suggested a shift in focus.
"You're interested in design more than actually building," he recalls the professor asking. "Why don't you try designing?"
The exchange would set Kata on his path to becoming a renowned scenic designer.
Even though balancing two careers can be hard at times, Kata would not have it any other way. Being able to help his students navigate their design assignments based on his own experience in their shoes makes him an invaluable resource.
"It is rewarding to be able to share my experiences. It's nice to be able to share the projects that I am working on with the students [in] real time, discussing how things were accomplished or what difficulties I'm facing."