Seniors in the inaugural class of the BFA Musical Theatre program were given a thrilling opportunity this semester. Thanks to a unique arrangement with the legendary Pasadena Playhouse, four USC School of Dramatic Arts (SDA) students were able to be part of the professional company presenting Stephen Sondheim's Sunday in the Park with George at the Playhouse, and SDA made it possible for them to fit their full-time classwork around weeks of rehearsals and performances.
Rehearsals started mid-January. Beginning February 14 and continuing through March 19, they performed six days a week alongside professional Equity actors. All of them had to learn multiple roles, as they are understudies and "swings" in addition to the roles for which they were cast.
The production, which details the life of pointillist painter Georges Seurat, was directed by Sara Lapine, who directed the 2017 revival on Broadway. It had a star-studded cast and artistic team and received rapturous reviews. TheaterMania called it "breathtaking." The L.A. Times called it "majestic."
The SDA seniors call it an incredible opportunity.
"The idea of balancing a professional production while being a full-time student is seemingly impossible, and I am really grateful not only that the school got us an audition, but then they were able to work it out," says Armand Akbari, who plays a soldier and member of the ensemble, as well as understudying two other roles.
"We're getting a taste of the professional world, and a seamless transition to entering that world," he continues. "After graduation, I can begin auditioning with a lot more confidence and a lot more understanding of how it works. And for that, I am beyond grateful."
The collaboration began last April when SDA Dean Emily Roxworthy and Professor Kenneth Noel Mitchell, who directs the Musical Theatre program, had a meeting with Pasadena Playhouse producing artistic director Danny Feldman and discussed the idea. "We've been running with it ever since," says Mitchell.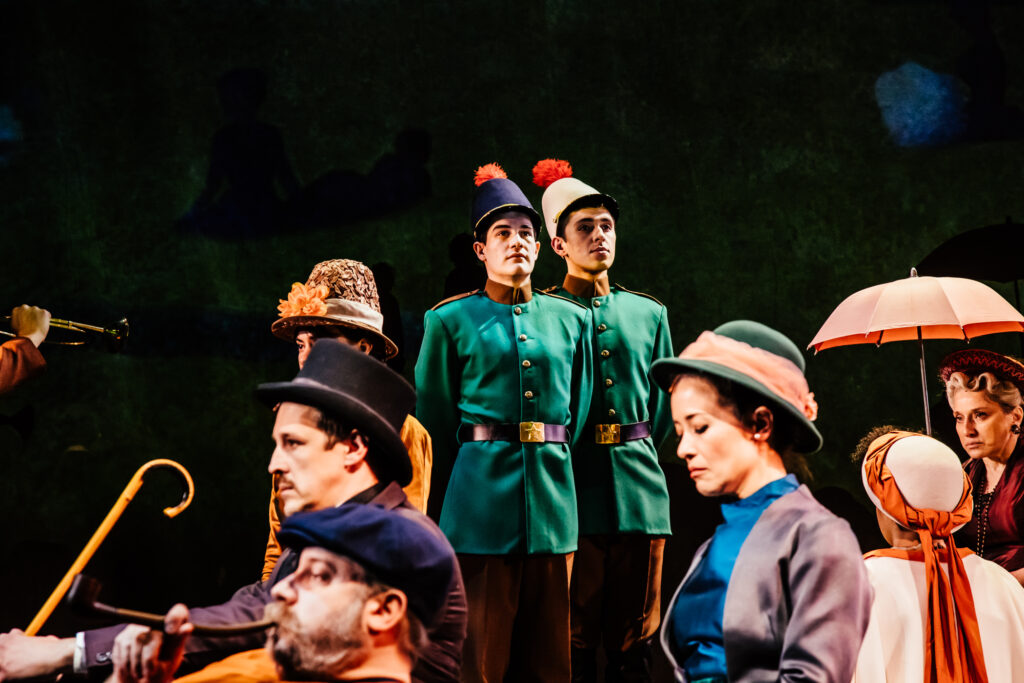 BFA Musical Theatre seniors will also be part of another Pasadena Playhouse Sondheim production, A Little Night Music, which opens in late April. Mitchell, Dean Roxworthy and others at SDA hope these Pasadena Playhouse casting opportunities will be recurring events for Musical Theatre students.
"This experience gives students the knowledge of working in a room with professional actors, and to realize their ability to hold their own," observes Mitchell.
Mitchell said artistic director Feldman and the Pasadena Playhouse staff have been extremely welcoming to the SDA students. "They are genuinely excited about having this new generation of actors on board."
Dean Roxworthy attended the performance on opening night, and personally congratulated the four seniors at the reception afterward. She later returned to see the musical again with a group of Trojan theatre lovers representing alumni from across the university.
"As a professional drama school in the heart of Los Angeles, our ethical imperative is to provide our students opportunities to bridge their learning into the industry to ensure they are as prepared for careers, both within entertainment and beyond, as possible," said Dean Roxworthy. "Pasadena Playhouse has a strong educational mission, so they have been a perfect partner to work with for this pilot program."
And what has it been like for the students? Here are some of their reactions.
Brianna Pember, an ensemble member, was on stage for every performance in two roles, and appeared in seven scenes. Pember says she appreciated being in an environment "where every single person loves theatre and the arts and is happy to be there. Everyone is very passionate about this art form and that is really nice to be around." Her favorite moment came during the song "Everybody Loves Louis" when she got to eat a creampuff every night. "That's very exciting."
Matthew McCoy, a swing and understudy, had to learn all the music and lines to cover 10 roles – six named actor parts and four ensemble roles. What has surprised him most was the speed with which the production got up and running. "We started rehearsals January 17, and we were in [technical rehearsals] after about two and a half weeks. The pace at which we moved was very quick, but never to the point where we felt we were getting lost. It was valuable insight into how professional rooms are run."
Allison Belinkoff, a swing who understudied three actors, says it was a tremendous learning experience. What surprised her the most was how much a show can change from night to night. "We were making changes until the day before the show opened," she says. "And there are little different things now from the first days in previews. That's what's so special about live theatre. You can see the same show every single night and in theory, it is the same show. But there are little things – how an actor is connecting with another person, how the audience is connecting."
Armand Akbari said he was impressed with how well prepared the cast was from the first rehearsal. "Everyone knew what they were doing. It was so nice to see that degree of preparation. People came to rehearsals so relaxed and able to joke with each other. That was a really comfortable and calming thing to see."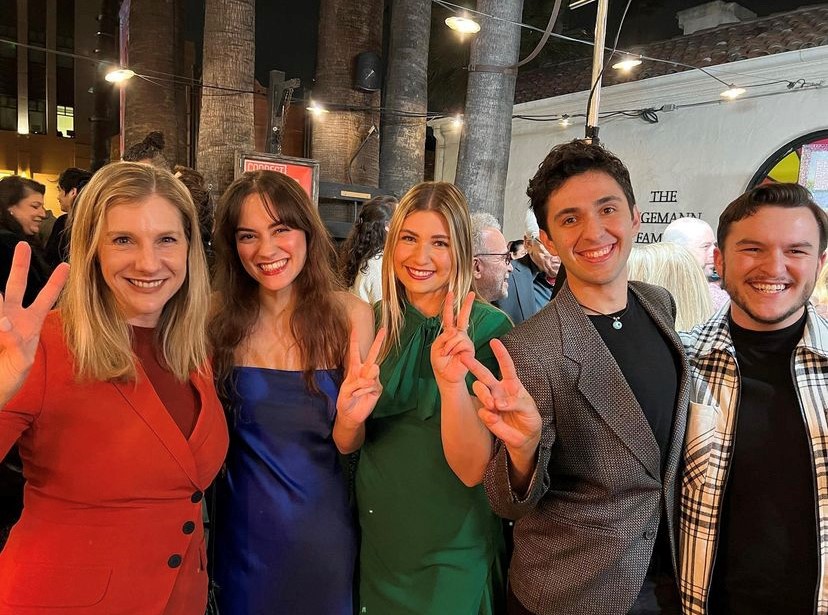 In the rehearsal weeks, the students had no days off, as they shoehorned SDA classes, GE classes and voice lessons into time when they weren't at the Playhouse. One SDA class was recorded so they could take it online, and another class will be offered in an intensive fashion now that their Playhouse commitment has ended. Their schedules eased a bit once performances began, but all four also are preparing for their SDA showcase for Los Angeles agents and managers at the end of April – an event that may determine what they decide to do after graduation.
It was the School's willingness to be flexible and creative in juggling the academic commitments that made this valuable opportunity possible, says Mitchell. "We have a dean who is all for this," he notes. "The whole key is support."