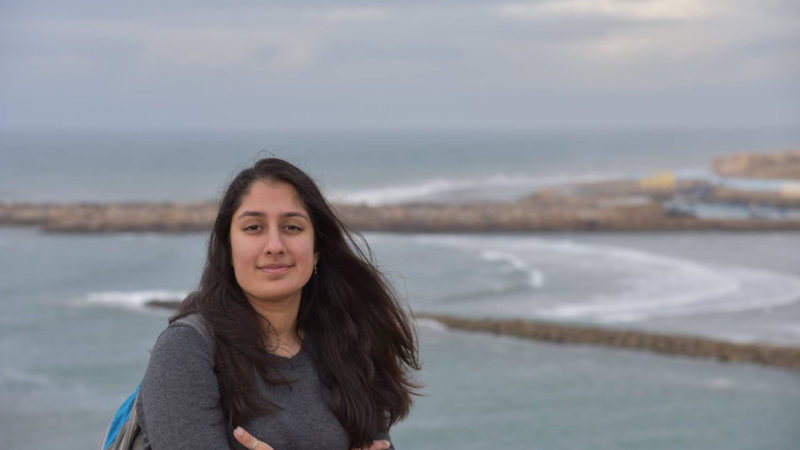 Design student Zoya Naqvi BFA '22 shares about her roles in two student groups, the bond she has with her cohort, adapting her skills to other fields and more in this 10 Questions series with current students.
---
SDA: Where are you from?
Naqvi: I am from a suburb of Dallas, called Southlake.
What program are you studying at SDA? Why did you choose this program?
I am a BFA Design student. I actually changed my major from Stage Management at the end of my freshman year. I decided to go to USC because I knew I wanted to end up in Los Angeles, and I knew USC's alumni network was very extensive.
What else are you involved in outside of SDA? (ISPs, TSA, student films, etc…), and how does it fit into your university experience? Is there anything you hope to get involved in later in your time at SDA?
I am Brand New Theatre's Director of Design! BNT produces new student works, so my job is to make sure both the playwright's and director's visions are both realized to the best of their ability and up to BNT's standards. I am also a diversity and inclusion co-chair in the Theatre Students Association. I've been involved with theatre in different capacities for the majority of my life, so being part of these organizations feels very natural. I hope to work on the play selection committee at some point during my time here.
Could you share about the bond you have with other production students?
We're all in cohorts based on our majors and years, but I would say that I am closer with the people in my year. We have all of our freshman year classes together before we all start focusing on our disciplines, so we all get through the awkwardness of freshman year all together. I'm still very close with one of the first friends I made here who was in my cohort, and I live with her and one of our other cohort members. As a BFA Production cohort, we all tend to bond over our experiences with our shows. Since we all go through the same general classes in basically the same order, we can all talk and advise each other through the BFA experience.
Which show has been the biggest learning experience at SDA?
I was an assistant stage manager for the MFA Year 3 repertory. I had that assignment back-to-back with being an ASM with the BFA sophomore ensemble's show. It was a really good experience looking back on it, but that semester was a big lesson in time management and being organized.
Tell us about what production experience you worked on this semester. How is this different from working on production on stage?
I [worked] with Team QR this semester! It's a puzzle/story telling website created from stories that people have submitted to the USC Libraries special archives. We had to have a lot more continuous communication than we normally would. If we were doing things in-person, people would see each other briefly and could pass along notes and suggestions, but now it requires a more conscious effort. We're also finding new ways to use the skills we had already learned, which is always good.
Since COVID-19 has required all of us to stay at home, what's the most positive thing you've experienced in your classes or projects?
I've tried to get better at using some of the programs we started using in classes such as Photoshop, Vectorworks, and Auto CAD.
How do you hope your SDA education will inform other creative endeavors?
I've come to understand that my skills as a theatre artist can translate into other fields. I love installation art and museums so I am looking forward to learning how to use my skills as a set designer and stage manager to work in that field. I also want to improve my drawing and painting skills.
What is the greatest thing you've learned about yourself as an SDA student?
I know now how I work with other people both in group settings and in professional relationships. Once we've learned how to do the technical aspects such as drafting and painting, it allows us to delve into our creativity more and understand who we are as artists.
What do you hope to accomplish in your time at SDA, and what impact do you hope to leave after your four years?
I hope that I've helped people feel more represented and that their voices matter. That's the goal of both BNT and TSA. With BNT, I try to find designers that won't always get a chance to work on a main stage show or people that just want to try it out. With TSA, as a Diversity and Inclusion co-chair, I hope that I can help people feel seen. As an Indian woman I've felt underrepresented my whole life and I don't want anyone else to feel that way.