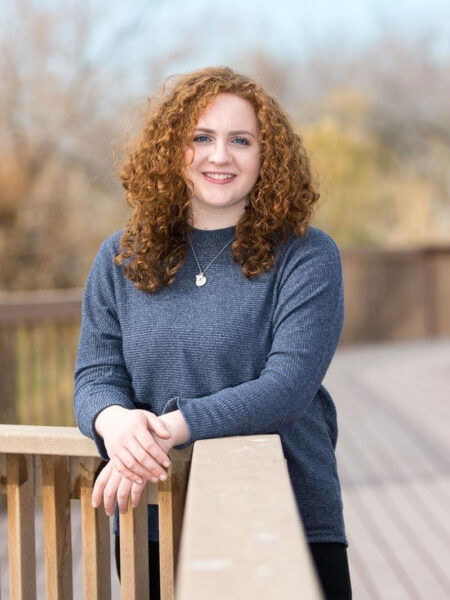 The BFA '24 technical direction major and music industry minor discusses an impactful project, being in Los Angeles, the faculty and more in our 10 Questions series with current students.
---
Why did you choose this program?
McCracken: I chose Technical Direction because I enjoy working with people and solving problems. Technical Direction is really the crossover between creating ideas and physically making those ideas come to life. It's a lot of paperwork but also a lot of hands-on building, which is also part of why I picked it. The show seasons are huge, meaning the opportunities are abundant. It's a place I felt would satisfy every aspect of college I was hoping for.
I chose the Music Industry program as I wanted to get involved with both SDA and Thornton. All of the faculty at Thornton are very open to meeting and talking with students, which is encouraging to want to work with and learn from them.
What are you working on in 2022 that excites you the most?
I'm diving into the semester with the MFA repertory shows as the assistant lighting designer, which is a newer area for me. I'm excited to learn from the experience and to work with Josh Epstein, who's designing the shows. It's two shows back-to-back that share the same space, so I'm really interested in the process of going into that.
What else are you involved in outside of SDA and what role does that play in your training?
I started a student chapter of the United States Institute for Theatre Technology (USITT) at USC. This is our second semester as a group, but we've connected with the California chapter and different professionals involved with theatre around L.A. I will be traveling to Baltimore in March as a student ambassador for their annual conference to network more and train with other members from around the country. It's really taught me how small the world of theatre is, but how important building relationships is. It's provided me with context in how theatre matters to different people.
What is your favorite thing about the faculty at SDA?
The faculty are always willing to answer questions or even just have conversations with students. I've always been able to approach my professors regardless of how simple or complex my questions are, which is important to me. Having a voice is such an essential part as a designer or artist and the SDA faculty facilitate this everyday.
How does being in Los Angeles affect your training and the opportunities you've had?
The local theatre houses and different experiences around Los Angeles have been opening doors since I got here. I've been very fortunate in working with a local theatre group this semester and meeting professionals in different venues.
Could you tell us about a project that you've worked on as a student that has had an impact on your artistry?
Last semester, I worked on MTR's The Addams Family as the technical director. It was the first time I was 100% hands on and in charge of my area. Even though it was one of the most difficult processes at the time, the end result was the most rewarding thing I've experienced. There is nothing else that matches the energy of coming together with a team to bring a show to life and sharing that with an audience for the first time. I learned so much, but also feel like the experience helped me shape my process and mindset as an artist.
As we are celebrating the School's 75-year anniversary, could you share your favorite SDA memory?
My favorite memory was setting up for one of the 75th anniversary events during the first week of school. While working as a student electrician, I was able to work with lights on the roof of the Bing Theatre.
What have you learned about yourself while you've been a student?
I've learned that I need to ask questions. I learn the best being in a place where I feel as though I have a voice and that what I say matters. Since the first online semester to my second semester being on ground, I have always felt that way and have been able to find more success in communicating with everyone. I've also learned that I work at a different pace than some of my peers. Understanding my own learning process has become essential and listening to myself and how to take a break when I need it.
What is the best advice you've received at USC?
Learn when to say "no," but don't be afraid of new challenges.
What is something you wish you knew when you first started at SDA?
I wish I knew about the Design Lab. We have an entire room dedicated to supporting design students with every software that we might need. Now, it's my #1 go to place if I need to work on most of my assignments. The entire space is meant for students and it's a great design-specific resource space.