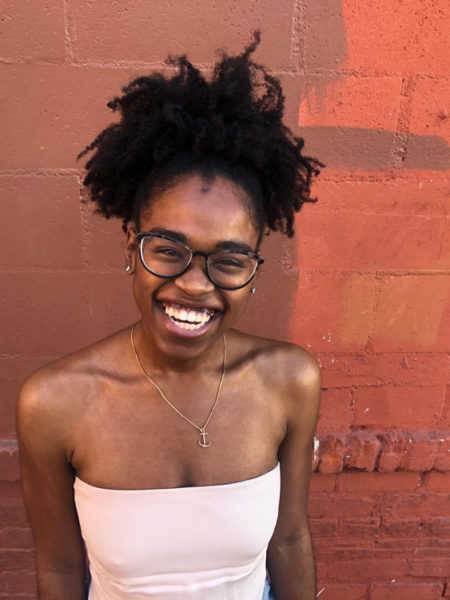 An USC International Artists Fellow, Zharia O'Neal MFA Dramatic Writing '22 shares about exciting projects she's working on (including New Theatre for Right Now), getting connected to playwright Steve Carter and more in this 10 Questions series with current students.
---
SDA: Where are you from?
O'Neal: I'm from the British Virgin Islands, aye! Picture me giving a mean shoulder shimmy there. I was born on the largest island, Tortola – Google us.
What program are you studying in? Why did you choose this program?
I am an International Artists' Fellow in the MFA program in Dramatic Writing. I know it's highly cheesy to say that the program chose me, but it actually did! I attended USC for undergrad – double-majored in narrative studies and public relations – and registered for a playwriting class on a whim when all the courses for my minor were cancelled. The bug bit me and I liked getting bit.
I'm in love with the way Los Angeles contains hundreds of little worlds and interconnected communities – there's a little bit of everything here, and I can't think of a better place to study storytelling.
What made you decide to pursue a graduate degree?
I wanted to get better at telling stories and ultimately decided that the only way I could do that was by putting the time in. I prioritized devoting myself to intensive practice of my craft, and the structure of a graduate program definitely allows for that. I've also found that in order to become a good storyteller, you must learn about yourself and others – and the best way to do that is through connection. The built-in community of writers and theatremakers a graduate program provides wasn't something that I could (or even wanted to) provide for myself.
What positive experience have you had at SDA that you don't think you would have gotten elsewhere?
I got to talk to Steve Carter, a landmark Caribbean playwright who has now passed, on FaceTime. I asked him questions and he answered, but mostly it was great to hear him speak. There was a Catfish-esque Google hunt to find him on my behalf, and it wouldn't have been possible without SDA and its connections.
Which SDA professor has had a profound impact on you?
Ah, man. This question feels like a trap! I'm very tempted to do the classic "you know who you are" thing, but Oliver Mayer was my first playwriting professor and the reason I even thought [that] this was a thing that I could do for longer than a semester. Kirstin Eggers, who taught me Sketch Comedy and Improv, also taught me a lot about leaning into fear and just going for things.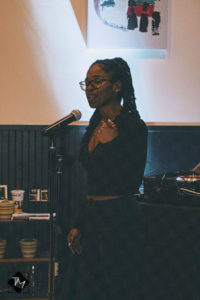 Tell us about a project you're working on in the classroom that you're particularly excited about.
I've got two. One of the plays I'm working on this semester tracks the story of a mother and daughter on the island of Anguilla across seven years and seven Biblical plagues through poetry – excited and terrified about executing that (especially after potentially jinxing it just now). Secondly, the entire Dramatic Writing cohort is working with MFA Acting students and faculty to develop a collection of short theatre pieces in a collaboration called New Theatre For Right Now – we start rehearsals this week and I'm jazzed for that.
What impact do you hope to leave on SDA?
I want more Afro-Caribbean stories, told by Afro-Caribbean storytellers. I don't want to be the last person from the British Virgin Islands to walk through these halls.
What is your favorite SDA memory?
My cohort (Grafton Reyes-Doyle, Katrina Richard and I) all had our first New Works Festival on Zoom in April, which I attended in my pajama bottoms (and a nice top!) It was surreal hearing my work being read, but it was also SO FUN seeing Grafton and Katrina's plays – tap into both of them, they're both doing really cool work and their artistic journeys are thrilling. I was laughing and getting emotional in my own living room.
What have you discovered about yourself as a writer while you've been at SDA?
I discover more every day, but so far: I need a lot of alone time. I work best in bursts, and that's okay. I'm deeply invested in place and building living, breathing worlds. Motherhood, family and memory are places I like to return to.
How has the program changed your process as a writer?
This program has really shifted writing from a "thing that I sometimes do" to my profession. So I have a desk now, I sit at a real swivel chair, and I clock in and out when I can — I don't just depend on inspiration anymore. I've always loved reading, but it is again now (arguably the best!) part of my job, and now I fiercely protect my time with books. All good things.