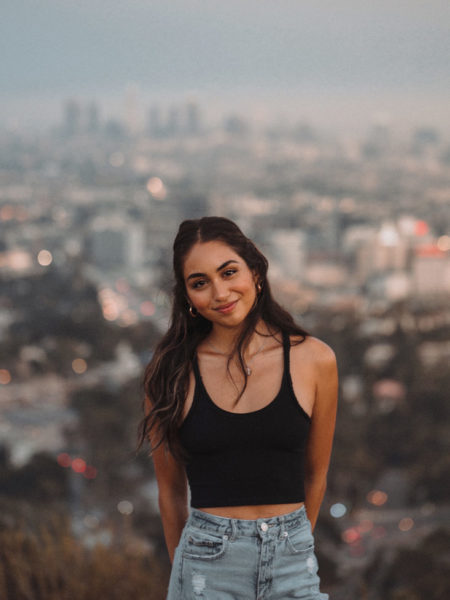 An inaugural member of the Musical Theatre program, Mikaela Villalpando BFA '23 talks about why she chose her major, being fearless when it comes to performing and more in our 10 Question series with current students.
---
SDA:Where are you from?
Villalpando: I'm from San Diego, California.
What program(s) are you studying in? Why did you choose this/these program(s)?
I'm currently in the inaugural musical theatre BFA program. I decided to major in musical theatre because it combines several different art forms to tell stories that portray humanity and provoke feelings [and] imagination while sparking new discussions! I chose USC to study musical theatre because I'd get the opportunity to be in the first year of an entirely new program. Another reason I decided to attend 'SC was because of how the school combines artistic training in a conservatory environment (with some of the best professors!) while getting an academic and typical college experience.
What else are you involved in outside of SDA? (ISPs, TSA, student films, etc…), and how does it fit into your university experience? Is there anything you hope to get involved in later in your time at SDA?
Outside of SDA and being an SDA ambassador, I serve as an orientation advisor, orientation social media content creator, first-generation student mentor [and] Residential Advisor/"Virtual Peer Advisor." Being involved in these programs has helped me build my leadership skills and I have been able to network and come into contact with so many awesome USC students! Involvement in these programs has really helped me expand my social circle, and specifically with students who have very similar interests, too. This has kept me busy and can get overwhelming at times, but it pushed me to work harder and keep a balance. I hope to eventually become more involved in ISPs and student films!
How has SDA changed your outlook on theatre?
SDA has changed my outlook because when I'd perform I would judge myself so hard and constantly depend on the approval of others, and this held me back from taking risks. Now, I am much more fearless in my approach to performing because being in a supportive environment gave me the freedom to explore as an artist and take risks.
While you've been a student here, have you had the chance to collaborate with other programs? What did you take away from that experience?
While being a student here I've been able to collaborate with friends at Thornton by helping them record my voice on their music for class assignments, and I have also helped a couple of friends in SCA by acting in some of their videos for class, too. Collaborating with these friends in other programs enables us as artists to share knowledge and work more creatively, efficiently and effectively.
What impact do you hope to leave on SDA?
Being in the new musical theatre major, I hope to leave a huge impact on the ways I help shape and create the program by being one of the firsts! My cohort and I have the pressure of setting the bar for this program.
How has SDA prepared you for the industry?
SDA has prepared me for the industry because I am able to train in 3 schools with 3 different disciplines with[in] my one degree. With the amazing faculty and the curriculum, I know I am receiving optimal training for a destination on the stage, the screen, and more! SDA in general also puts an emphasis on being a professional artist in the industry. I have been so fortunate to take classes from and network with some amazing artists currently working in the industry.
What is your favorite SDA memory?
My favorite SDA memory would be meeting my cohort for the first time during Welcome Week! I will never forget how nervous, but excited I was to meet my classmates who are now my best friends/support system.
What is the greatest thing you've learned about yourself as an SDA student?
The greatest thing I've learned about myself as an SDA student is that everything takes hard work and putting my mind over the matter in order to achieve my goals.
If you had more time to do one thing while you are a student here, what would it be?
If I had more time as a student here I would be even more involved in student-lead performance opportunities, such as films or plays! I also hope to attend more of the discussions and workshops that SDA hosts with working professionals in the industry.