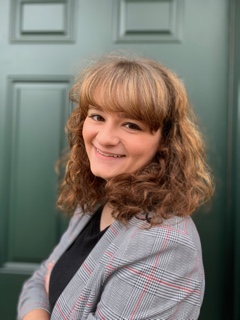 The BFA '23 technical direction student talks about having a bond with other production students, Dorothy's Friends Theatre Company, working on the MFA Acting Rep and more.
---
Where are you from?
Fabis: I'm from Glen Ellyn, IL, a suburb of Chicago.
What program are you in at SDA? Why did you choose this program?
I'm a sophomore in the BFA Technical Direction program. I chose this program because it is the perfect blend of practicing technical theatre skills, hands-on learning through classes and show assignments, and enough design and creative work to really allow me to become a well-rounded theatre artist.
Could you share about the bond you have with other production students?
Working in a cohort environment really helps you form professional and personal relationships with your classmates. Right from the start, all the 2023 production students were in THTR 132 together and we quickly became friends and learned how to work with each other. This camaraderie carries through to our show assignments and general day to day life at 'SC. Even after transitioning online, we find ways to keep connecting over virtual productions and classes. Just by working in the Scene Shop or on a production assignment, you quickly start to meet the other students and form connections with them. I always feel like I'm part of a team here, and I really never feel like I'm competing with anyone. We eventually all get to know each other and we know that if we need help or advice our community is available for us to reach out to.
What else are you involved in outside of SDA? (ISPs, TSA, student films, etc…), and how does it fit into your university experience? Is there anything you hope to get involved in later in your time at SDA?
I'm involved with many extracurriculars outside of SDA. I work with a lot of the ISP companies on campus, and served as a board member of Dorothy's Friends Theater Company since freshman year. I am also a member of the Themed Entertainment Association, both the branch at USC and the NextGen program. I want to go into themed entertainment design for theme parks and interactive museum exhibits so it's very exciting to have a professional network of like-minded people.
Describe your experience working with Dorothy's Friends Theater Company (dftc) and some of its upcoming projects. Why is a company like dftc so valuable to the SDA community?
Working with dftc was a very a valuable experience. It taught me how theatre companies operate, how to work through a pitch process, and how to go from an idea to actually creating a real production. Our upcoming spring project is an audio drama that was written by a student on campus. I don't want to give away too many details but it should be a very exciting project and I'm so excited for everyone to experience it once it is released. I think ISP companies are extremely valuable for the SDA community because it gives students a chance to take on production or performance opportunities  that would otherwise not be available to them. I served as technical director for a few projects, but was actually the co-producer of our fall project, The Dorothy Show: a dftc Telethon. I even got to run the broadcast for that project and learn about OBS before SDA even started using it for their digital productions. ISPs are like a playground for theatre artists where you can innovate, create, and bring something to life that may not be a project SDA would consider or have the resources to put on.
How do you hope your SDA education will inform other creative endeavors?
Already, I have found a great network of students, alumni and faculty in my SDA journey. I find that talking to my network, learning everything I possibly can, and always being willing to work on something new has helped shape me as a creator and artist. I know it is said often, but everything you learn in theatrical training is applicable to every other discipline in one way or another. I find this to be extremely true, and I have found that when taking on outside projects, working on passion pieces for myself, or just regular classwork, SDA has taught me how to think and work in a creative environment.  I can only hope that as I continue my time here I refine my skills and leave as a very capable artist.
What is your favorite thing about the faculty at SDA? Has any one professor had a profound impact on you?
My favorite thing about the faculty at SDA is how willing they are to work with students. I haven't met a single professor or staff member who doesn't want to see me succeed. They each are willing to push me to do my best, offer advice and suggestions, and when I need advice or guidance, they are only an email away. I feel like a lot of professors have made an impact on me, but Duncan Mahoney is the professor I see the most, and one who has provided me with some of the best guidance. There isn't anything Duncan doesn't know about and he is an invaluable resource. I couldn't imagine being in the TD program and not having Duncan as one of my main mentors.
Which show has been the biggest learning experience at SDA?
All of them! Cheesy answer, but so far every show I have worked on has been something completely different. From my first show assignment as a light board operator to having COVID cancel my second one, what I do in each show has varied. The show assignment for Fall 2020 was a project called Hidden Stories, which was a digital anthology of community submitted stories. I was the lead on one short called Last Trip Out, and designed characters, practiced art direction, and even taught myself how to animate on Photoshop. For Spring 2021, I was the virtual tech lead and ran streaming support for one of the MFA Year 3 Rep shows. I had to learn OBS, ZoomOSC, Qlab, and a few other softwares in depth to be able to run the show and bring a virtual experience alive. It was a wild ride and even after the show I continue to learn.
Tell us about what production experience you are working on this semester. How is this different from working on production on stage?
Working on the Rep was more difficult than a traditional stage show would be since I was learning something completely new. I was one of the first students to take on streaming support and every day it felt like we were inventing something new. Joe Shea was my mentor and taught me everything I know about the softwares, and together we troubleshooted new tech, set up an impressive computer system to run the show on, and rewrote the cue list three different times to achieve the desired results. Being the first to do something is difficult, but it was very rewarding to see the end result.
What do you hope to accomplish in your time at SDA, and what impact do you hope to leave after your four years?
I hope to continue to work on wide variety of projects at SDA, continue to learn all I can about productions, special effects, design, and develop a unique style and brand for myself. I hope that if I do leave an impact it is a positive one and that students both current, past, and future know that we're all artists trying to learn and create together. Despite the challenges of the past year, it's more important than ever to remember that we're not alone, the work we do is important and impactful, and that we have the ability to create whatever we can dream up in our heads as long as we want to go do it.