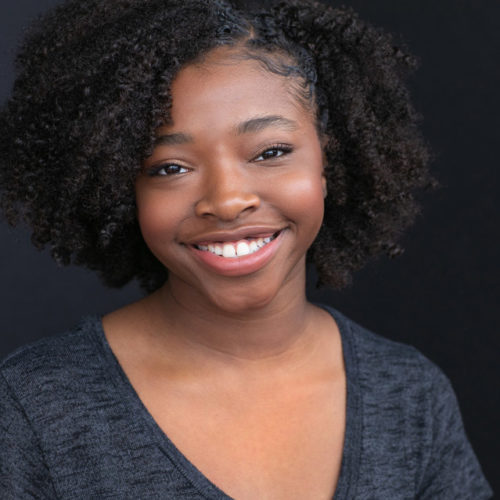 A first-year musical theatre student, Princess Isis Lang BFA '24 shares what she hopes she will get out of her degree, setting her own path, being a speaker for the African American community and more in this 10 Questions series with current students.
---
SDA: Where are you from?
Lang: I am from Maywood, IL. Maywood is a small suburb right outside the city.
What program(s) are you studying in? Why did you choose this/these program(s)?
I am majoring in the BFA Musical Theatre. I decided this was the perfect place for me because I love dancing, singing, and acting too much to only study one.
What else are you involved in outside of SDA? (ISPs, TSA, student films, etc…), and how does it fit into your university experience? Is there anything you hope to get involved in later in your time at SDA?
I am a part of BSA (Black Student Union) and I have already been meeting people through the program, even while virtual. Being a part of BSA gives me the opportunity to meet people who look like me and who can relate to me.
What is your favorite thing about the faculty at SDA? Has any one professor had a profound impact on you?

My favorite thing about the faculty is how easy they are to talk to. They are so welcoming and understanding; which makes it so easy to talk to them.
How do you hope your SDA education will inform other creative endeavors?

I hope my SDA education will help me grow as a performer and give me the confidence I need to do any and everything I aspire. I also hope to connect with people in my profession so I will be able to have people to talk to or to just ask questions.
What do you hope to accomplish in your time at SDA, and what impact do you hope to leave after your four years?

In my time as an SDA student, I hope to be a speaker for the African American community in the arts. It is imperative for me because I needed someone like me to be there when I was younger, so I feel obligated to be that person for all future generations.
How does being in Los Angeles affect your training? What opportunities does this city present for you?

Being in Los Angeles gives me the opportunity to be around people who have the same goals as me. It's like we all are working towards our own goals. Being in this city allows me to easily network with people in the business I plan to be in. I also get to grow and get feedback whenever I show my work.
What knowledge will you take with you when you graduate from SDA?

After graduating from SDA, I will take the mindset that I never have to compete with anyone but myself. I will always be on my own path, so I will never have to compare or compete.
Since Covid-19 has required all of us to stay at home, what's the most positive thing you've experienced in your classes or projects?

Since COVID-19, I have experienced a new way of learning and acting. Since we are not in person, we get to start all over again with interacting. It is nothing like being in person; we use new techniques to learn who we are and to learn more about our other colleagues.
If you had more time to do one thing while you are a student here, what would it be?

If I had more time, I would live in the Somerville dorm. I know it's not much, but I feel like being in a dorm with people that relate to me would have been an amazing experience.