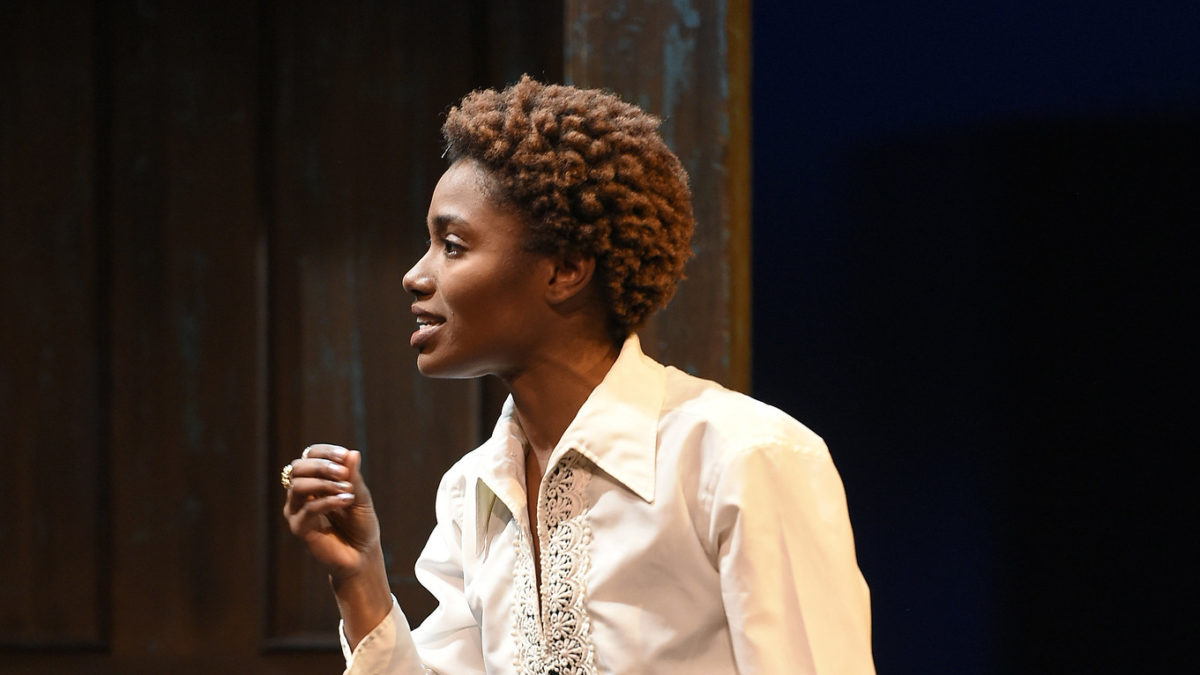 A third-year MFA student, Nona Johnson came to USC for the whimsical rigor of an MFA Acting program, where she could explore the responsibility of an actor to her audience. In her training with SDA faculty, she has found comfort in celebrating her individuality and bravery in practicing her craft.
---
SDA:Where did you complete your undergraduate degree, and what did you study there?
Johnson: I graduated from Georgetown University with my BA in Justice and Peace Studies, and I minored in Theater and Performing Arts. I performed in four productions throughout the course of my study.
SDA:What factors led you to pursue an MFA at USC?
Johnson: At the end of my junior year, I cemented my concentration within my major as Social Justice Art and Performance. I wrote three plays in my senior year and some solo pieces which I performed and hosted readings for. It was immensely fulfilling and eye-opening. I had known for a long time that I wanted to act professionally, and was always motivated by and drawn to the power that theatre and the arts have to inform people, but also to heal and change people. To save them. I believe that to be a very great responsibility. With that, I knew I wanted to spend a very dedicated and invested amount of time honing my craft and diving deeper into my capabilities as an artist and human being. I believed I could only do that in graduate school.
SDA:How does the MFA degree contrast/supplement your undergraduate education?
Johnson: Well, they are so very different. College was full of electives and options; I took my pick, and once I chose, I had access to all that [they] had to offer. Grad school for acting is rigorous in its structure, and sets me up to get as much out of it as I put into it. Our schedules are fixed, but what can take place within the schedule is infinite. That makes the training boundless in its merits. From my undergrad to my MFA and throughout my MFA, my idea and practice of focus has metamorphosed. My study continues and will always.
SDA:What is the MFA curriculum like? What sets it apart from other training you've had?
Johnson: The schedules are fixed and the curriculum is rigorous in different ways from year to year — physically,  mentally and emotionally challenging us daily. It is unlike anything I have ever experienced and I believe is a unique and courageous undertaking.
SDA:What show has been the biggest learning experience for you at USC?
Johnson: I think the Two Gentlemen of Verona was my biggest learning experience. Shakespeare performed in a large operatic space came with a host of challenges that I am grateful to have endured. The summer after that show, I did summer stock Shakespeare, and that was where a lot of things clicked about Two Gents and came into perspective for me. For me, Shakespeare is hard because it's so easy, so it's better not to think about it too much. I learned to support myself in all aspects of the process, wherever I'm working. And finally, I discovered the palpability of joy.
SDA:What is your favorite thing about the faculty at USC? Has one professor had a profound impact on you?
Johnson: I don't know if I can choose just one. I have to say my greatest love for this faculty comes from the way they just want me to be myself. To use all of me in my work, to share, to be open. That is so incredibly encouraging and empowering! I guess I would say that the most tangible, scariest and most gripping representation of that was clown with professor Zach Steel (I miss it so much!). I'll never forgive you, Zach, and thank you.
SDA:While you've been a student here, have you had the chance to collaborate with other programs, or to act in an SCA student film? What did you take away from that experience?
Johnson: I have, and it has been a lot of fun. I think my biggest takeaway is how great it is to work with other artists who are discovering their artistic voice, just like me. It's inspiring.
SDA:How did SDA change your outlook on theatre?
Johnson: It really solidified the importance of witnessing theatre and live performance in any capacity I can. It truly awakened a renewed sense of responsibility in me, to be of service to those that witness my work.
SDA:What impact do you hope to leave on SDA?
Johnson: I hope to have affected people here at SDA through my work or just interactions with me. I hope that through my work someone was drawn in and implicated, or faced themselves somehow. That they changed, whether it be only for a moment or forever. That is all I ever hope.