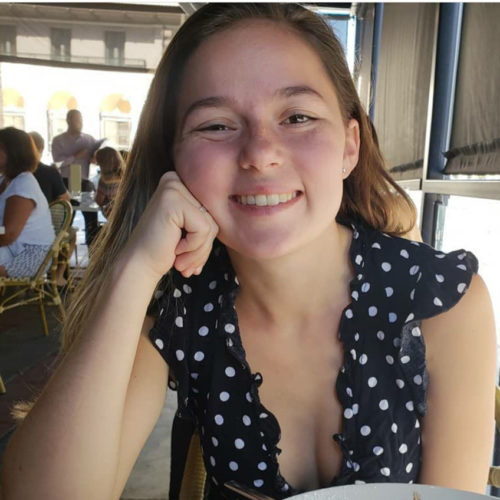 Design student Maddy Engelsman BFA '22 talks about pushing her boundaries as a designer, her favorite thing about the faculty and more in this 10 Questions series with current students.
---
SDA: Where are you from?
Engelsman: Originally from the East Coast (Maryland and New Jersey), but have lived in South Pasadena since high school.
What program are you studying at SDA? Why did you choose this program?
BFA Design. I chose this program because I wanted to explore various forms of design for theatre and this program allows you to do so.
What else are you involved in outside of SDA? (ISPs, TSA, student films, etc…), and how does it fit into your university experience? Is there anything you hope to get involved in later in your time at SDA?
I have designed for an ISP and a SCA Stark Program short film. I hope to continue partnering with SCA students to aid their work and allow me to explore designing for film. I used to work as a production manager at Bovard Auditorium — which was incredible, but unfortunately due to COVID-19, no events are allowed to occur on campus. So I shifted gears, [working] remotely at the Los Angeles Women's Theatre Festival as an executive producing/event planning intern. I hope to gain more experience on both the creative and business side of entertainment through various internships in film and theatre.
What is your favorite thing about the faculty at SDA? Has any one professor had a profound impact on you?
The faculty in the BFA program are amazing. They are always open to bounce ideas around with and due to the small cohort of students, they really get to know you and help you develop your unique style and skillset. Specifically, Tina Haatainen-Jones and Sibyl Wickersheimer have given me priceless advice from concept, to design, to communication with your production team. One of the most amazing things about our faculty is that they are always open to talking with you if you have suggestions about curriculum or classes and are willing to take your thoughts into consideration.
How do you hope your SDA education will inform other creative endeavors?
The more I learn, the more I realize I do not know. Thus, I hope that as I learn at USC, I continue to understand my strengths and weaknesses, as well as knowing what questions to ask other creatives. I also am hoping my SDA education gives me the practical skills and networking necessary to make the transition after college easier.
Which show has been the biggest learning experience at SDA?
Ironically, the show that was the biggest learning experience for me was a show that never ended up happening! Fuente Ovejuna: A Disloyal Adaptation made me rethink what costumes can say in a production and how to blend many time periods into a cohesive production.
While you've been a student here, have you had the chance to collaborate with other programs, or to work on an SCA student film? What did you take away from that experience?
I costume designed a Stark Production student short film called Hurricane, written and produced by Mitchell Colley and directed by J. Lee MacKenzie. I had an amazing time shooting on various locations (even on a boat one day!) and it was a great experience applying my skills to a new medium. I began to better understand how costume designing for film is very different in certain ways from designing for theatre.
Tell us about a production experience you worked on at SDA recently. How was this different from working on production on stage?
I was an original concept creator and designer for the online storytelling experience: Hidden Stories. This experience pushed me to jump outside my comfort zone (as costumes were not heavily used) and experiment in other design mediums. In addition, the group dynamic was very different to a traditional stage play as it was structured more as a devised piece. It really came together so well!
Since COVID-19 has required all of us to stay at home, what's the most positive thing you've experienced in your classes or projects?
It has been so incredibly helpful to cut out travel time between classes and being able to rest and eat at home between classes. It has also been really helpful to be able to look back at recorded classes for notes, so I can be more present in class. In addition, with Hidden Stories, I was really able to explore scenic and projection design, as well as directing a theatrical piece completely remotely.
What do you hope to accomplish in your time at SDA, and what impact do you hope to leave after your four years?
I hope to gain a variety of skills that would allow me to pursue multiple areas of design in multiple mediums. I hope to leave a legacy of encouraging hard work and meaningful design choices.