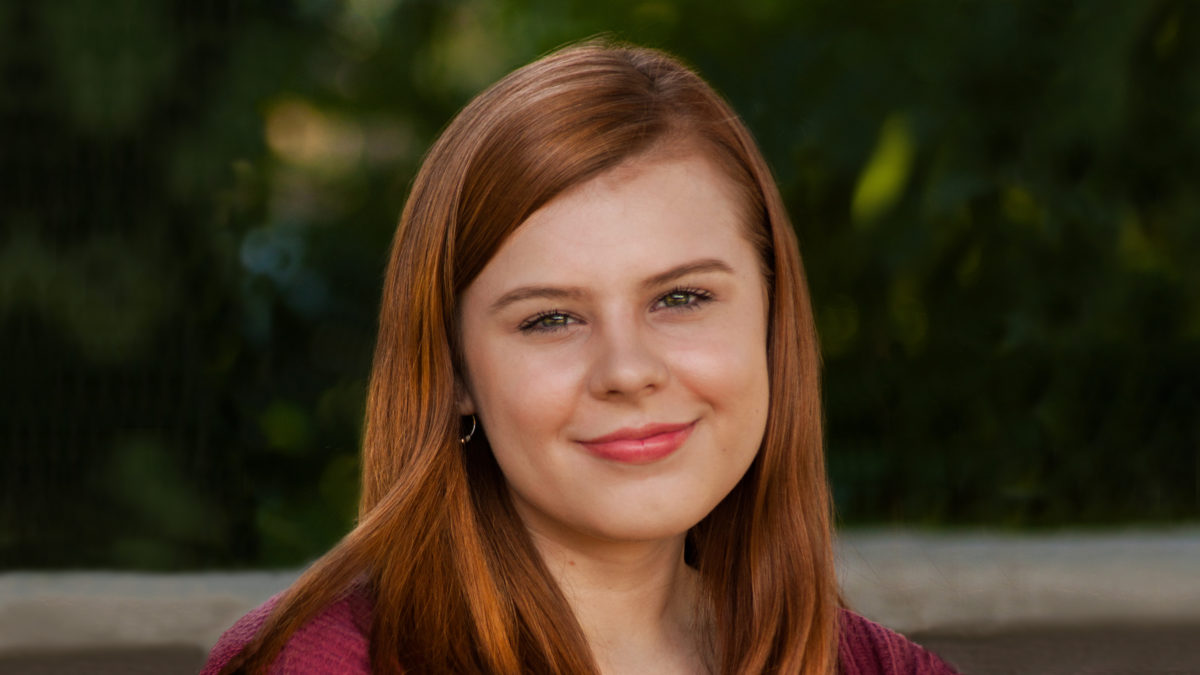 Katie Newsom BA '20 is just returning from a semester abroad at the British American Drama Academy. Before her trip across the pond, she performed in both independent student productions and several School productions, including West Side Story, where she played Velma. The School briefly caught up with Newsom for a quick Q&A about her perspective on and involvement with SDA.
SDA: Where are you from?
Newsom: I was born and raised in Houston, Texas – it's more urban than people might imagine Texas to be, but it does have the Houston Livestock Show and Rodeo, and I totally own a pair of cowboy boots for that.
SDA: Why did you choose to come to USC?
Newsom: Going into my college search, I knew I wanted a school that could prepare me to audition for both theatre and film, and USC was one of the few schools that offered acting training in both areas. I was so blown away by the faculty I met when I went to USC informational sessions; their passion and enthusiasm for the school really stood out, and I wanted to be part of such a passionate community. I also knew that I wanted to spend my first year of college going to community college and completing most of my GEs there, and USC is one of the best schools for transfer students.
SDA: What program are you in at SDA? Why did you choose that program?
Newsom: I'm in the BA program with the acting emphasis. Originally I intended to apply to the BFA in acting, but hearing about the BA program's balance in liberal arts courses and intensive actor training made me feel like I'd found the perfect program to fit my range of interests. I also heard about the BA students' ability to study abroad, and that many SDA students go to London to study at the British American Drama Academy. London had always been one of the top cities on my bucket list, so with all those factors in mind, I chose to pursue the BA in Theatre. Having acting emphasis allows me to pursue dramatic arts training as rigorously as I choose, and also gives me room to take classes in other areas of interest like sociology, dance, and music.
SDA: Which show has been the biggest learning experience for you at SDA?
Newsom: It's hard to say because each show has presented its own unique challenges, but I think I'd have to say West Side Story. It was my first show at USC, and since it was a collaboration with USC Kaufman and USC Thornton, I had the challenge of working in a dance ensemble with mostly dance majors. I learned so much about how to operate in professional rehearsal, and found so much guidance from the faculty involved, who taught me how to really take care of myself as a performer. I'm so grateful for that experience and the people it brought into my life.
SDA: You did a semester abroad at BADA. What was your biggest takeaway from the experience?
Newsom: Studying at BADA has been one of the best experiences of my life, and I highly encourage other students to look into it! I think one of my biggest takeaways from my classes over there was to just let go. Something I really struggled with going into the program was giving into my physical impulses as an actor, and classes like Shakespeare and Modern Physical Theatre really gave me the confidence to just go for things, no matter how silly they seemed. It's translated into helping me find unexpected moments of comedy in scenes, and making stronger choices with physicality.
SDA: Why did you choose to study abroad?
Newsom: As a student, environment has always played an important role in my learning. Just as my interest in screen acting led me to Los Angeles, I felt as though studying in London amongst all the history of theatre would be the perfect setting to deepen my classical training. I also knew that we would have the opportunity to see shows throughout London each week, and see the techniques we learned in class exemplified by professional actors.
Since I had studied classical texts in critical studies classes at USC (like Professor Carnicke's Shakespeare in His World, which I highly recommend), I was excited to take that information and immerse myself in a program where I could put that knowledge on its feet. Truthfully, before BADA I was scared of Shakespeare because I had no idea how to approach it, and I left with such an understanding of not only how to approach the text, but also make it my own. Additionally, although I knew going into USC that BADA was something I was interested in pursuing. My desire to apply was deepened by conversations with upperclassmen who had gone and come back, and talked about how they felt it was the perfect supplement to their SDA training.
SDA: What advice can you offer to prospective students?
Newsom: I don't know about impact, but I guess a piece of advice I would impart to underclassmen and future students is to take advantage of every opportunity possible and take ownership of your training. College goes by so quickly, and it's the perfect time to explore anything that interests you. You never know what path it might lead you down. Do things even if you don't feel ready; that's where the best growth happens.
SDA: How has SDA changed your outlook on theatre?
Newsom: I don't even know how to put into words how drastically SDA has deepened and expanded and reconstructed everything I know about theatre. I came from a high school that primarily focused on musical theatre, so it's astounding to look back and think about how little I knew about acting coming in, and how many different styles and approaches SDA has been able to expose me to since then. In many classes, even acting classes, I've been challenged with designing my own set, which has completely changed the way I understand theatrical spaces, and the movement patterns that go in them. In the progression of working with various professors, SDA has completely built my artistic process, and given me the tools to approach a role from both textual and research standpoints. It's also taught me about where the theatre world still needs improvement, and how we can take what we've learned at USC and develop new work that creates more representation and invokes dialogue.
SDA: Are you in any student organizations within the university at large? If so, which ones and how have you found your community within them?
Newsom: Last spring I had the opportunity to perform in and choreograph Aeneid Theatre Company's production of Bertolt Brecht's Mother Courage and Her Children. It was such a different experience getting to build community by working with my peers in a more professional context, and see their creative minds at work. Since it was such a physical, experimental piece, we had to have a lot of trust in each other. Working on student productions is so rewarding; you feel as though you have a community of people you can call after graduation and say "hey, let's create something."
SDA: How has your SDA education informed other creative endeavors: dance, film, etc.?
Newsom: Wherever I go, my training at SDA has given me the tools to take ownership of my artistic choices, and fail without fear. I think the emphasis on clear storytelling also translates so well into dance and film, where artists can often only communicate with their bodies. Additionally, I think training in a program that places such an emphasis on collaboration and ensemble lends itself to entering all kinds of creative spaces with an open mind and a collaborative spirit.