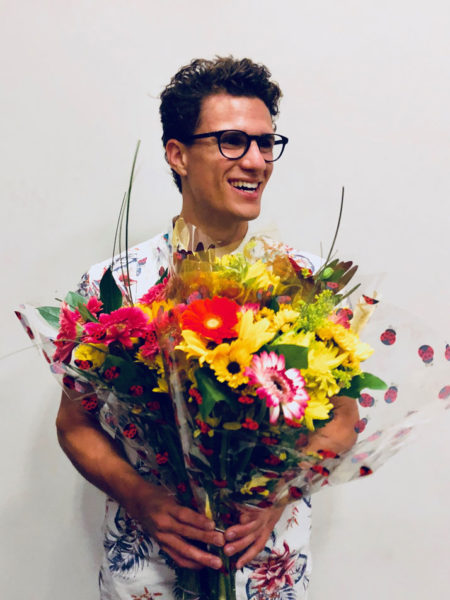 As a student in the Technical Direction program, Jordan Fox BFA '21 has had his fair share of experiences working on more than 40 productions that include ISP and SDA main stage productions. The senior discusses how his perspective on theatre has changed since arriving to USC, what he hopes to get out of his education and more.
SDA: Where are you from?
Fox: I am from Irvine, Calif. Just an hour south from campus.
SDA: Why did you choose the BFA in Technical Direction program?
Fox: I chose this program because it was a creative and harmonious discipline in which I could implement my physics background and theatre.
SDA: Could you share about the bond you have with other production students?
Fox: The SDA community is intense in our creative endeavors and I believe our thirst for creativity creates a strong bond between us.
SDA: What else are you involved in outside of SDA and how does it fit into your university experience? Is there anything you hope to get involved in later in your time at SDA?
Fox: Outside of SDA, I am a part of two ISP companies, Aeneid Theatre Company (ATC) and Musical Theatre Repertory (MTR), whilst being involved in a couple of undergraduate and graduate films. These experiences are the core extracurricular activities that I need in order to truly creatively express myself. They each offer very different perspectives on the entertainment industry, and if I were to not be so fortunate to be involved in these activities, I would feel my experience at USC would be incredibly stifled. I am hoping to get more involved in the business side of theatre and entertainment in order for me to get exposure to see what processes occur in order to fund and produce a production.
SDA: What is your favorite thing about the faculty at SDA? Has any one professor had a profound impact on you?
Fox: My favorite thing about the faculty at SDA are their demeanor is challenging us in every way possible. The professor that has the most profound impact on me is definitely Professor (Duncan) Mahoney. Every time there is some way to build or design something, there are always at least a dozen different ways that Professor Mahoney has experienced and is willing to share for the enrichment of my major.
SDA: Which show has been the biggest learning experience at SDA?
Fox: The biggest learning experience I was able to work on was Street Scene. I had done Street Scene in high school — using modern framing techniques to support the second story — and when we did it in the Bing, Professor Mahoney shared that it could also be done by using a couple of support beams and flats. I was at first very skeptical if this would be sturdy enough, but after we went through the calculations it was definitely the most efficient and cost effective way of building that set.
SDA: How do you hope your SDA education will inform other creative endeavors?
Fox: The curriculum at SDA has exposed me to a plethora of different styles of applying that creative intuition that didn't quite know how to express itself beforehand. Without the knowledge given by the many professors in SDA, I would feel entirely unequipped to go out after I graduate and be as successful as I could have been if I did not enter into this program.
SDA: What do you hope to accomplish in your time at SDA, and what impact do you hope to leave after your four years?
Fox: I hope to accomplish at least 50 shows in my time at USC in order for me to get the most exposure I can. The impact I hope to leave is that ISPs are a great avenue for design students to test out and implement all the wonderful knowledge learned from SDA. I don't feel that obtaining knowledge is truly learned until someone has implemented it themselves through trial and error. It is also a great community for students to get incorporated with other students who aren't in their major or even at SDA.
SDA: How has SDA changed your outlook on theatre?
Fox: Surprisingly, it has changed my outlook on theatre from 'Oh wow! Look at that!' to 'Oh wow! How did they do that?' Now this seems very simplistic in principle — and, it is — but it has sparked a curiosity in me that I thrive to fulfill by seeing and experiencing theatre. It has enriched my understanding of what goes into a production so that I am able to delve into the how's and why's much further than before entering SDA.
More about Fox
During his time at USC, Fox has worked on the development and execution of over 40 productions, but the most rewarding have been Tongues & Savage Love, Titus Andronicus, Cabaret, Avenue Q, Dogfight, Street Scene, Guarded, A Midsummer Night's Dream, Father Comes Home From the Wars (Parts 1, 2, & 3), Trouble in Mind, The Two Gentlemen of Verona.
Fox joined theatre in his second year at Irvine High School and became lead set designer and master carpenter as a junior. He also received two Cappies Commendee Nominee's for his work as set designer on Brighton Beach Memoirs and Cinderella by Rodgers and Hammerstein.
He is ecstatic to be apart of such an amazing community of talented designers and looking forward to what the future holds.