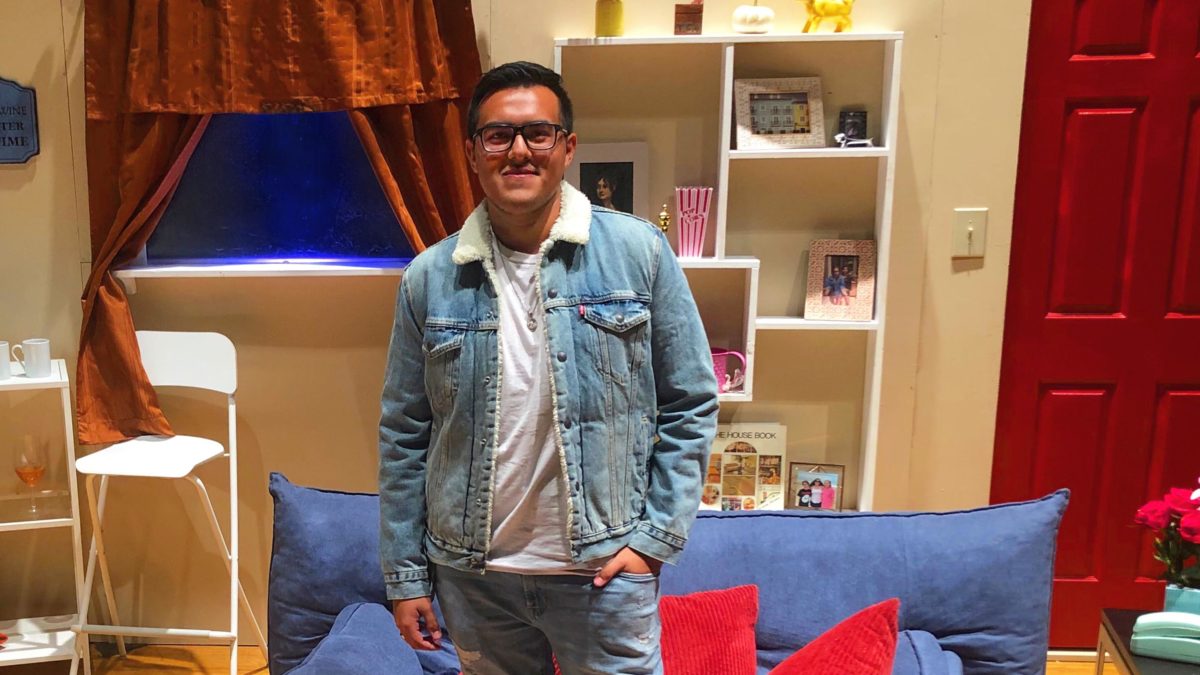 Sophomore scenic designer Jesus Hurtado (BFA'22) talks about his first two years at the School of Dramatic Arts, growing as a designer through his peers and courses, and the impact he hopes to leave as a first-generation college student.
---
SDA: Where are you from?
Hurtado: I'm from San Diego, California.
SDA: What program are you in at SDA? Why did you choose this program?
Hurtado: I am in the BFA in Design program with emphasis on Scenic Design. I chose this program because I started doing backstage tech in high school and I really enjoyed it. I started off doing carpentry, but I then discovered a passion to design things for the stage.
SDA: BFAs are trained in a cohort style. Can you talk about your bond with your cohort?
Hurtado: I have a super close friendship with my whole cohort! I have most of my classes with them and see them every day, so after a while you start to develop this second family on campus.
SDA: What else are you involved in outside of SDA? (ISPs, TSA, student films, etc…), and how does it fit into your university experience?
Hurtado: Outside of SDA, I am involved with an Independent Student Production Company, helping produce student-run theater. I am the Technical Director of Impulse Theatre Company, and I have already scenic designed two of their past productions. I also have a job at SDA's Technical Theatre Lab, where I work as a carpenter and build the sets for SDA mainstage shows.
SDA: What is your favorite thing about the faculty at SDA?
Hurtado: My favorite thing about the SDA faculty is that most of them are still working and practicing their craft outside of school. It motivates me to see that my professors are teaching while designing or performing in shows in the professional world.
SDA: Which show has been the biggest learning experience at SDA?
Hurtado: My biggest learning experience has definitely been working on Three Sisters as the scenic designer. Though we will not see this show come to life due to the pandemic, it was my first mainstage production for SDA. It has taught me a lot about how to present my ideas, communicating with the production team, and has improved my drafting skills .
SDA: How has your SDA education informed other creative endeavors?
Hurtado: My SDA education has helped me become a better artist personally. I feel like I can draw and paint much better than I could have in high school. Being at USC has also inspired me to try out animation. I plan to take a couple animation classes at the School of Cinematic Arts.
SDA: How has SDA changed your outlook on theatre?
Hurtado: SDA has introduced me to different types of theatre around the world. I have taken classes and read many plays on topics such as Asian American theatre and LGBTQ+ theatre. SDA has allowed me to take a more thorough look into the professional theatre scene since my professors are frequently working in the industry and I can ask questions about it.
SDA: As such an active member of the SDA community, what impact do you hope to leave after your four years?
Hurtado: I want people to look back at my art and designs and connect with it. I hope to inspire the next generations of scenic designs and theatre artists. I especially want to leave a cultural impact and show people that I, a first-generation Mexican American student, can make it to a private university and excel in this creative profession.