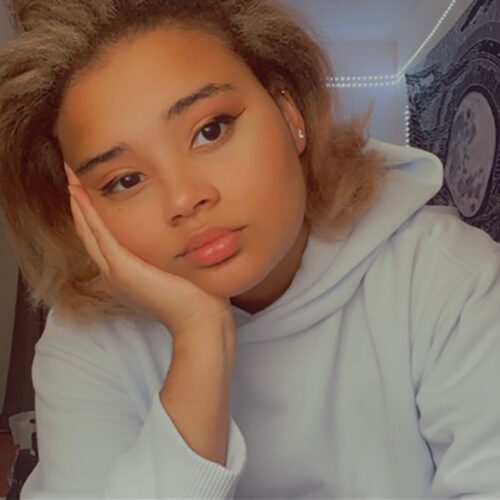 Jade Wolff BA '23 discusses why she chose to study in the program with an emphasis in lighting design, what it's like studying in Los Angeles as a Baltimore native and more in our 10 Questions series with current students.
A little about the student
Wolff is an aspiring lighting designer from the east coast. She enjoys drawing and spending time with her three younger siblings. When she is not spending time in theatre, she's usually at home watching Law & Order.
---
Why did you choose this program?
Wolff: Before USC, I attended Baltimore School for the Arts, majoring in their stage design & production. In the four years that I attended, the love of lighting design really jumped at me and I decided to pursue it full time. USC just seemed like the perfect transition into life into the entertainment industry!
What are you working on this year that excites you the most?
I'm really working on the intricacies of lighting design. After a year away because of Covid, it has really renewed my passion for lighting design and theatre in general.
What else are you involved in outside of SDA and what role does that play in your training?
Currently, I really just like studying Broadway shows to really see how professionals do it. I also just love seeing lighting designers in action, so I study the process in depth as well.
What is your favorite thing about the faculty at SDA?
The faculty at SDA is so supportive. I was previously a BFA, but I took a voluntary leave of absence and returned as a BA. When I returned, they were still as supportive as they were before. I still get the same opportunities and I'm so thankful for that.
How does being in Los Angeles affect your training and the opportunities you've had?
Coming from Baltimore, we do have a theatre scene, but it isn't as large as Los Angeles or New York. It gives me the opportunities to interact with professionals and experience more large scale shows. Having the ability to watch professionals work at USC SDA is the best opportunity I could have.
Could you tell us about a project that you've worked on as a student that has had an impact on your artistry?
Last semester, I worked on Sacrifice Zone: Los Angeles, which was a new experience for me. I was in Baltimore at the time, which means I had to adapt to a time difference and learn to design from [the other side of the] country. I love theatre in person and learning to do it over Zoom really gave me perspective!
What is your favorite SDA memory?
My favorite SDA memory was crewing Cider House Rules: Part 1 & 2, directed by the wonderful Scott Faris! It was my first show at USC and I was pumped, it was the moment where I felt connected to SDA.
What have you learned about yourself while you've been a student?
The most important thing I learned about my self is that I thrive when working in a group. I love collaboration and the large payoff when we have a successful show!
What is the best advice you've received at USC?
The best advice that I've learned from USC is that art is my passion and it is what motivates me. It keeps me focused and it keeps me happy. I should never let someone down talk me about that passion.
What is something you wish you knew when you first started at SDA?
The thing I wish I knew before I started at SDA was that I should be ready to be pushed to my best and highest potential. Be ready to work!