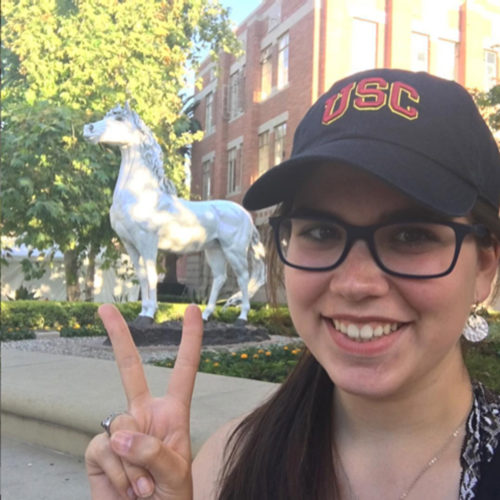 Domenica Diaz BA '21 discusses double majoring, stage managing for independent student productions, trusting her instincts and more in the fall in this 10 Questions series with current students.
---
SDA: Where are you from?
Diaz: I grew up in Whittier, CA, between LA and OC.
What program are you studying at SDA? Why did you choose this program?
I am getting a BA in Theatre but my focus has been pretty exclusive to stage management. I am also pursuing another degree in Law, History and Culture in Dornsife, and the BA program was the only way I was going to be able to double major. I've been stage managing shows since high school and it has always been my favorite part of theatre. I'm generally a more logical and somewhat clinical person, but I really love making art and telling stories. Stage managing allows me to take part in those things.
What else are you involved in outside of SDA? (ISPs, TSA, student films, etc…), and how does it fit into your university experience? Is there anything you hope to get involved in later in your time at SDA?
I've production stage managed for several ISP companies on campus and helped run Puppet Improv Group, which produced two fully original shows: Happy Puppet Hour and Happy Puppet Hour 2. As I've mentioned before, I am a double major, so when I'm not doing work with SDA or ISPs, I'm usually researching or writing. Currently, I'm working on my senior honors thesis, which is an evaluation of how the Second Red Scare and the House Un-American Activities Committee impacted the American theatre community. My main points of focus are the Congressional testimonies of Arthur Miller, Elia Kazan and Bertolt Brecht.
What is the most important advice you've received from SDA faculty, fellow students, alumni or guest artists?
All things are not of equal importance. Els [Collins] assigned a reading for class in my first semester freshman year that had this quote in it and she highlighted it in her lecture. As a younger SM, I was definitely very controlling and into micro-managing. Learning how to be a more trusting and relaxed collaborator is probably the most important lesson I've learned at SDA. I write that quote on a post-it and put it in the front of all of my prompt books when I start a new project.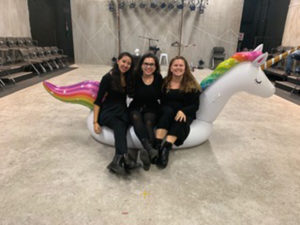 Which show has been the biggest learning experience at SDA?
Definitely my show last fall, Amsterdam. I had worked with guest artists and on experimental and devised shows at SDA before but this piece was so different from anything I'd ever approached before. Amsterdam is a piece of "post-dramatic" theatre, which means it rejects the traditional power structures of theatre in favor of radical equality. The team had to be incredibly collaborative and on the same page, because everyone was responsible for telling an equal share of the story. There was a lot of wild experimentation and somewhat unconventional bits (every cast member had a mask made out of a real pancake cooked fresh every night, there were air canons that rained down flower petals and a fake poisoning scene that involved quite a bit of spitting). Thankfully, I had an amazing design team and two awesome ASMs who really went above and beyond to make that show happen.
Tell us about what production experience you worked on this semester. How is this different from working on production on stage?
I [project managed] for Hidden Stories. We [took] six stories from the USC Libraries Collecting COVID-19 Archives (stories that members of the community submitted to become future primary sources on this period in time) and [illuminated] them with the skills we've learned as theatrical designers. Project managing isn't extremely different from stage managing, in that I'm still generating a lot of the same paperwork (daily calls, timelines, meeting notes) and doing a lot of the organizational work for the group. On this project, however, I was also one of the concept creators and it was strange and different helping to guide the creative content of a piece. In that capacity, I was mostly in charge of networking with the libraries and helping to curate which stories we ended up highlighting in the final project.
Since COVID-19 has required all of us to stay at home, what's the most positive thing you've experienced in your classes or projects?
While it's obviously a challenge doing a theatre degree remotely, our production faculty have been supporting us through this, which I'm grateful for. Our weekly stage manager cohort meetings, which were always fun, have become a good reminder that we're not all going through this wild experience alone, even though we aren't seeing each other all day every day as we usually would.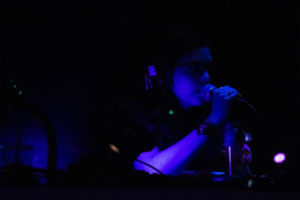 What is the greatest thing you've learned about yourself as an SDA student?
That I am capable of more than I think and that I shouldn't doubt my instincts. A lot of what stage managing is, aside from the paperwork and cue calling, is being able to understand people and make difficult calls. My SDA experience has definitely trained me well for that.
How do you hope your SDA education will inform other creative endeavors?
I've been able to try a lot of things while at SDA — stage and production managing, dramaturgy, producing — and I hope that having that variety of experience will allow me to try out a few different professional disciplines before zeroing in on what I'm best suited for.
What do you hope to accomplish in your time at SDA, and what impact do you hope to leave after your four years?
Given that my time at SDA is almost over, I'm just hoping to having a creatively satisfying experience next semester. In terms of impact, I think being a BA and being involved in production is something that's become a bit more popular over the past few years at SDA. I'd love to see more students pursuing dual passions and bringing that knowledge in to the theatre. My history degree has contributed a lot to the projects I've worked on at SDA and I think that diversifying our knowledge base can only be a good thing.